Editor's note: This story was updated with new information and to clarify language.
In an unexpected vote May 8, a Texas House committee advanced a bill that would raise the minimum age to purchase semi-automatic weapons.
The vote came two days after a gunman killed eight people at an outlet mall in Allen, Texas—and nearly a year after 19 students and 2 teachers were killed at Robb Elementary School in Uvalde.
House Bill 2744
has been pushed for months by the families of those who died in Uvalde. The bill's author, Rep. Tracy King, represents Uvalde.
If it becomes law, the bill would raise the minimum age required to purchase semiautomatic rifles—like the one used in Uvalde—from 18 to 21. Federal law states that Americans must be at least 21 years old to purchase a handgun, but similar requirements do not exist for semi-automatic weapons at the state or federal levels.
The House Select Committee on Community Safety
, which deals with gun-related legislation, voted 8-5 to send HB 2744 to the House floor. Republican Reps. Sam Harless of Spring and Justin Holland of Rockwall voted with Democrats in favor of the bill.
A surprise vote
That morning, Uvalde families and gun safety advocates held a rally at the Capitol, asking lawmakers to take action on the bill—which had stalled in the committee nearly a month prior.
Chants of "raise the age" echo through the capitol this morning. Brett Cross, father of Uvalde victim Uziyah Garcia, said Rep. Ryan Guillen, Speaker Dade Phelan & other lawmakers "don't give a damn about our children."

Guillen leads the committee considering gun-related bills. pic.twitter.com/Jqxev1oiNF

— Hannah Norton (@HannahNorton89) May 8, 2023
But Rep. Ryan Guillen, R-Rio Grande City, told reporters he would not bring HB 2744 to a committee vote because "the support is not there in the Legislature."
Guillen later switched course, scheduling an impromptu committee meeting after Democrats attempted to force the bill to the House floor through a procedural move.
After lawmakers moved to advance the bill, the crowd inside the hearing room erupted into cheers and applause. Parents of the Uvalde victims embraced each other and thanked the eight lawmakers who voted for the bill.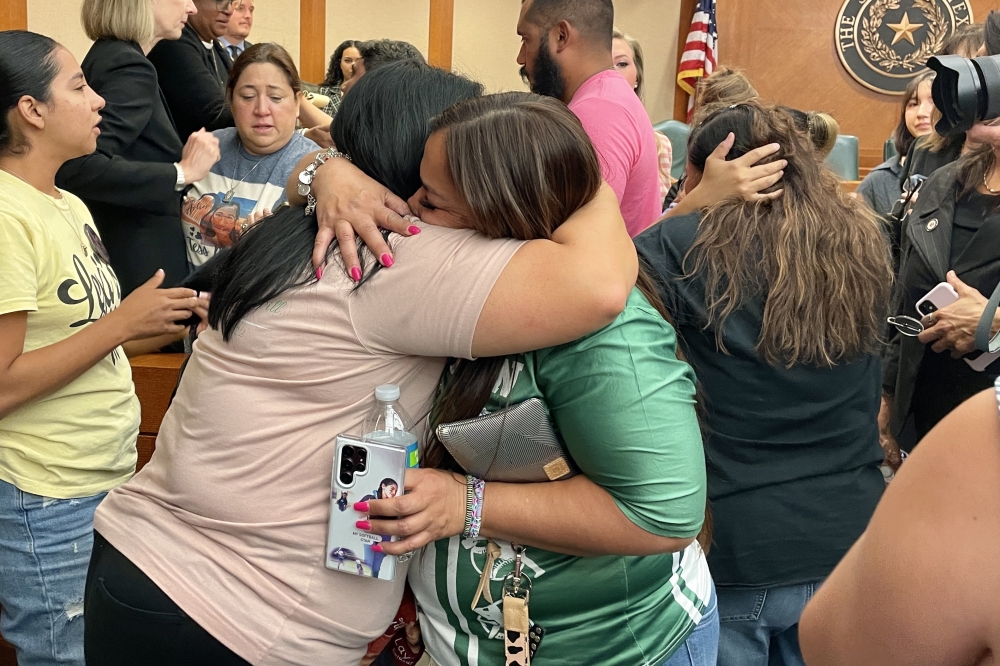 Berlinda Arreola, the step-grandmother of 10-year-old Uvalde victim Amerie Jo Garza, said families gathered at the Capitol were happy that lawmakers raised HB 2744 for a vote at all.
"I know that we're not done; we know that we have more fighting to do," Arreola said. "But actually winning the vote—it was just overwhelming. It was a huge, huge success for us."
King said he wasn't entirely sure what changed his Republican colleagues' votes, but thanked them for voting in favor of his bill.
"We're just ecstatic that we were able to get it this far," King said. "I'm so grateful to ... all the groups that worked on this."
As the 2023 legislative session winds down, time is running out for the full House to vote on the proposal—House rules state that it must receive an initial vote by Thursday to continue advancing.
And in order to reach the House floor, HB 2744 must first clear the House Calendars Committee, which is led by Rep. Dustin Burrows, R-Lubbock. Burrows voted against the bill in the Community Safety Committee.
The full committee vote on HB 2744 is below.
In favor:
Rep. Jarvis Johnson, D-Houston;
Rep. Rhetta Andrews Bowers, D-Garland;
Rep. Terry Canales, D-Edinburg;
Rep. Vikki Goodwin, D-Austin;
Rep. Sam Harless, R-Spring;
Rep. Justin Holland, R-Rockwall;
Rep. Tracy King, D-Batesville; and
Rep. Joe Moody, D-El Paso.
Against:
Rep. Ryan Guillen, R-Rio Grande City;
Rep. Dustin Burrows, R-Lubbock;
Rep. Mark Dorazio, R-San Antonio;
Rep. Brooks Landgraf, R-Odessa; and
Rep. Ellen Troxclair, R-Austin.