Several Austin officials plan to vote to approve the city's first large-scale investment in domestic violence services in years May 20 through an agreement with The SAFE Alliance that would immediately expand local shelter capacity for those at risk of violence.
Travis County attorneys and a majority of the Austin City Council joined leaders with SAFE, or Stop Abuse for Everyone, a nonprofit centered on abuse support and prevention services, at the organization's Rathgeber Village campus in East Austin May 19 to voice their support for the proposed multi-year city funding agreement. The item will be considered during council's May 20 session, and, if approved, would provide up to $8.1 million to SAFE for its domestic violence shelter and other service operations through 2025.
Council's push to establish a new family violence shelter began last June through the approval of a resolution directing City Manager Spencer Cronk to research the acquisition of a hotel site for use as a family violence shelter. Council followed that action by redirecting funds from the Austin Police Department to the project ina fiscal year 2020-21 budget amendment ahead of SAFE's possible selection as manager of the shelter initiative this month.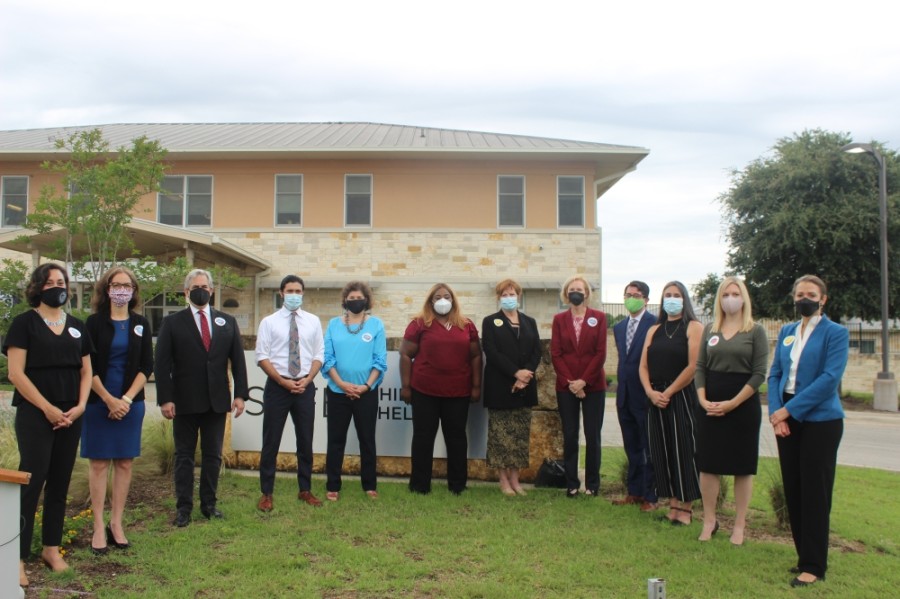 Council's representation at the May 19 event included members Alison Alter, Greg Casar, Paige Ellis, Ann Kitchen, Kathie Tovo and Mayor Steve Adler, all of whom said they will support the SAFE agreement's passage May 20. If the plan moves forward, Casar said new beds in existing locations for violence survivors would become available in the short term. The permanent shelter space, which would come from the conversion of a hotel now used as a Protection Lodge for the homeless could take more than one year.
While several of the shelter program's details remain to be determined, SAFE co-CEO Kelly White said funding through the city's agreement would likely double the nonprofit's shelter capacity with dozens of new beds by the end of the process.
Especially after a year of increasing incidents of violence and the social isolation of victims, White said that expansion is much-needed. SAFE also faces a growing waitlist of those seeking services and is currently forced to prioritize assisting only the individuals facing the worst violence.
"We are taking those that are at absolute highest lethality risk. Wouldn't it be nice if we could take some of those before it gets to that point?" White said.
Council members noted that, while focused specifically on domestic violence and abuse, the shelter plan is a component of the city's reimagining public safety and homelessness mitigation processes as well. Casar also said the program would not affect existing homelessness services, even amid the renovation of a Pro-Lodge that is now in use.
"In any and all cases, we will make sure that if it's a hotel that currently has folks experiencing homelessness, that those folks will have another hotel for them," he said. "There is no way that we are decreasing that service, we are only continuing to help more and more folks experiencing homelessness while also addressing this need. We will not be picking one over the other."