Austin City Council's unanimous Aug. 13
decision to cut roughly $100 million out of the city's police budget
and separate an additional $50 million worth of police funding and function for its effort to "reimagine public safety" has spurred a firestorm of reactions, from local political operatives all the way up to the highest-ranking officials in the state.
Texas Gov. Greg Abbott has since threatened a state takeover of the Austin Police Department and has promised legislation that would make it "basically financially impossible" for cities to cut police budgets; furthermore, a new PAC has been formed with the aim to inject $300,000 into local Austin elections for candidates who support the police; and as of Sept. 9, two new billboards have appeared along I-35 at the north and south poles of Austin, warning those entering the city that the police department has been "defunded."
On Sept. 10, inside the Austin Police Association's headquarters, Abbott, flanked by Texas House Speaker Dennis Bonnen and Texas Attorney General Ken Paxton, continued his excoriation of Austin City Council's decision. He announced legislative plans that would "forever" remove annexing power for any city that "defunds" its police department and would offer previously annexed parts of town the option to secede from the city. Abbott previously promised legislation for the 2021 session that would prohibit cities who cut police department budgets from raising more property tax revenue.
"Combined together, all of these proposals will make it basically financially impossible to defund law enforcement," Abbott said. "It should leave Austin with no choice but to restore the cuts they've already made to law enforcement."
Abbott has not clearly defined "defund," only saying that it is what Austin City Council and, as of Sept. 9, Dallas City Council have voted to do. The governor admitted there was much ambiguity in his legislative proposals and said the Texas Legislature would figure it out come January.
Earlier this month, Abbott said he was looking into a proposal from former Texas House Representatives Terry Keel and Ron Wilson that would have the state take over the Austin Police Department. Abbott told reporters Sept. 10 there were layers of complexities to the proposal.
After his announcement, the governor signed a pledge in support of police.
Austin Police Union President Ken Casaday, who stood behind Abbott, said that not signing the pledge would be a sign of "weak leadership and your weak personality."
Austin Mayor Steve Adler dismissed Abbott's threats as theater and denied the assertion that Austin has defunded its police department.
"To be clear, Austin city leaders have neither defunded the police department nor support doing so. I'm unaware of any elected official who believes differently." Adler said in a statement. "The governor's pledge is political theatre intended to scare and distract us from important public safety conversations about opening our children's schools and saving lives during the pandemic or whether police should be mental health first responders and social workers."
A widely accepted definition of "defunding the police" is that it means not to abolish the department but rather to take funds that would typically go to police and redirect and reinvest them into other government agencies or programs to promote public safety. Austin's Mayor Pro Tem Delia Garza has
previously used
this definition to describe City Council's actions.
Austin City Council voted unanimously to cut roughly $20 million from the police budget and funnel it into various programs, such as mental health response, family violence intervention, supportive housing and homelessness relief. They then took an additional $80 million in police functions, such as the forensics lab and internal affairs, and told staff to permanently separate the functions and funds out of the police department.
Council also separated into its own budget an additional sum of roughly $50 million in the form of typical police operations and expenses, such as traffic enforcement, training and overtime pay. Although these operations will remain the same for now, their ultimate fate will be up to a more in-depth and broad process of reimagining. Over the next six months, the community will look at these costs and functions and decide whether they could be better spent, alternatively performed or altogether cut.
Issue heats up as November approaches
Two billboards outside Austin appeared Sept. 9, at the north and south ends of the city along I-35, condemning City Council's decision and warning drivers they would receive limited police help as they entered the city.
The billboard at the north end reads, "Warning! Austin Police Defunded. Enter At Your Own Risk." The southern billboard reads "Warning! Austin Police Defunded. Limited Support Next 20 Miles." Both billboards say "#BackTheBlue" and include a stamp from the Texas Municipal Police Association, the organization responsible for the campaign.
Kevin Lawrence, the executive director of the organization, which claims to represent over 30,000 Texas police officers, said the signs are meant as messages to Austin's mayor and City Council.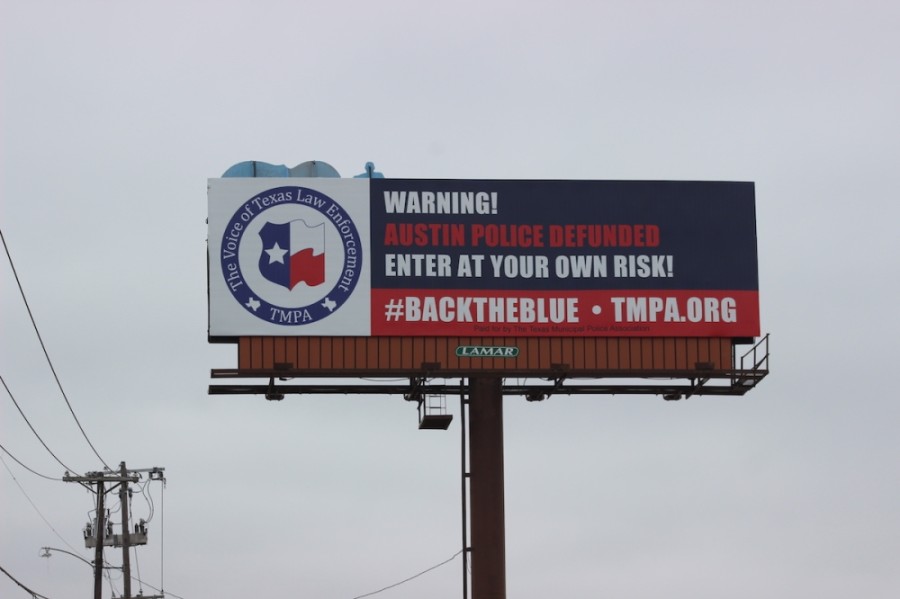 "One of the core functions of a city government is to provide for the safety of its citizens," Lawrence said. "With crime rates on the rise, Mayor Adler and the Austin City Council have pandered to the radical left and begun the process of dismantling the city's police department. The safety of Austin citizens and visitors has never been more at risk from dangerous policies propagated by their own locally elected officials."
Lawrence said he and the organization "applaud" Abbott's proposal that would put APD under state authority.
The same day the billboards appeared, Matt Mackowiak, chairman of the Travis County GOP, announced the launch of a new, nonpartisan PAC, Fight for Austin. The PAC, the board of which includes former conservative City Council Member Ellen Troxclair, aims to raise and spend $300,000 supporting local City Council candidates who support law enforcement and opposing those who do not.
In a statement, Troxclair claimed that City Council has "played politics with the safety of our city."
"Incumbent council members have made our city less safe," Mackowiak said. "Our Fight for Austin PAC will give Austinites an opportunity to support candidates who will make our city safer. It is time Austin fights back against City Hall. It is time we throw the bums out."
City Council seats in Districts 2, 4, 6, 7 and 10 are up for election, with incumbents running for reelection in all races aside from District 2.
Twenty candidates have thrown their names in the ring
for the five seats.