Waterloo Park, an 11-acre community
recreation and event space
on the eastern side of downtown Austin, will officially open to the public Aug. 14, nonprofit Waterloo Greenway Conservancy announced June 23.
The park's launch follows several years of development, and its August opening day is set to include a full day of programming during a festival hosted by the conservancy and city of Austin. That CommUNITY Day event is set to feature a ribbon-cutting ceremony and a live music showcase. It will be attended by representatives of several local organizations and city officials, including Mayor Steve Adler and Mayor Pro Tem Natasha Harper-Madison.
"Waterloo Park is an exciting addition to Austin's treasured outdoor destinations, one that underscores our community's love for nature, music and the arts," Harper-Madison said in a statement. "Particularly as we emerge from the challenges of the pandemic, we know just how valuable outdoor spaces are to our health and wellbeing. This park will connect our community not only to the rich history of the land, but to one another, while creating a safe, inclusive space that supports a more equitable Austin. I can't wait to enjoy all that Waterloo Park has to offer."
The park's opening day festivities will be followed one week later by its first ticketed concert held at the park's central venue, the Moody Amphitheater, on Aug. 20. That performance will be headlined by Austin native Gary Clark Jr., and tickets for the show will go on sale June 25.
Ahead of the opening day announcement, the Waterloo Greenway Conservancy held a preview event showcasing the park's various amenities and features. The following photos and information were gathered during that event, hosted by the greenway conservancy and city staff members June 22.
"We really believe Waterloo Park is going to be an iconic landmark for the city of Austin," said Kathy Miller, the conservancy's interim CEO, during the park tour.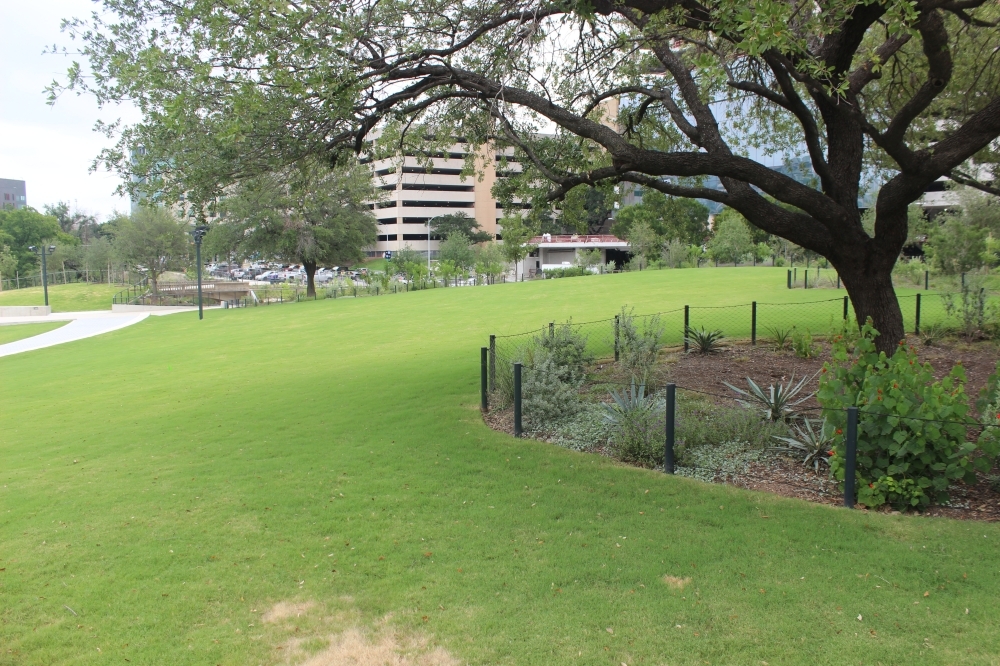 "We're embracing the culture of Austin by bringing live music and having a number of spaces for performance art and physical art. We're embracing our environment with the Hill Country plantings and native plantings in the entire area, reclaiming 11 acres of flood plain for a park for all in Austin, and working with a working reclamation project of our Waller Creek," Miller said. "We're embracing our history. Waller Creek was here at the beginning of Austin, and there have been communities here and celebrations here since the beginning of Austin. And building this park along Waller Creek is embracing that history as well."
14th Street bridge and Waller Creek improvements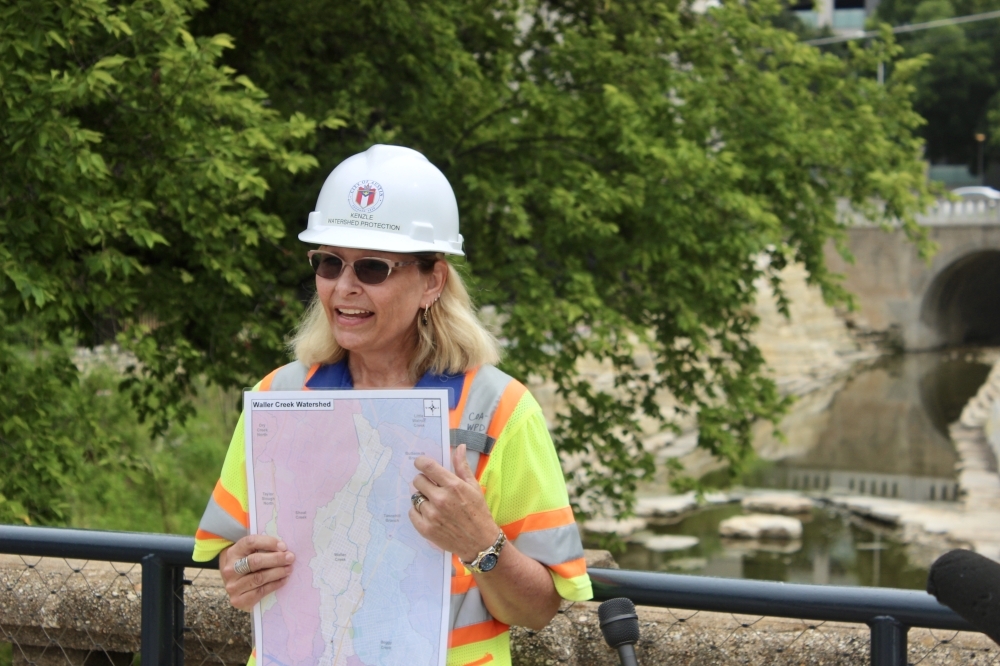 "Waller Creek has some of the worst erosion and water quality issues in the city, and this stems from the fact that Waller Creek, the area in and around Waller Creek, was developed before our drainage and water quality regulations were enacted. This project is an important first step in the evolution of Lower Waller Creek to transform a neglected stream system into a healthy ecosystem full of fish, birds, turtles and native plants," said Susan Kenzle, project manager for the Austin Watershed Protection Department's downtown and Waller Creek tunnel operations.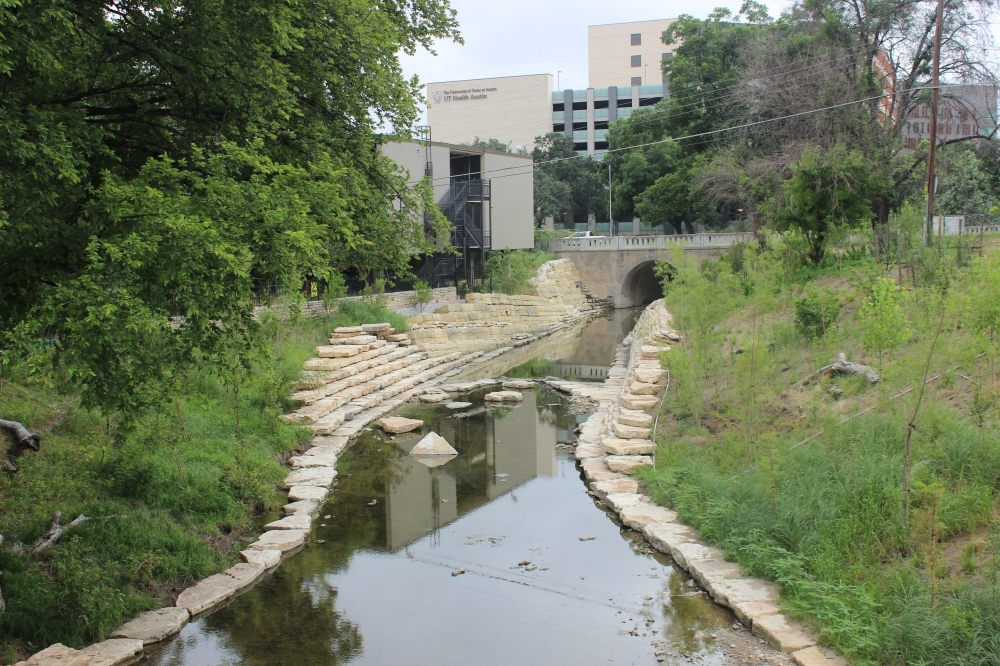 "We did many things in this project to enhance the natural habitat, and probably the most visible are the log features that you see on the banks," Kenzle said. "These were trees that were removed from the project during construction, reused on the banks to imitate natural habitat in a natural stream system. ... Also, you will see limestone walls and plants installed on the banks to protect the banks from erosion, and the plants and the limestone walls are an homage to the Central Texas Hill Country streams."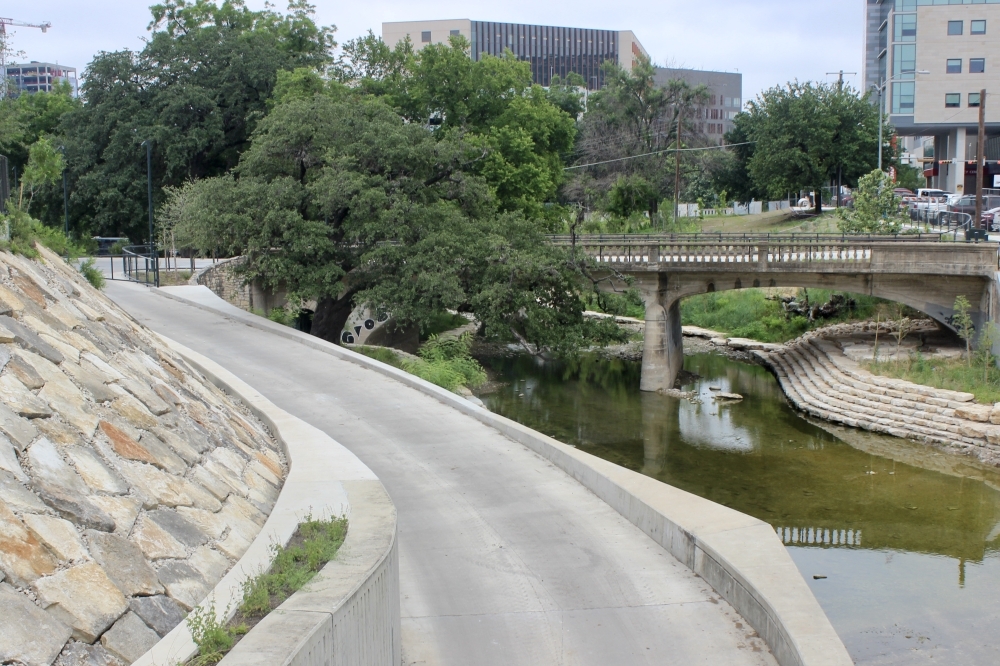 "One of the important pieces of opening Waterloo Park is celebrating the park's history, and its original history as a neighborhood," said Melissa Ayala, Waterloo Greenway Conservancy community engagement and government relations director. "The 14th Street bridge ... is a historic bridge, and upon our opening we'll have some interpretive signing along the bridge that tells those stories along with the history of the park as a special events space, and some really memorable festivals that we've had here."
Moody Amphitheater
"It's intended to be an architectural icon for Austin, and the first thing I'll point out is the shade canopy," said John Rigdon, the conservancy's director of planning and design. "The 5 miles of steel above provide shade and rain protection for the performers. ... And part of the intent of this architecture is it creates this beautiful, dappled shade and sunlight on the ground similar to a tree canopy."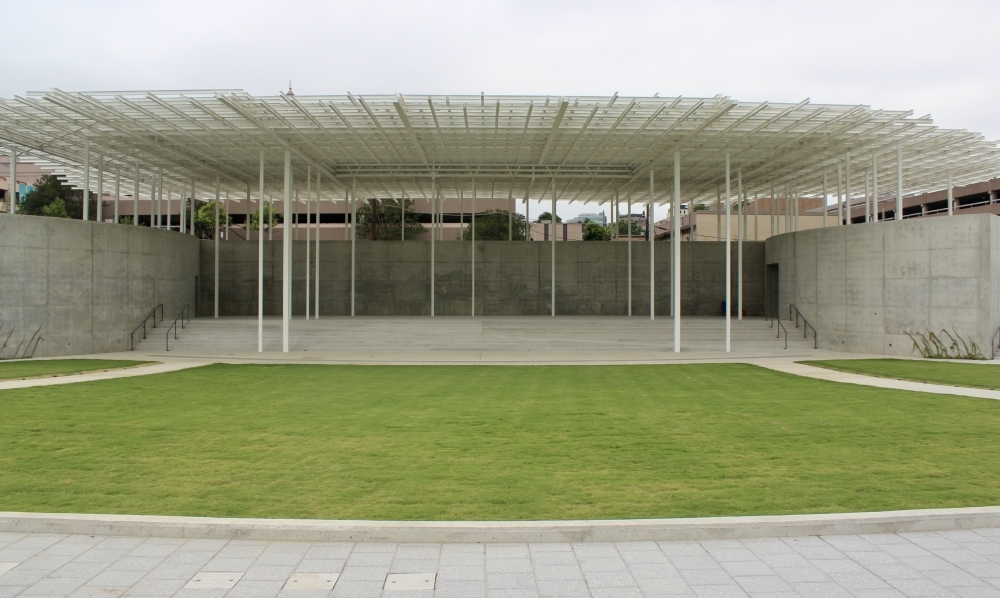 "The whole space was really designed learning lessons from the community and our desire to have these great music concerts and other events in public spaces. So we designed this space with the intent of it being able to quickly flip from a 5,000 capacity concert—which will be roughly the max size event—back to general community uses," Rigdon said.


The amphitheater's lawn is designed to withstand heavy use and to be fast-draining. Water is directed from the lawn to a cistern beneath the stage, where it is pumped and treated in rain gardens before being sent into Waller Creek.


The amphitheater's facilities include dozens of restrooms, a concessions stand, offices and dressing rooms, and adjacent upper plazas and green roofs.


The conservancy expects the amphitheater to host around 35 ticketed shows annually, during which the remainder of the park will remain open, and the stage and lawn are open for visitor use when shows are not scheduled. One hundred tickets for every concert will also be made available to Austinites via a lottery.


Kitty King Powell Lawn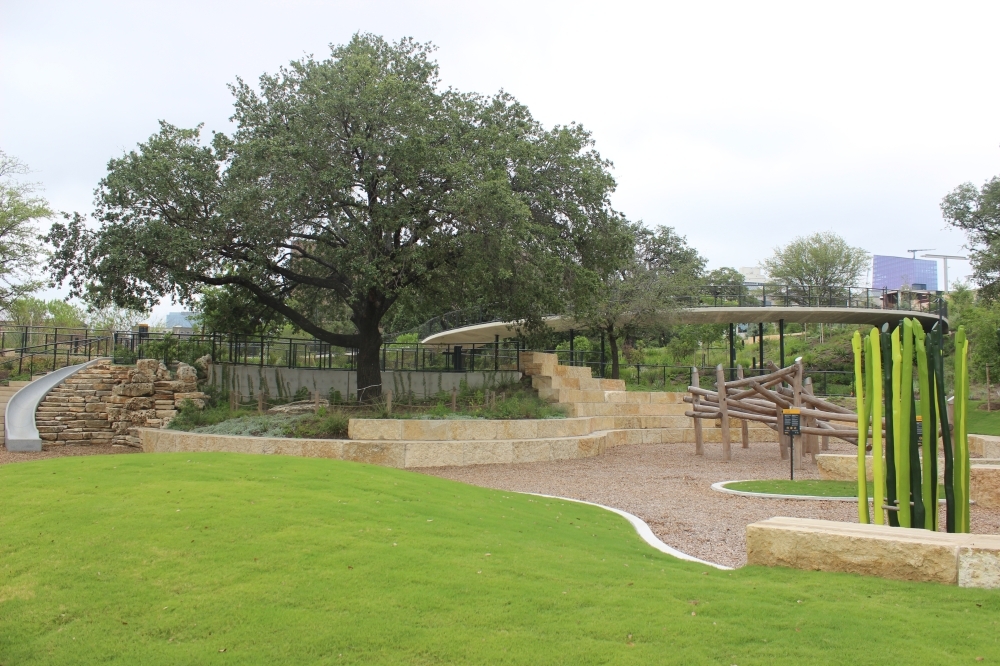 "This entire area is designed with universal access in mind, so engineered wood fiber is the safety surface below the playground," said Lisa Storer, project manager with the Austin Parks and Recreation Department. "It's framed by three of our transplanted heritage trees including one from the Capitol complex that was brought in about two years ago."


The park's three play features include: a 25,000-pound hillside stone slide built to withstand the summer heat, the "Log Jam" climbing area and the "Mega Grass" play area for small children.


Meredith Heritage Tree Deck
"These trees were conserved and carefully worked around on-site to provide this heritage tree deck that will have tables and chairs and allow for folks to occupy under the shade," Storer said. "In addition, this whole area will be a sort of food [area] and place for families. There will be two food trucks on-site and a restroom facility."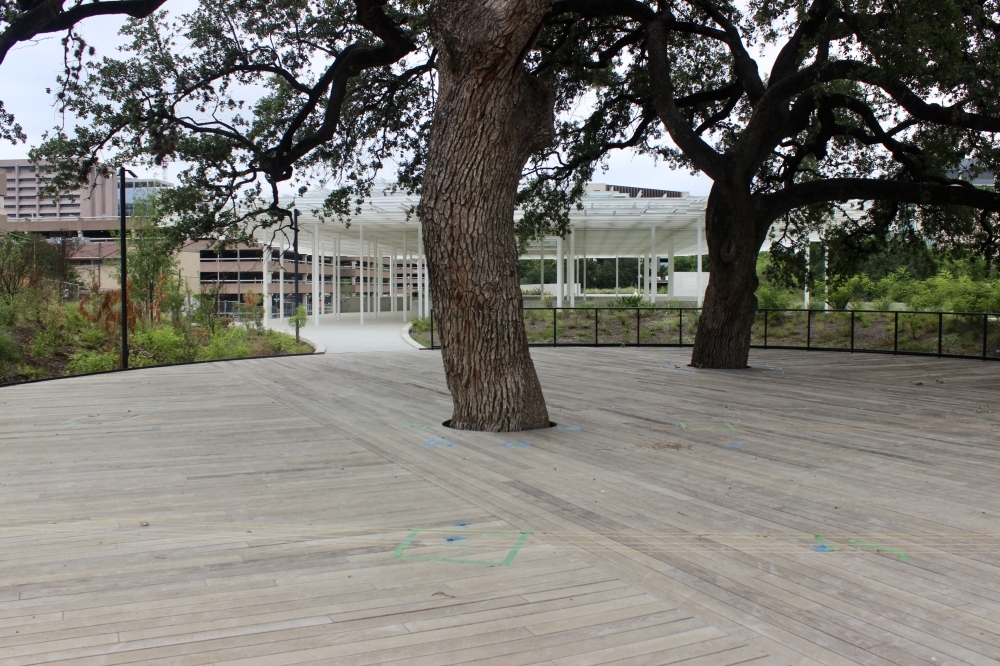 Storer said the deck's pair of heritage trees are at least 200 years old. Other heritage trees throughout the park came from the Capitol plaza, the University of Texas, nearby property or were replanted within Waterloo Park.


Ayala said the deck area was redesigned to incorporate space for rotating food trucks rather than a brick-and-mortar eatery based on community feedback. The park operators are planning to offer beer and wine as well, pending permitting from the city, and visitors may also bring their own food.


Food waste within the park will also be directed through a composting system, Storer said, representing one of the first city parks to incorporate such a program.


Waller Creek flood mitigation
"What you're looking at here is what we call our Waller Creek Tunnel inlet facility that was completed in 2018, and it's one component of a fully functional flood control system that protects 28 acres of downtown Austin from flooding. The main function of this facility and the inlet pond is to provide a place to intake those flood waters as they make their way from Upper Waller Creek down into our tunnel facility," said John Beachy, downtown and Waller Creek operations division manager with the Austin Watershed Protection Department.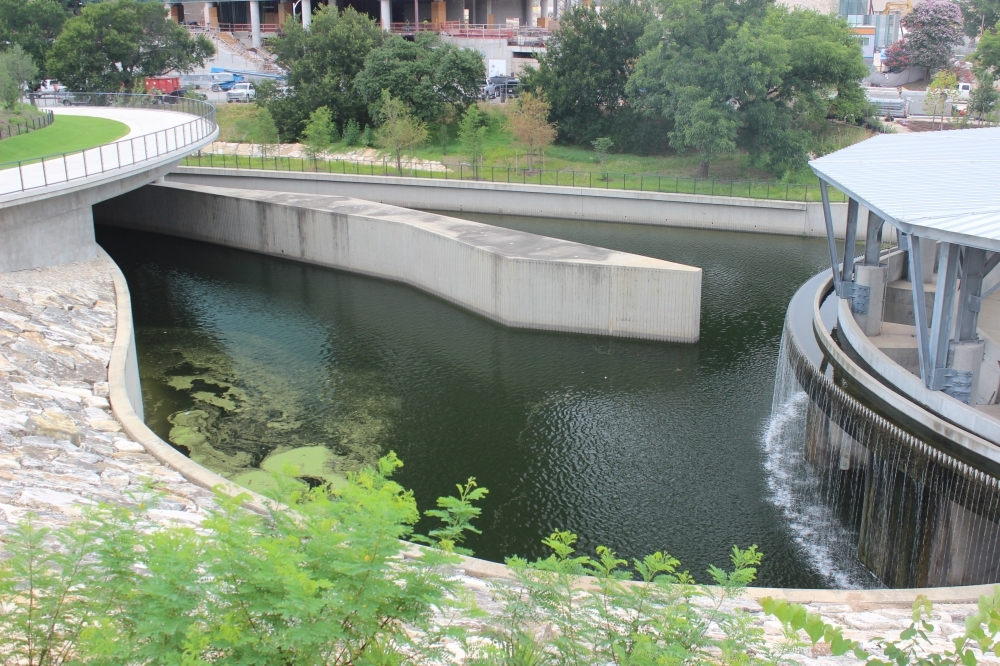 "It slows significantly the water down. ... And then it allows and supports our debris management efforts as we look to keep trash and debris out of the tunnel and the waterways downstream. Finally, the inlet facility here has our pumping system as well, and that's a crucial component as it allows for us to recirculate the 21 million gallons of water that is held within the tunnel below the ground. We want to make sure that water is moving to ensure that we're maintaining water quality. "


The Waterloo Park and greenway projects are expected to restore several miles of hiking trails close to Waller Creek that would previously have been in a flooding danger zone, Beachy said.


Skywalk trail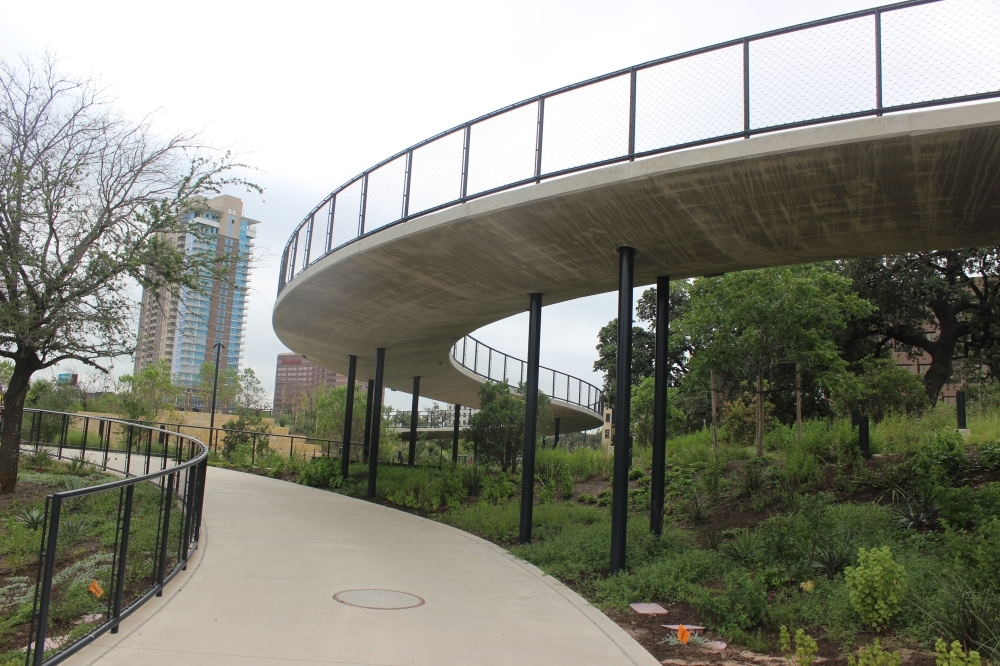 "One of the biggest challenges and opportunities of the site was navigating the significant elevation change from this corner of the park down to where we began," Rigdon said. "Across Waterloo Greenway, one of our goals is universal accessibility. So we're trying to have a single, shared-use path for folks of all mobilities and wherever possible not have switchback ramps, elevators and other separate opportunities."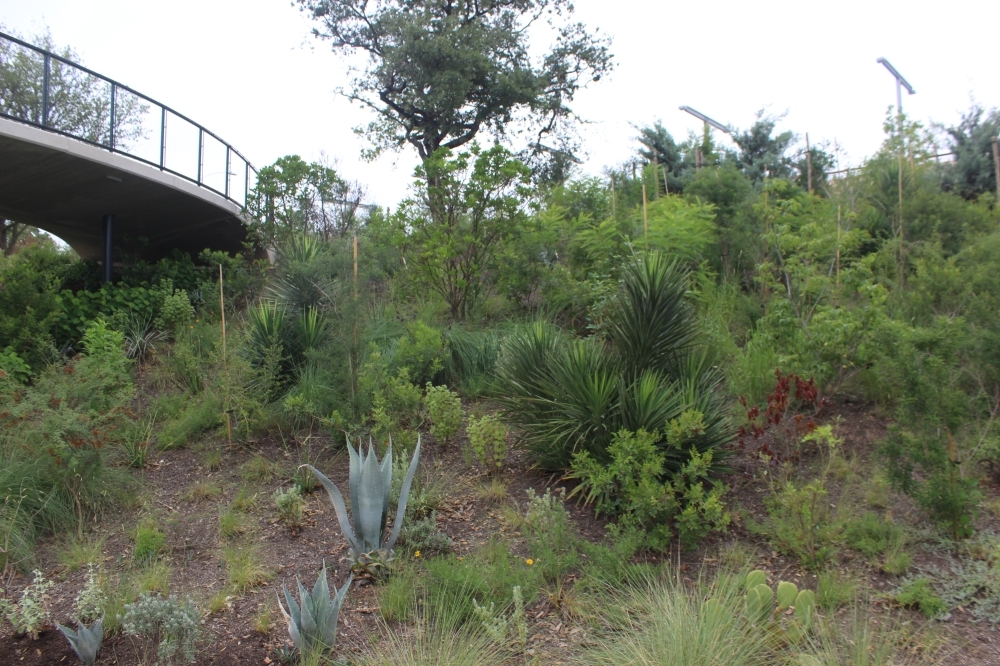 Hill Country Gardens
"We have a total of 90,000 plant species on-site, 95% of which are native to Central Texas. We also have 500 trees," said Martin Nembhard, the conservancy's director of park operations. "This section of the park represents not as many transplants; in other areas of the park we had to move trees around as we tried to incorporate various design and constructed elements, but here a lot of the trees that you see in place are originals."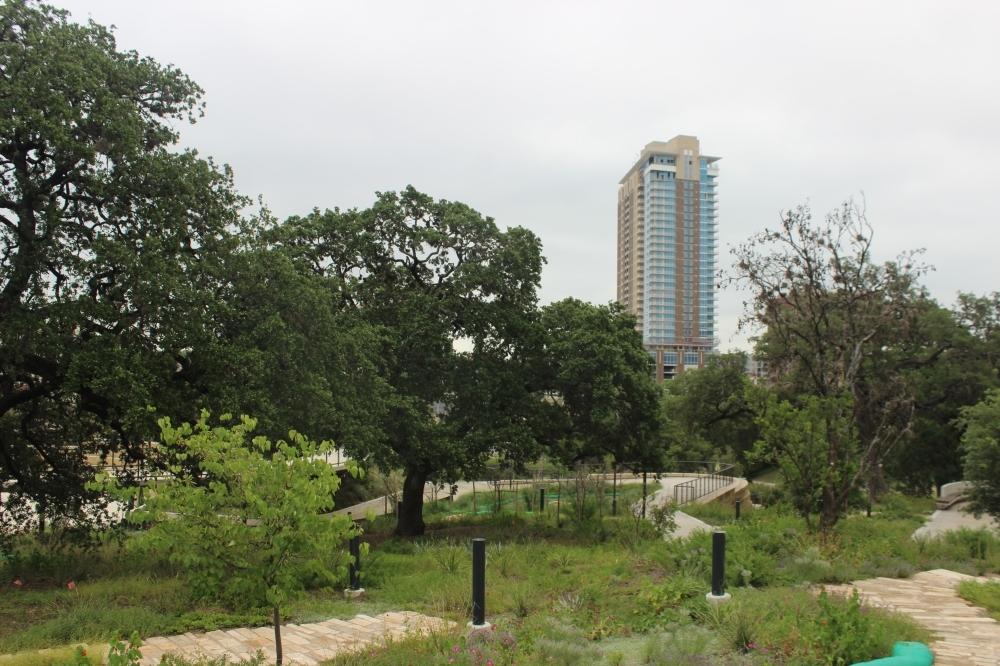 "We also tried to pay attention to the need for less light pollution in downtown Austin. ... A lot of these fixtures like the light poles overhead aren't casting out swatches of light, they're actually kind of pinpointed towards certain things. And within the landscape itself, we have these green cylindrical items which are perforated light mollards, which cast out shards of light toward the landscape. And as the landscape fills in and matures, we'll get an interesting kind of firefly effect," Nembhard said.