More than $15 million in city funding was directed to a slate of affordable housing projects throughout the city by the Austin Housing Finance Corp. Nov. 18.
The AHFC board voted unanimously to fund six affordable developments ranging from a senior living complex to residential developments. The funding comes from the city's 2018 housing bonds and Housing Trust Fund.
Guadalupe Neighborhood Development Corp. projects
The AHFC approved more than $4.5 million for two projects from the Guadalupe Neighborhood Development Corp. nonprofit Nov. 18.
The first, La Vista de Lopez, is a residential home on East Ninth Street overlooking I-35 that will be converted into a 27-unit affordable rental complex for seniors. Eight units will be available at 30% of the local median family income, or MFI, and the remaining 19 will be available at 50% MFI.
The Austin area's MFI for a family of four is $98,900 as of 2021, and $69,300 for an individual.
GNDC Executive Director Mark Rogers said the "remarkable" La Vista de Lopez project was made possible by the desires of its namesake and former owner Elena Lopez, and her family, to see the property used for affordable housing. Before approving the project funding, District 3 Council Member Pio Renteria also commended the Lopezes for making the project possible.
"I want to express my sincere thanks to the Lopez family. ... It's unheard of in this city where people actually will donate their property to a nonprofit," Renteria said.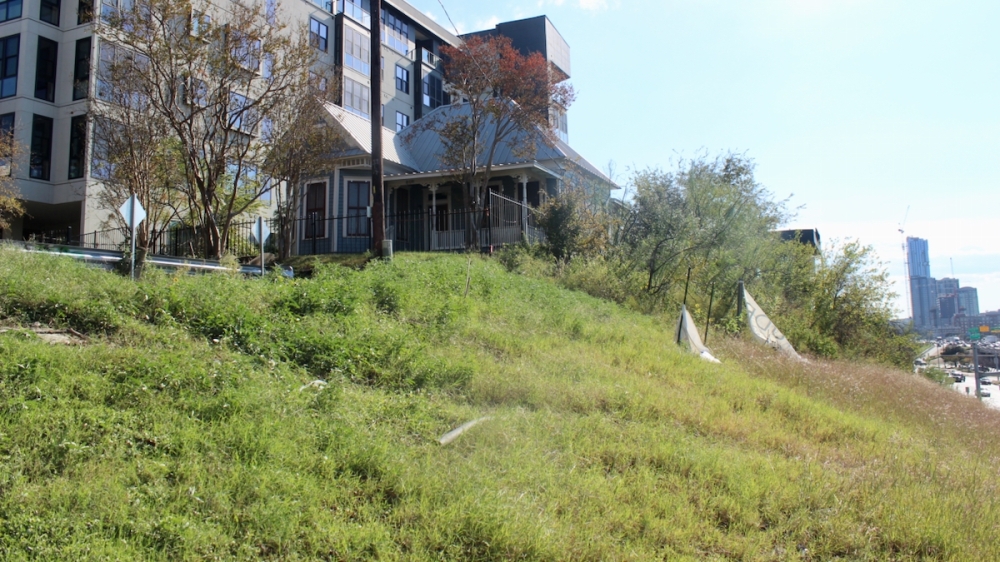 The GNDC's second funded item is an expansion of the Guadalupe-Saldana Net-Zero Subdivision, a multipart development that has gradually progressed over the past decade-plus on a former East Austin
brownfield
site. Rogers said the nonprofit's goal for the project is to offer sustainable housing with homes that produce about as much energy as they use.
Rogers called the subdivision "an island of affordability within an ocean of gentrification." The neighborhood already features several new townhomes as well as old residences relocated from Rainey Street, and Rogers said it grants longtime East Austin residents a way to remain in their neighborhood at a low cost.
"We're going in for the funds basically to finish turning a former unregistered dump site into one of the most environmentally-friendly anti-displacement home ownership projects and rental projects, I think, in the city of Austin," Rogers said. "I don't think you're going to find anything like it ... in the state of Texas."
The funding approved Nov. 18 will support the construction of 51 new homes in the subdivision, including 13 available at 60% MFI and 38 at 80% MFI.
Housing for the homeless
Redfield 34, a 33-unit continuum of care project for people experiencing or exiting homelessness, received more than $2.8 million from the AHFC. The project from RGTP Real Estate will see an existing multifamily complex in North Central Austin redeveloped for homeless housing and services.
District 4 Council Member Greg Casar highlighted the project and its place in Austin's overall homelessness strategy during the AHFC session, citing the hundreds of permanent supportive housing spaces council has backed in the past two years.
"This shift goes to show that we, I think as an entire council, as an entire dais, are doing something very different," he said.
Ownership communities
Other projects funded by the AHFC Nov. 18 include several South Austin ownership communities: the 126-home Persimmon at Meadow Lake, the 74-condominium 7038 South Congress and the 88-home Canopy at Westgate Grove II. All will feature multi-bedroom homes or condominiums available at 80% MFI.
Austin Habitat for Humanity is working on both the Persimmon and Canopy projects. Mary Campana, the organization's chief development officer, cited the Persimmon community as one of Habitat's most notable projects in the city aimed at providing affordable spaces for families.
"This is going to be Austin Habitat's largest development to date, and we are thrilled to be able provide a multifamily homeownership community to help address the affordable housing crisis in Austin," Campana said in an email.