Activities ranging from public space management, homelessness advocacy, public safety, and planning tied to development and mobility will continue in Austin's 600-acre downtown for the next several years.
June actions by City Council allow the Downtown Austin Alliance, formed in the 1990s to promote the city's downtown and represent area property owners, to maintain its services in the area. The update for the nonprofit's work in the Central Business District came through council's reauthorization of the Downtown Public Improvement District for the next decade.
PIDs allow property owners within a set boundary to chip in a portion of their property taxes to fund local services and improvements or boost development in that area. Austin also has PIDs in place in the historic East Sixth Street area and along South Congress Avenue.
The DPID must be reauthorized every few years, and an extension approved June 9 will keep it in place into 2032 under the DAA's oversight. The DPID now runs roughly from Lady Bird Lake to 15th Street between San Antonio Street and I-35 in addition to some property on the south shore.
"The Downtown Austin Alliance provides the community with direct services, planning and advocacy that fulfill our mission to 'create, preserve and enhance the value and vitality of downtown Austin,'" said Bill Brice, the DAA's vice president of investor relations, in a June statement. "Authorizing the PID for another term ensures that the Downtown Alliance will continue its work as the only full-time advocate and champion of downtown to ensure downtown continues to be a desirable place for people to live, work, entertain and invest."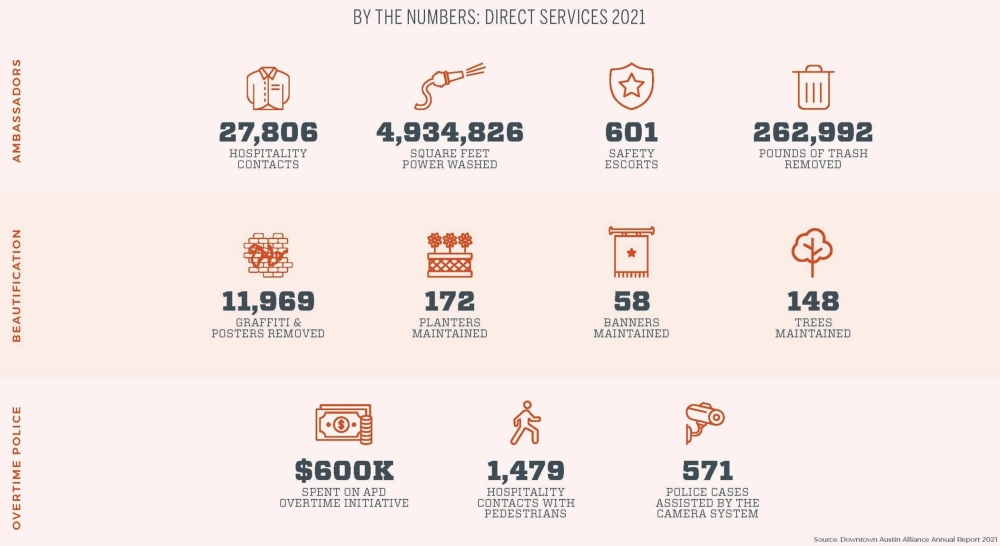 Alongside the actions tied to the DPID itself, council signed off on a $79.12 million contract with the DAA for its management of PID-funded services across downtown to be funded by the revenue collected there with some contributions from the city and Travis County.
Those services are primarily focused on activities such as graffiti and litter removal; programming in parks; monitoring the homeless population; promoting downtown destinations; and other work aimed at public spaces, safety and hospitality. Cleaning and other work through the group's Downtown Ambassador program will also continue.
Additional advocacy related to small businesses, new development, incoming infrastructure projects such as Project Connect and I-35's redesign, homelessness services and the organization's analysis of various
trends throughout downtown
are wrapped in as well.
"We're a unique city that requires creative approaches to maintain a thriving central business district." City Manager Spencer Cronk said in a statement. "I applaud the Downtown Alliance for their stewardship in making downtown an active and vibrant place, which ultimately benefits the entire city and Travis County through the tax revenue and job opportunities downtown generates. I also applaud Council for their authorization of the PID, which has been a profoundly successful economic tool authorized by State Statute."
Council also approved slight adjustments to the DPID boundary June 9. Those changes align its western limit, expand its southern edge where an expansion of the Waterloo Greenway system is in the works and add properties within the South Central Waterfront area
primed for future redevelopment
.
The new boundary also cuts out a block of mostly government- or university-owned properties between 15th Street and Martin Luther King Jr. Boulevard that did not contribute taxes to the DPID but had previously been included in its service area.
"We've secured the boundary, so where our services are needed, those properties are included," DAA President and CEO Dewitt Peart told
Community Impact Newspaper
earlier this spring.