The fees that developers of certain projects in downtown Austin must pay in lieu of providing affordable housing were updated for the first time in years following a vote by City Council May 20. However, the new fees may prove to be a temporary step toward modernizing the city's fee schedule ahead of a more comprehensive recalibration in the coming months.
Optional Downtown Density Bonus Program fees come into effect when a planned building exceeds zoned area or height restrictions, with a developer's payments then directed to city affordable housing programs. Developers may also elect to include such housing units themselves instead of paying the fees in lieu.
The bonus program fees were last set in 2013, and council earlier this year spent time discussing the city's path toward modernizing the payment requirements with a focus first on the downtown area. Following the May 20 update, which saw in-lieu affordable housing fees for residential and commercial downtown developments set between $5 and $18 per bonus square foot based on location, staff will bring a broader analysis on the city programs and fees to council later this summer.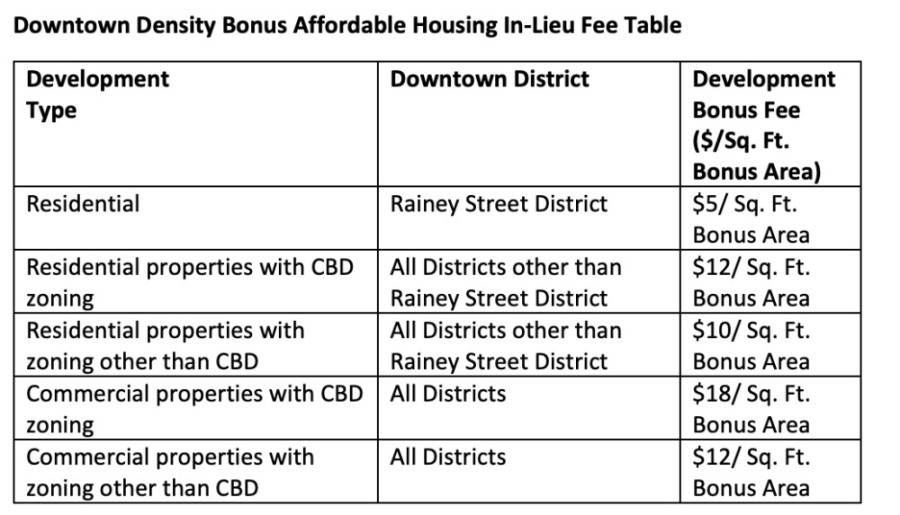 The program's in-lieu fee adjustments were approved by a majority of council via consent Thursday, with Mayor Pro Tem Natasha Harper-Madison and District 8 Council Member Paige Ellis abstaining. Through April and May discussions council members had mainly expressed a desire to dig deeper into bonus program revisions, although some were not supportive of focusing only on the downtown fees first and implementing a short-term fix without a full recalibration in place.
"I believe we need to revise our outdated downtown density bonus in-lieu fees and I look forward to staff bringing us the recalibrated fees for our existing code in August. However, I do still have serious concerns about implementing fees that were calibrated for a different code and different market conditions," Harper-Madison said before her abstention May 20.
Mayor Steve Adler said he supported the interim change with his vote Thursday, while looking ahead to consideration of a "more long-term rule" this summer following staff's in-depth review of the fees.
The total city revenue added through the revision will be determined as developers elect to participate in the future. And although council members said the fee update brings the program more in line with current market conditions and could boost funding to affordable housing programs, it may also affect how developers plan for new projects downtown.
"The recalibration of the fees-in-lieu for the downtown density bonus program could have a negative impact on the affordability of units being developed downtown. It could also mean that some developers choose to not take advantage of the program and thus, choose not to develop as densely which would mean fewer units all around," said Jeni Williams, deputy director of government affairs for the Austin Board of Realtors. "ABoR is concerned about the impact to market rate affordability with these changes, but we understand the need for trade-offs that also support our community's deep desire to increase income restricted units for the most vulnerable in our community."