Austin City Council voted April 22 to
detach jobs and responsibilities
from the Austin Police Department as city officials and staff continue consideration of a variety of policing and public safety practices in line with council's reimagining public safety process. The meeting also featured votes affecting downtown development and affordable housing program fees, requests for education funding and gun violence support, and the first public hearing on the possible redevelopment of a former "tank farm" in East Austin.
Density bonus program updates
Council members moved through several amendment proposals and goal-setting deliberations related to a resolution forwarded by District 9 Council Member Kathie Tovo aimed at jump-starting revisions to downtown density bonus programs and related development fees.
The programs were designed in the 2010s to allow developers to exceed maximum floor-to-area ratios in certain dense portions of downtown with council approval while providing the city with a structure for capturing additional affordable housing units and fees from those developments. However, the density programs were not updated on a consistent basis as originally planned and now use calculations council and staff highlighted as years out of date.
Council members were generally in agreement that an update to the downtown program outlines and fees is needed to bring them in line with 2021 market conditions. However, opinions ranged on the best starting point for tackling the recalibrations and whether an update focused solely on downtown should take precedence over the broader review and implementation of such programs.
"I'm ready to do the work alongside y'all to find places where we may not be able to get it exactly perfect, but we just don't have a program at all right now, so we're getting zero affordable housing, zero market-rate housing, zero increased tax base and all the other things that we need," Council Member Greg Casar said. "When I say we should be looking at this citywide, I don't mean let's continue to pour some of our limited time into just calibrating or working on some of the existing density bonus program. I really want to have maximum impact when we are working on some number of code amendments."
Council voted unanimously April 22 to approve Tovo's resolution focusing on the downtown programs first with an amendment from Casar clarifying council's aim to maximize program participation and broader benefits such as funding for permanent housing.
Fee revisions for the Downtown Density Bonus Program and Rainey Density Bonus Program will also be set as an action item for council's first May session, and city staff members were directed to bring new analysis on the programs and fees to council later this summer.
Appeals to address gun violence
Council Member Alison Alter and several cosponsors on the dais spoke to their desire for additional state and federal action on gun violence.
"We know how to fix this. Gun violence is a public health crisis, and we need our state and federal leaders to treat it as such. With this item, we direct our city manager to ensure we are working closely with our partners at the county level to have a robust firearms surrender protocol, and it also calls on our state and federal leaders to act. Inaction is simply untenable," Alter said.
The conversation stemmed from a resolution from Alter listing past gun violence incidents, including this week week's fatal shooting in Northwest Austin, as well as the Texas House of Representatives' passage of House Bill 1927 this month to allow the permitless carrying of firearms. Council passed the resolution on consent with Council Member Mackenzie Kelly voting against after stating her opposition to taking on issues related to firearms policy at the municipal level.
Unlocking education funding
Another resolution from Alter and several council sponsors related to education funding from federal pandemic aid passed unanimously on consent April 22. The item centered on the approximately $18 billion in K-12 education funding allocated to Texas through federal COVID-19 aid packages that has yet to be distributed to local education agencies such as Austin ISD—which saw its board
pass a similar resolution
April 22.
"These funds are desperately needed; they've been needed for many, many months. ... These funds were sent to Texas from two very different administrations, and Texas is only one of two states not deploying these funds as intended by the federal government," Alter said.
Possible 'tank farm' redevelopment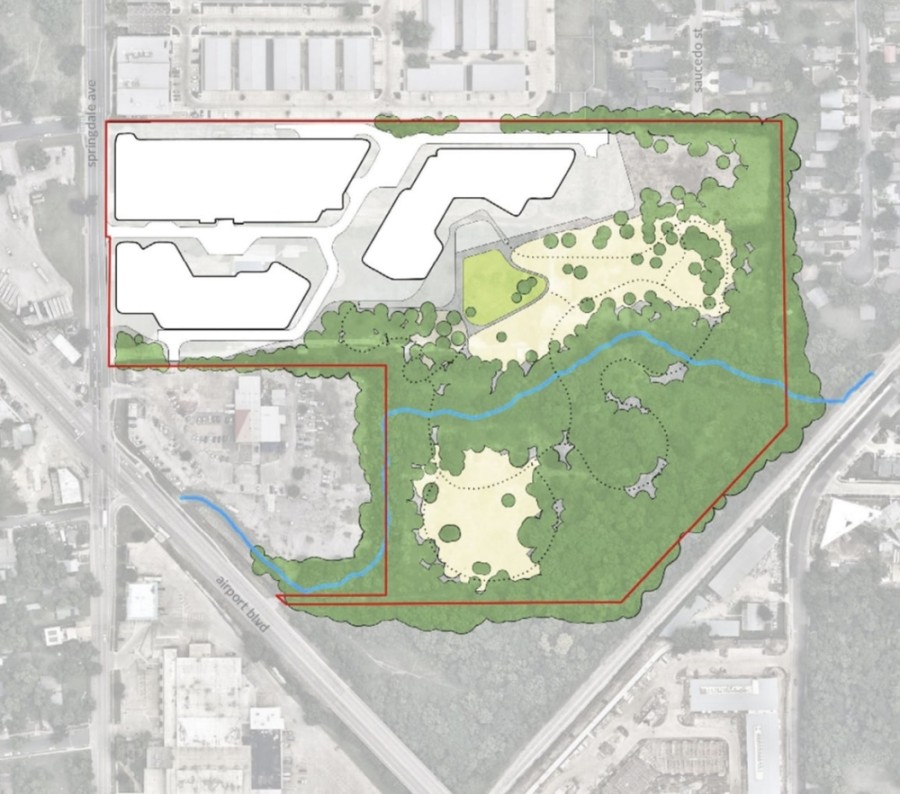 A 30-acre East Austin site formerly home to an industrial "tank farm" near the junction of Airport Boulevard and Springdale Road could be headed toward redevelopment as an office and environmental restoration project.
The proposed Springdale Green project at 1011-1017 Springdale Road went through its first public hearing April 22 centered on applicant AUS Springdale LLC's planned unit development rezoning request and a change allowing for increases beyond permitted building height from four to six stories at a maximum of 93 feet.
Several area residents both in favor and against the rezoning plan called into the zoning hearing. Favorable comments centered on the developer's communications and contributions to nearby public space and flooding initiatives, while some residents expressed concern over building height increases and neighbors' lack of access to on-site amenities.
Council members generally spoke in favor of the developer's proposed shift away from the site's historic use as a toxic storage site. Alter and District 5 Council Member Ann Kitchen also questioned the scope and merits of several project components billed as community benefits.
The item was approved on first reading and its public hearing left open for further consideration by council in May with Kitchen, Alter and District 2 Council Member Vanessa Fuentes abstaining and Kelly absent from the vote.
Red River District improvements
A construction contract for improvements in the Red River Cultural District totaling around $1.15 million was unanimously approved via consent by council. The project's scope stretches along Red River Street from south of East Seventh Street to just north of East 10th Street and will include fixes such as art, lighting and mobility enhancements.
Council Member Natasha Harper-Madison said the effort is geared toward assisting the cultural district's pandemic rebound this year with the hope that construction can wrap prior to an expected surge in patronage as vaccinations and reopening efforts continue.
"The pandemic really has been an absolute gut punch to the people who make Red River what it is," Harper-Madison said. "We'll hopefully get to see the floodgates open soon, and the moment we hit that herd immunity ... those bars and clubs that have been sucking wind for the past year, they don't need any extra disruption."