With less than two months remaining to spend funding issued through the Coronavirus Aid, Relief and Economic Security Act, Travis County officials are taking stock to be sure "not even a penny" goes back to the United States Treasury Department at the end of 2020, according to Travis County Intergovernmental Relations Officer Julie Wheeler. The county has a federally imposed Dec. 30 deadline to spend the more than $61 million in CARES Act funds it received in April. As of Nov. 6, Travis County had spent 77.7% of its CARES Act funding, with $13.75 million left to go.
Travis County instituted several COVID-19 relief programs this year with CARES Act dollars, including a program offering rent and mortgage relief to low-income residents originally worth
$10 million
. The county also disbursed
$7.3 million to the county's small cities
, offering proportional amounts based on population. The cities that accepted Travis County's funding had until Oct. 31 to spend their allocations and submit invoices to county staff, although several cities were offered a one-week extension. Four cities—Elgin, Round Rock, Village of the Hills and Volente—declined Travis County's support.
With the clock ticking to spend remaining funds, Travis County has reallocated some funding from these pools to other most in-demand CARES Act programs. On Oct. 13, for instance, county commissioners voted to reallocate $3.5 million from the rental and mortgage relief program to two other programs, earmarking $2.95 million for the county's direct assistance program and $540,000 for TCTX Serve, which offers grants to local nonprofits. As of a Nov. 10 meeting, county budget direct Travis Gatlin said TCTX Serve was still in high demand, and staff was looking for sources to reallocate $1.18 million to that program.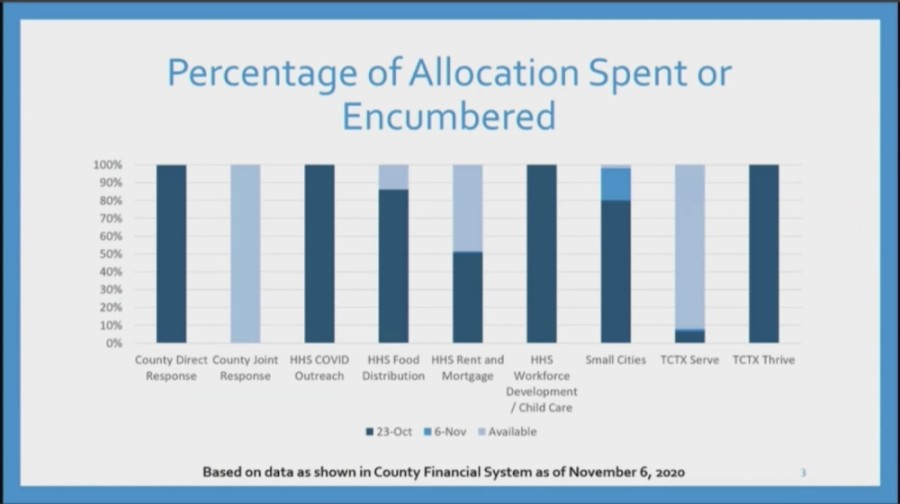 The most significant remaining chunk of funding is $8.8 million earmarked for joint response with the city of Austin. Staff from the city and county are in the process of developing an interlocal agreement to determine how this money will be distributed.
According to Gatlin, Travis County is on track to spend the entirety of its federal coronavirus relief funds, but noted in a brief that further reallocations "between the major categories may be necessary to fully expend the funds by the deadline."