Updated May 8 8:28 a.m.
Austin voters passed Proposition A by over a five-to-one margin May 7, formally ending low-level marijuana enforcement and the practice of no-knock warrants in the city.
Travis, Williamson and Hays counties reported a total of 57,967 votes—85.49%—tallied in favor of Proposition A, with 9,270 against as of 11 p.m. May 7. Results are unofficial until canvassed.
"This is an extremely strong mandate from Austin voters that they want these reforms and they want them now. ... We're hopeful that other cities across Texas will take this as inspiration, that this is what the voters want," said Mike Siegel, political director for the voter engagement group Ground Game Texas, in an election night interview. "This is something that we should accomplish at the city level, but most importantly next year at the Texas Legislature statewide. So we're hoping that Prop A will be this marker, a line in the sand, that inspires state politicians to get the job done."
Proposition A's passage will codify current Austin Police Department policy on marijuana enforcement, effectively ending ticketing and arrests for Class A and B misdemeanors related to marijuana possession. City Council had previously requested that the police department make that policy change, and after some
back-and-forth
with former Police Chief Brian Manley the practice was
adopted
.
Council also
backed up
current policy limiting the use of no-knock warrants in 2020, although a total ban as would be enacted through Proposition A had not previously been adopted.
"Based upon what polling shows us, this is an issue ... that the majority—the supermajority—of Texans support, and our city as well," said Julie Oliver, Ground Game's executive director.
The city previously said that, if Proposition A passes, the marijuana and warrant policy changes would take effect immediately after the election is canvassed later this month.
Ground Game is currently working to add marijuana decriminalization measures to several other ballots statewide, and representatives said they hope the outcome serves as a template for other cities to follow.
"It's not just Austin living in this bubble," Oliver said. "Our voters just started the ball rolling."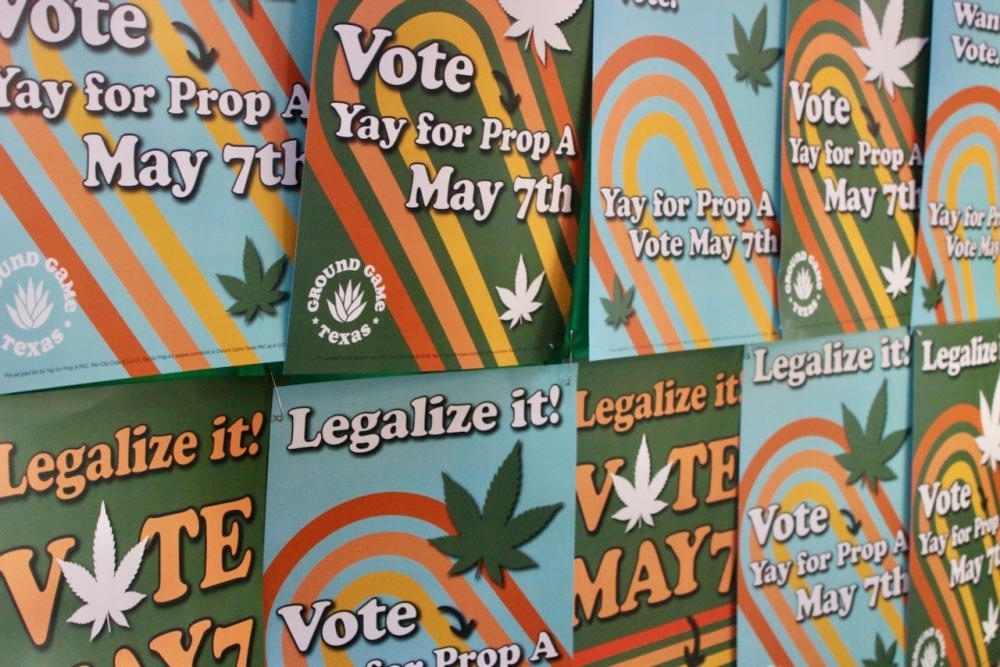 Posted May 7 7:38 p.m.
With early voting results in, Austin's
Proposition A
appears headed for passage and would end both low-level marijuana enforcement and the use of no-knock warrants by police in the city.
Based on initial tallies from the nine-day
early voting
window in Hays, Travis and Williamson counties, 83.6% of Austin voters cast a ballot in favor of Proposition A and 16.4% voted against. Vote totals from election day are expected to be released through the evening, and all results are unofficial until canvassed.
If the early results hold, Proposition A's passage means the Austin Police Department will no longer issue citations or make arrests for Class A or B misdemeanor marijuana possession. Class C misdemeanor enforcement related to drug paraphernalia or residue would also end. However, police may still seize marijuana, and arrests or citations could still be made in connection with felony investigations.
Additionally, the limited practice of no-knock warrants would be banned, and police would instead be required to announce themselves and wait 15 seconds before executing a search warrant.
Proposition A made it onto Austin's May 7 ballot following a successful petition drive led by
Ground Game Texas
last year. In Austin, certified initiative petitions may either be approved outright by City Council or put before city voters; officials decided to
call an election
for the measure in January.
According to the city, the Proposition A election cost $699,786.