The University of Texas is partnering with Samsung on a workforce development initiative to recruit students into semiconductor studies and upgrade the university's research and development systems.
What happened
Elected officials joined business and university representatives in Austin on Sept. 1 for UT's
Semiconductor Day
. The event opened with the announcement of the new partnership, the latest in a series of what UT President Jay Hartzell called Samsung's "giant bets" on Central Texas as the region
remains a national leader
in the semiconductor space.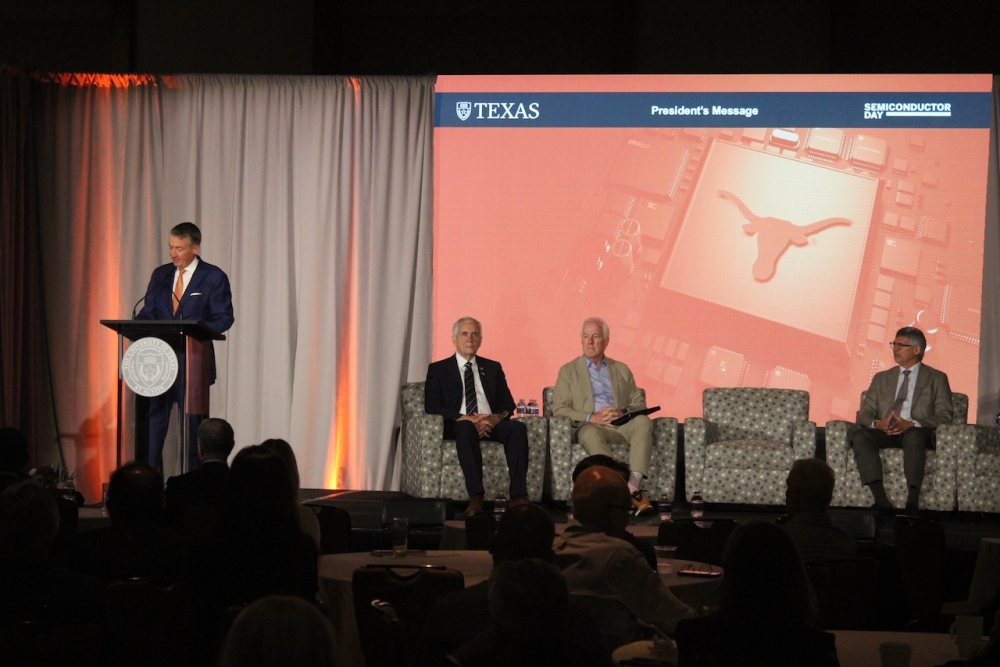 The initiative will see Samsung and its local subsidiary Samsung Austin Semiconductor contribute a combined $3.7 million to UT's Cockrell School of Engineering with a focus on workforce development and research. Jon Taylor, SAS corporate vice president of fab engineering and public affairs, said the update will bring Samsung's total investments in UT over the years to more than $12 million.
"Being able to pull from a skilled and large workforce is of utmost importance for us," Samsung Austin Semiconductor President Bonyoung Koo said in a statement. "That is why we're investing in a neighboring, top-ranking engineering school such as the Cockrell School."
The details
The new plan announced in September formalizes the two entities' longstanding relationship. SAS' initial $1 million investment will be made in October, while the remaining $2.7 million from Samsung Electronics will be spread out over the next three years.
Updates will include:
40 undergraduate student scholarships
10 graduate student fellowships
Curriculum support for student projects
Paid internship opportunities
Modernizing the university's undergraduate "Fab Lab"
"The partnership will elevate UT Austin's semiconductor education, innovation and research, and position Texas as a leader in the burgeoning U.S. semiconductor industry," Taylor said.
Over Samsung's several decades in the Austin area, UT said the company has offered internships to hundreds of its students and hired hundreds of its alumni. Since 2018, Taylor said Samsung welcomed about 100 UT interns and hired 90 university graduates.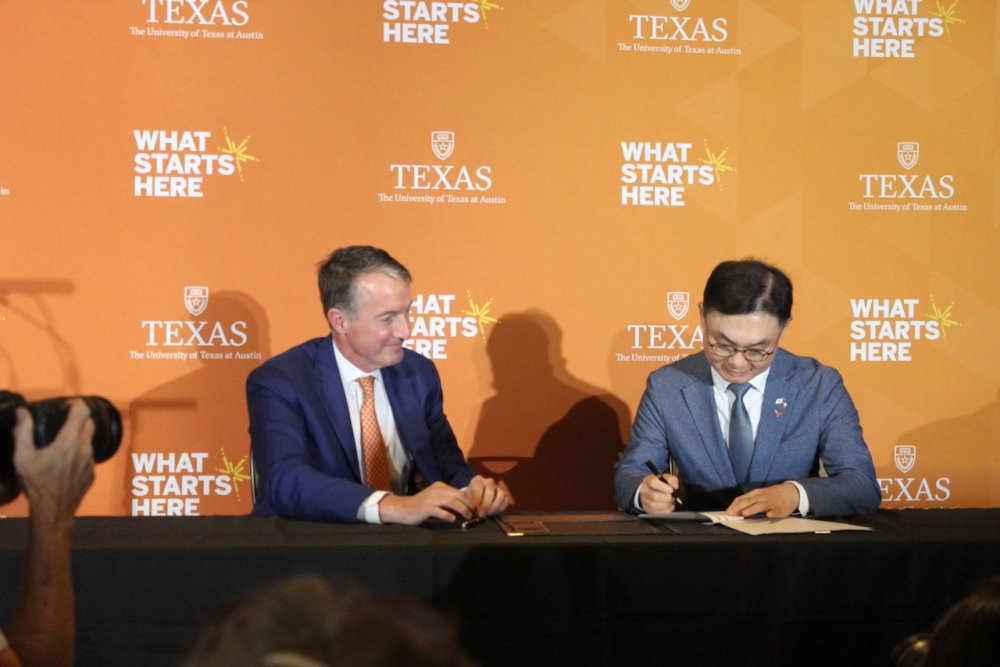 UT representatives said the initiative is aimed at boosting the institution's semiconductor-related offerings as state and federal lawmakers work to cement the
role of Central Texas
in the national chipmaking conversation.
"UT Austin's leadership in America's semiconductor industry and our role in Austin's emergence as an industry hub date back to the 1980s," Hartzell said in a statement. "Our Legislature's bold investment in the CHIPS Act is positioning UT to design and build the future of semiconductors, and now our partnership with Samsung enables us to educate the workforce, fundamental to bolstering the U.S. supply chain. We could not be more excited to work with Samsung to help achieve this important goal."
The big picture
The update comes as lawmakers and local industry members seek to secure more opportunities for the Austin area through the tens of billions of dollars made available for the sector by the CHIPS Act.
Officials also said pushing for semiconductor growth in Texas and across the U.S. is key for national security and international economic competition.
"We want it done here, right here in Central Texas and in the state of Texas. We're the best argument, I think, for exactly what the vision is that President Hartzell painted," said U.S. Sen. John Cornyn, R-Texas. "There's such a huge foundation to build on here and whether you look at the business community, academia, the technology sector, it's all here, and we're all working closely together to build on this incredible capacity we have here to improve quality of life, create well-paying jobs and to make sure that America remains the leader when it comes to this technology competition we know is going to get nothing but more competitive as time goes by."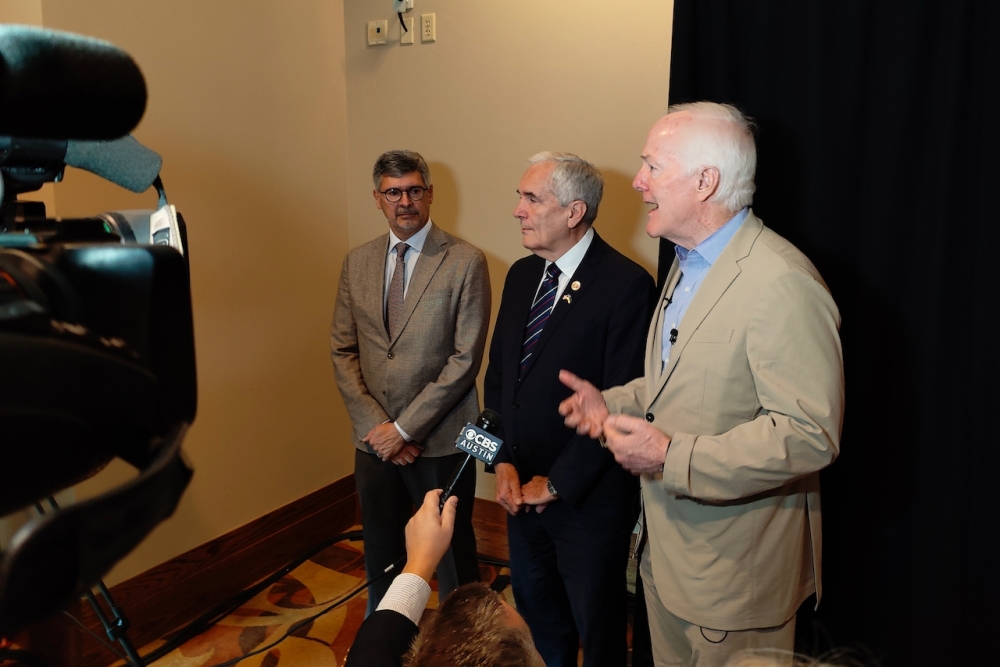 U.S. Rep. Lloyd Doggett, D-Austin, said the update also strengthens America's international ties.
"Samsung is one of our leading corporate citizens. Because Samsung is here and it is expanding, we have the opportunity to get more research dollars flowing here ... and to really move forward together," he said. "It's a sign of a strong alliance between our two countries, Korea and the United States."
As federal CHIPS Act investments continue, Doggett said there's a bipartisan push in Central Texas to direct as many dollars to the region as possible. Cornyn added that U.S. Department of Commerce representatives were in Austin to review how UT and the area's industry offerings could play into those national plans.
"We're auditioning for that grant money to be invested here in Texas," he said.
Doggett also said Central Texas could fill a void in the U.S. chip packaging and research space, a goal he said UT has a head start on.
"We handle a great amount of chip design here in Austin ... but the United States does very little chip packaging, and that's a key element. Getting that research institute located here at The University of Texas—whether part of it's at [the J. J. Pickle Research Campus] where they're operating now or out at the old [SEMATECH] facility in Montopolis—would eventually bring, I think, billions of dollars to the Texas economy," he said.