The 2021 Austin City Limits Music Festival contributed $369.16 million to Austin's economy last year, according to a new report from the economic analysis firm AngelouEconomics.
During a May 10 press conference covering the findings of the analysis, city officials commended the festival both for its economic effects and for the portion of festival-related dollars that support Austin parks.
"That's how this city works. Events like this bring in not only great entertainment, but bring in the resources that enable us to help do the kinds of things that this community wants to see," Mayor Steve Adler said.
With around 75,000 daily attendees and more than 120 artists flocking to the festival last October, AngelouEconomics also found that the economic effect of hosting ACL across two weekends resulted in nearly 3,600 full-time jobs being either created or saved. Those financial and job outcomes build on the estimated $2.63 billion—and roughly 28,200 jobs—ACL has brought to Austin since AngelouEconomics began tracking the festival's monetary effects in 2006.
The research firm said its latest findings were compiled based on both finances related to festival operations—provided by ACL promoter C3 Presents—and estimates related to spending by festival attendees. The festival itself generated $41.49 million in the local economy, while spending by guests both on and off festival grounds generated $327.68 million in economic activity.
The top business areas benefiting from ACL last year were tied to the service industry. AngelouEconomics found the food and beverage sector saw a $104.2 million economic effect and nearly 1,500 jobs added or preserved as a result of the festival, while a $41.8 million output and nearly 500 jobs were reported in relation to the hotel industry.
In addition to the broader economic results, the festival's relationship with the city and the Austin Parks Foundation also generated financial backing for Austin parkland. ACL's two-week run at Zilker Metropolitan Park last fall provided $6.7 million for citywide parks improvements, in addition to the restoration work the festival conducts annually at Zilker itself.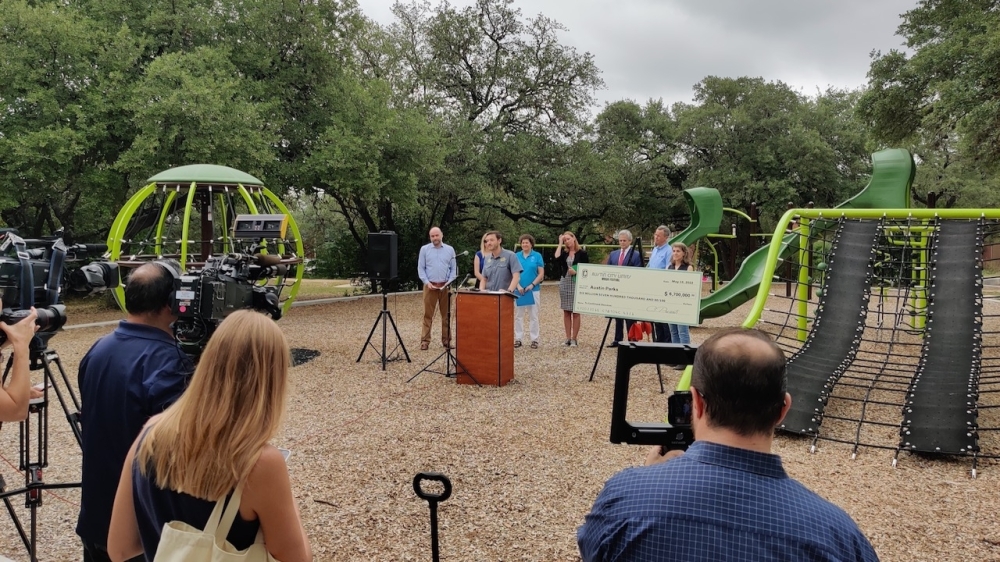 Several City Council members joined APF and Austin parks department representatives May 10 at Georgian Acres Neighborhood Park—a former recipient of funding tied to ACL—to highlight the investment in parkland they said the festival brings to the city.
"Not only does Zilker Park have amazing amenities, an amazing lawn and lots of other benefits thanks to the festival, but parks like this that are nowhere near downtown Austin see significant contributions from that event," AFP CEO Colin Wallis said. "This year, those dollars will go all across Austin's 369 parks, but with a real emphasis on parks in parts of Austin that historically haven't seen the kind of investments that places like Zilker Park has."
Park projects partially funded through the festival partnership include Greenbelt trail improvements, baseball field lighting upgrades and playground construction. Funding will also go toward the newly electric Zilker Eagle
train
.
AngelouEconomics said the past 17 years of ACL have provided Austin parks with more than $48 million in total.
"ACL Fest is so much more than a two-week music fest, party and sometimes a traffic headache. Thanks to ongoing partnership with [the] APF, ACL Fest bankrolls serious investments for all people—and that's the critical component: all people—to enjoy all parts of Austin," District 1 Council Member Natasha Harper-Madison said.
The economic information was shared just after the release of ACL's 2022 lineup. The headliners include Red Hot Chili Peppers and Lil Nas X. More details for the two-weekend October event are available through the festival
website
.