The women behind North Loop bakery Zucchini Kill say they want a revolution— "dessert-style." That means a bakery that carries out the values of co-owners Jessica Freda and Cece Loessin in pastry form, with vegan recipes and compostable packaging.
Freda and Loessin, long-time vegan bakers and former bandmates in an all-woman punk band, went into business together in 2016 after Loessin adopted a gluten-free diet and asked Freda about teaming up to bring vegan, gluten-free treats to the Austin community.
"Without hesitation, I was like, 'Hell yes!'" Freda said.
They named the bakery Zucchini Kill, a vegan homage to the 1990s riot grrrl band Bikini Kill. Freda and Loessin referenced more of their favorite bands with specific menu items, such as the "Oat Breaker"—an oatmeal cookie named for the metal group Oath Breaker. Bikini Kill even took to social media to ask for a pastry named after the band's song "Rebel Girl." One of Zucchini Kill's most popular pastries, the "Rebel Swirl" Swiss roll, was born.
All the bakery's food is made without allergens such as gluten, soy and corn, which makes recipe development a challenge.
"It's really like a science, so when you start taking out those really important ingredients like eggs or flour, which is the basis of all baking, it's a completely new learning experience," Freda said.
Avoiding allergens is one way Zucchini Kill strives to build a more inclusive business, Freda said, in addition to diverse hiring practices. It is a mindset she said has fostered a warm community. Even with the shop's brick-and-mortar space temporarily closed, Freda said customers have "totally blown [her] away with their support."
Freda said not all of those supporters are vegan or gluten-free eaters. Rather, many patrons come to experience the culture of the shop and its musician-minded, punk aesthetic.
"We really want to support weirdos like us," Freda said. "We want to make a shop that 15-year-old Cece and Jess would be stoked to find—little metalheads and rock 'n' rollers that are just like, 'this is cool.'"
The Delivery Hearse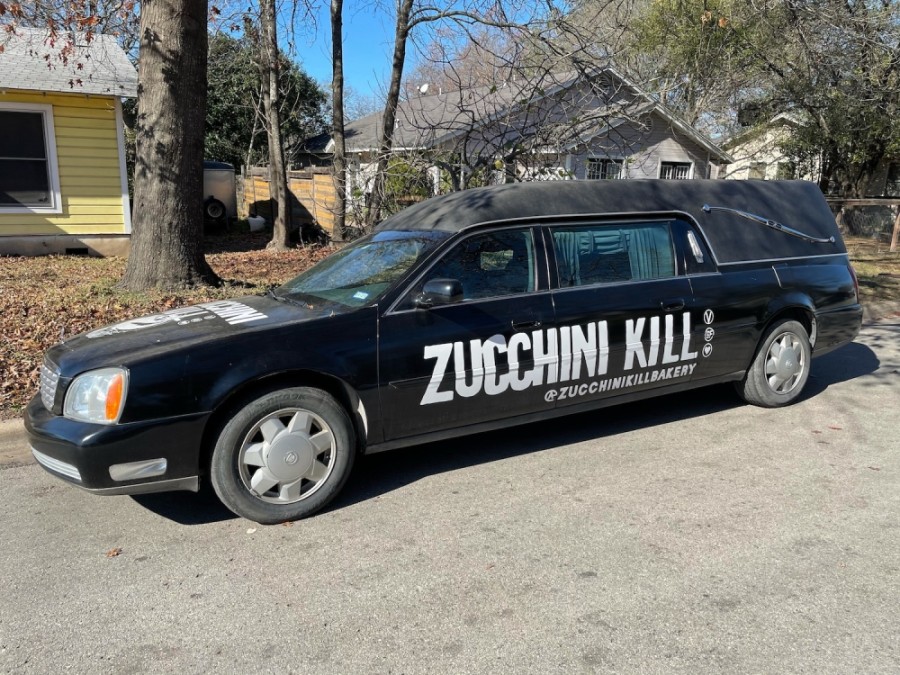 When Freda and Loessin were looking for a delivery van, they ran into steep prices. They realized a hearse would be about the same size and much more affordable. While many bakeries might avoid association with death and funerals, it fit Zucchini Kill's punk ethos.
"People will send us photos if they see us driving on the highway. It's pretty noticeable," Freda said.