A new mixed-use project off South First Street will be able to bring slightly taller residential and commercial additions to the Bouldin Creek neighborhood.
The Copeland project from developer StoryBuilt features multistory buildings spread across a 4-acre site around 1000 S. First St. on either side of Copeland Street. The proposed development includes a hotel, an office building, two condominium complexes and a row of townhomes in addition to a new park and underground garages.
The property included in the Copeland request is situated next door to Austin-based StoryBuild's offices and part of the firm's existing
Frank
mixed-use community.
Much of the Copeland site is constrained by environmental development regulations as well as Austin's
compatibility standards
, rules designed to keep new construction in line with surrounding neighborhoods. After securing variances from Austin's Board of Adjustment on March 14, the Copeland development can now include more new construction with buildings several feet higher than otherwise allowed. The approval came just over three months after City Council signed off on rezoning requests for the project.
Land-use lobbyist Michael Whellan and Jeff Seiden, representing the Bouldin Creek Neighborhood Association, told board members that Copeland is coming together with community support more than three years after the development team approached area residents to plan out an agreeable path forward for the project.
"When I saw this come through [Planning Commission] I was really excited. I would love to see more of it," Board Chair Jessica Cohen said. "Thank you so much for working so well together, and I'm hoping everybody looks and says, 'Oh look what we can do,' and starts doing it everywhere."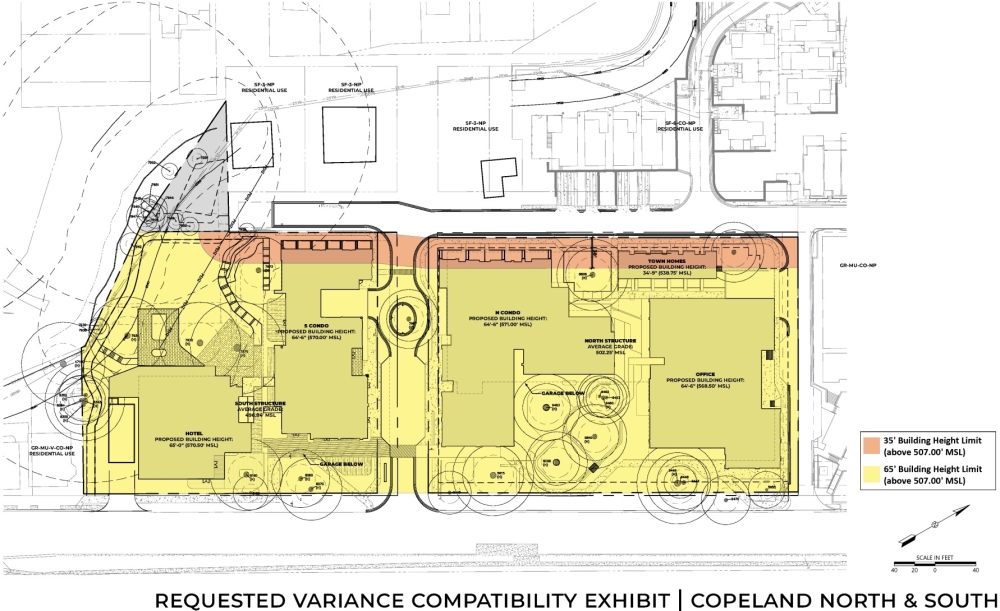 Much of the project will now be able to build up to 74 feet high along First Street, while a portion of the development closer to the residential South Second Street to the west will be limited to around 37 feet. Seiden said the final proposal received "overwhelming" support from neighbors thanks to several conditions StoryBuilt and the neighborhood established in a private restrictive covenant.
Several ownership housing units will be reserved for buyers earning below the local median family income; new public park space will be dedicated next to the existing Nicholas Dawson Neighborhood Park and East Bouldin Creek Greenbelt; and the developer will work to preserve the many heritage trees currently on-site.
Seiden said the tree preservation will be enforced through an "unprecedented" funding agreement that will see StoryBuilt set up a $1 million escrow account in case of any tree damage. If a tree is harmed during construction or within 18 months after completion, $100,000 per tree will be paid out to Foundation Communities or Austin Habitat for Humanity.
Board review
The Board of Adjustment approved StoryBuilt's variance request 9-0-2 on March 14.
Despite his general reservations about cases like Copeland, Board Member Darryl Pruett said he supported moving forward given how plans turned out.
"I do not like variances from compatibility standards. I don't like having big, huge, tall buildings right next to somebody else's house," Pruett said. "It looks to me like they put a lot of thought into this; they've done this the correct way, which is to get with the neighborhood, talk to them, come up with a vision for what it's supposed to be like, and then try to come to us with a minimum ask necessary to get that vision put in place on the ground."
Board Member Richard Smith, one of two abstentions in the vote, said he would not support the request outright given his concern over how the proposed height increase and rollback of compatibility would affect nearby homes and potentially run afoul of ongoing legal review of Austin's land-use policy.
As the city moved ahead on its second attempt in the past decade to update its decades-old land development code, a group of homeowners
sued over the code rewrite process
and eventually
halted that work
. On March 6, the same coalition filed a motion claiming that recent City Council housing policy action should be voided in line with the 2022 ruling that ended the code revision. The homeowners' new legal request had not yet progressed in Travis County court as of March 14.
Council members last year approved changes to city development rules that would allow for more housing in targeted areas of Austin, including some concerning
compatibility
, residential development in commercial zones and
taller mixed-use construction
.
Cohen noted that the adjustment board cannot consider potential court outcomes in its decision-making, and Whellan said Copeland's height increase was not related to those recent council decisions. Smith said he still had concerns about allowing the change.
"I see legal issues here," he said.