Plans for a 100-unit apartment complex in the Hancock neighborhood that would house people experiencing homelessness are heading to City Council.
In a unanimous vote, the planning commission supported a rezoning request from SGI Ventures Inc. for the Cady Lofts project at 1004-1008 E. 39th St., Austin. Cady Lofts is envisioned as a three- and four-story apartment building with 100 studio units housing residents referred through the local continuum of care program managed by the Ending Community Homelessness Coalition, or ECHO.
In addition to SGI, the permanent supportive housing project is being co-developed by the nonprofit affordable housing arm of Austin's housing authority. Developers Saigebrook Development and O-SDA Industries as well as Texas nonprofit New Hope Housing are project consultants.
The Cady Lofts rezoning appeared before the commission May 24 following a two-week delay prompted by Hancock residents who had asked for several months to further evaluate the plans and consult with outside experts earlier in May. However, development representatives said the affordable complex that is partially funded by Texas housing tax credits could risk losing out to other projects in that competitive process if an extended postponement pushed it past a state deadline.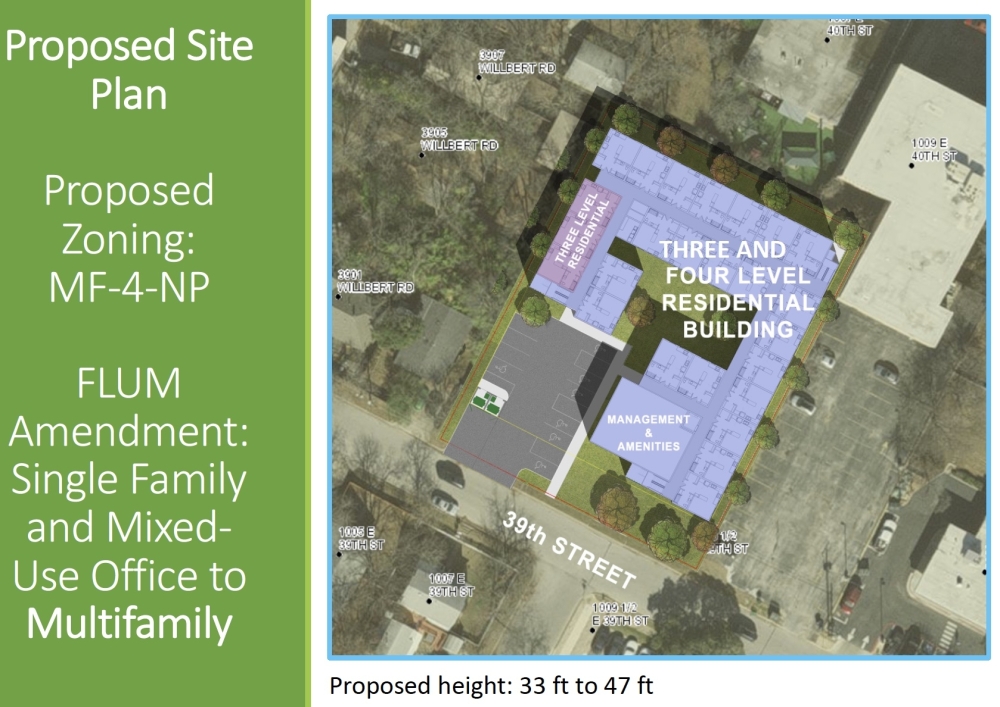 Community discussion at the May commission meeting centered both on Cady Lofts' place in regional efforts to build up supportive and affordable housing as well as the rezoning process and the proposed tenants to be housed there. Although most said they support affordable housing and homeless services in concept, opposition came from Hancock residents generally concerned about the size and place of Cady Lofts on the edge of a residential neighborhood, local infrastructure, and the complex's future resident makeup.
"This level of density is unhealthy for everyone, but especially for the vulnerable people who will be housed. The preference is affordable housing for families," said Lisa Fleck, who opposed exclusively providing efficiency units for single tenants.
Multiple speakers, including Hancock Neighborhood Association President Coan Dillahunty, also said they may seek legal action against the city for worries such as "spot zoning" to expedite development and neighbor notifications ahead of the zoning hearing.
"Hancock is not an elitist neighborhood, and we are pro-affordable housing," said Jennifer Dillahunty. "If this project does move forward, I will work to get to know my new neighbors. But, want to state on the record that this feels a little bit like a rushed kind of experiment."
Turning out in support of the project were several area residents and representatives of local nonprofits and advocacy organizations including ECHO, The Other Ones Foundation, Springdale Park Neighbors and the Austin Justice Coalition. Their commentary in favor of Cady Lofts included multiple references to Austin's affordability problems and a lack of available space to serve the unhoused.
Representing the project team, O-SDA President Megan Lasch also pushed back on neighbors' hesitance about the apartment location with a reference to comments supporting affordable housing, "just not in this location," repeated by many at the meeting. Lasch said a complex planning process including local and state considerations, as well as developers' previous meetings with neighbors ahead of the commission's vote, tied into her desire to avoid further delays.
Lasch also said the single-occupant rooms were identified by homeless service organizations as a priority for new construction over family-oriented supportive housing.
Given that need for such projects, Chris Baker, The Other Ones executive director, expressed frustration with neighbors turning out to block apartments that would bring dozens of people off the street.
"I don't even know what to say. What are we even doing here? Why are we even talking about this? This is insane. Of course we need more permanent supportive housing; of course we need it now," Baker said.

Speaking in support of the zoning request, Commissioner Robert Schneider said concerns about serving a homeless population near a neighborhood is a "non-issue" and noted the positive effects of other supportive complexes in Austin such as Foundation Communitites' Bluebonnet Studios.
Commissioner Awais Azhar also expressed skepticism at how some neighborhood leaders handled the rezoning and their related outreach, mainly to area homeowners rather than apartment tenants. Azhar said the case served as an example of how a neighborhood association can "break community trust" during the city's planning process.
City Council already
supported
the project plans through its state tax credit application earlier this year, and a vote on the zoning case could come in June. Lasch said, pending council approval, the project could break ground in 2023 after making it through Austin's monthslong permitting process.