More than 14 acres on the eastern edge of Austin's downtown was cleared for
potential redevelopment
earlier this June, marking another step in the growth of the city's medical and economic innovation district.
The property encompassing the former Brackenridge hospital campus off I-35 is owned by the Travis County Healthcare District, or Central Health, and is bounded by E. 12th, E. 15th and Red River streets. Central Health for years had been seeking to remake the space into a revenue-generating mixed-use development, a possibility that was facilitated June 10 after City Council unanimously voted for the rezoning of the property to a planned unit development, or PUD.
The approved rezoning comes after council had previously sought to open the property to commercial redevelopment via a a code amendment process that was eventually ended in favor of the PUD proposal.
"Rezoning the property is a critical and long-awaited milestone in the redevelopment of this valuable and important property," Mike Geeslin, Central Health president and CEO, said in a statement. "With a diverse mix of revenue sources, Central Health won't rely solely on funding from property taxes to care for a growing number of Travis County residents with low income."
Tenants for the majority of the site have yet to be determined, although Central Health has said it aims for the property to become a walkable district with an emphasis on medical uses. Through the city rezoning process, 100 units of affordable housing were also added as a requirement if any future development includes a condominium or multifamily residential component.
"The community helped create the master plan, which provided a clear vision for this redevelopment," Sherri Greenberg, chairperson of Central Health's board of managers, said in a statement. "We listened when residents who told us they wanted a vibrant hub for healthier living that is easily accessible on foot, bike, public transit or by car. The community wanted a development that included space for health care services, medical research and innovation, and creates a sense of community. We're eager to move this project forward."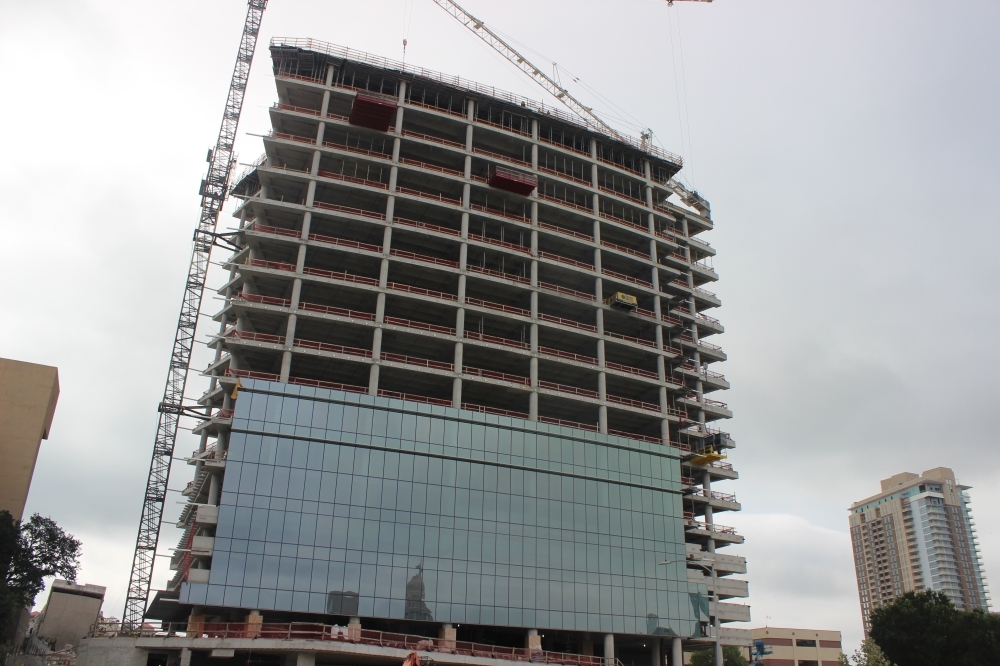 As of late June the former hospital campus is still in the process of being demolished. The property is already home to one new prominent structure, a 17-story office tower to be used by The University of Texas, that is being developed by the 2033 Higher Education Development Foundation with an expected completion in 2022. The UT-supporting foundation's 99-year lease on the tower's land is expected to bring in $430 million for Central Health over the coming decades.
Red River realignment
Alongside the site's commercial future, the property will also be home to a newly-realigned Red River Street to be constructed through Central Health's agreement with the city. Once that realignment is complete, Red River will run directly through the property along the same direct path it takes north of 15th and south of 12th streets. The existing portion of Red River will be remain in place and be reworked for pedestrian uses adjacent to Waterloo Park. But like the property overall, that space's planned uses have yet to be determined.