City officials released the details Dec. 1 of the recommended proposal for the city-owned, essentially vacant 1.7-acre downtown tract at 1215 Red River St., Austin, setting the stage for a City Council vote on the long-awaited development.
However, City Council members disagreed with how quickly the project was moving. Some said the time between proposal presentation and City Council vote was too accelerated, while others said that as Austin continues to suffer from growing housing affordability challenges, the city needs to be moving swiftly in getting affordable housing projects approved and off the ground.
The city has owned the tract since 1972 but bought back development rights after the former tenant, HealthSouth, vacated the property in 2016. The tract, which is among the most valuable undeveloped properties in the city's portfolio, has since represented a rare opportunity for the city to produce an affordable housing-focused project in the increasingly unaffordable downtown area.
Austin Mayor Steve Adler said the property also plays a crucial role in the city's burgeoning Innovation District, the northeast quadrant of downtown Austin, which city and local state leaders want to become a multidisciplinary hub that attracts business, creative and medical-focused tenants of global-scale prestige.
After requesting development proposals in November 2019, the city said the project outlined by the Austin-based Aspen Heights Partners—responsible for downtown's Independent skyscraper—best met its wants. The proposal's details remain sealed; however, the city's economic development department has provided a rough outline of what Aspen Heights Partners sees for the property.
Two towers are proposed for the site. The first would be a 36-story, 420,000-square-foot residential tower with 348 apartments and 160 condos. The tower will offer 25% of the total units as affordable housing, with a mix of rental units for residents earning between 50%-60% of the median family income—
$48,800-$58,550 for a family of four
—and ownership condos for residents earning 80% of the median family income—$78,100 for a family of four.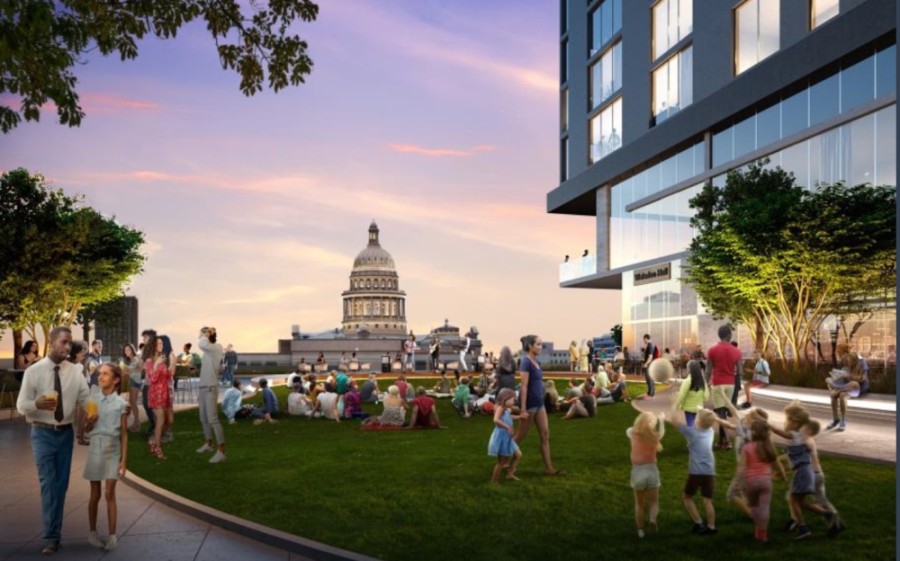 The second would be as a 15-story, 170,000-square-foot office tower, which, according to Margaret Shaw, a program manager with the city's economic development department, would come with other components as well, including 25,000 square feet of retail space, 18,000 of which will be dedicated as a "culinary destination" with space for the "local food system." The proposal also includes a rooftop café and publicly available viewing deck, 6,000 square feet of music and arts space, and a 22,000-square-foot elevated plaza that would connect the towers and act as a public park.
Shaw said with City Council's approval, staff would begin a negotiating process of around six months with Aspen Heights Partners, which would be followed by a master development agreement process of up to two years. The project could be allowed to break ground by 2023.
Most City Council members indicated interest in the proposal; however, they agreed to postpone their vote on whether to allow staff to begin negotiating with Aspen Heights Partners until Dec. 10.
District 9 Council Member Kathie Tovo, whose mostly downtown district neighbors the tract, expressed frustration at what she said was too fast a timeline. Tovo said the project was a "leading interest" of hers.
"I am concerned about the timeline. It is important to me to make sure that we have as robust a public conversation about this really significant public project as possible," Tovo said. "I am not ready to make a decision this week. I would not be ready to make one next week either, but I certainly do not feel that we would be doing a service to the public asking them to engage on something of this import so quickly."
District 1 Council Member Natasha Harper-Madison initially said she would not support an extended postponement of the discussion, but she supported District 6 Council Member Jimmy Flannigan's proposal for a one-week postponement. The project tract falls within the western edge of Harper-Madison's district.
"I'm looking forward to moving forward on this project. I find it to be absolutely comprehensive and amazing, and it addresses the need in the community and addresses the need in that area," Harper-Madison said. "Having had the opportunity to look at all the proposals that were submitted, I agree with staff that this is the best proposal and that it will offer us what we're looking for as a municipality."
For his part, Flannigan pressed the City Council to move forward.
"[Earlier in the meeting], we were talking about how we have these big challenges about housing and how we're not solving them fast enough, and now, we're contemplating going slower," Flannigan said. "We've been talking about this [project] as a community for a very long time. These proposals are ... not just reasonable but exceed, certainly, my expectations."
City Council postponed the vote until its Dec. 10 meeting, its final one of 2020.