The national and local economies are in recession, and unemployment rates are double what they were last year, but the housing market has been unscathed by the COVID-19 pandemic—especially in Austin, where demand for housing has soared in recent months.
"It's one of the few industries that really is going strong when you look at the U.S. economy, the tate economy and the Austin economy," said Jim Gaines, chief economist at the Texas A&M University Real Estate Center.
In the Austin metro, data from the Austin Board of Realtors shows home sales to date in 2020 are higher than in 2019 despite a dip in early spring when, Gaines said, buyers were reluctant to put their homes on the market and risk exposure to COVID-19. In Central Austin, the median price is up over 13.2% year over year—reaching $550,000 as of September.
From January through September, buyers have spent more than $2 billion on Central Austin homes—a 7.3% increase from the same period last year, despite the fact the actual number of Central Austin home sales is down more than 4%.
A number of factors support Austin's especially strong market. Many Austinites, Gaines said, work in industries such as tech that offer the flexibility to work from home and remain mostly unaffected by the economic pressures of the virus. Tech companies such as Apple and Tesla recently announced expansions in the Austin and Travis County areas, showing investment and growth in the city are unlikely to slow down. As of September, the Austin metro's unemployment rate of 6.4% was 1.5 percentage points lower than the national average, according to numbers from the Texas Workforce Commission and U.S. Bureau of Labor Statistics.
ABoR President Romeo Manzanilla pointed to all-time-low mortgage interest rates making buying or refinancing a house more appealing. The average 30-year fixed mortgage rate hit a historic low of 2.81% on Oct. 15, according to federal mortgage buyer Freddie Mac.
But while new residents move into Austin and housing demand grows, supply in the area remains low. In the Austin metro, there are 26% fewer homes on the market in September than there were at this time last year, dropping inventory from 2.6 months to 1.4 months—meaning if no new listings were added in the area, the existing homes on the market would be sold within about 45 days.
"The Austin area needs more housing supply at all price points in order to stabilize home price growth and help make homeownership accessible, especially for first-time homebuyers," Manzanilla said.
Driving to affordability
Limited supply coupled with the added flexibility for many residents to work from home has led more buyers to flock to Austin's suburbs. According to the U.S. Bureau of Labor Statistics, 22.7% of Americans are still working from home because of the coronavirus pandemic as of September.
In the Austin metro, that flexibility combined with more affordable housing prices outside of the urban core means it is the suburbs—not the city—driving the current home sales boom.
"You drive until you can afford [your new home]. The further you can drive, the more affordable it becomes, but it becomes a work-life balance if you have to commute," Manzanilla said.
Home sales in Travis County are down 0.9% this year compared to 2019 despite strong numbers in recent months according to ABoR data. But Hays County sales are up double digits at 19.6%, and Williamson County sales are up 6.2%.••Geoffrey Tahuahua, the vice president of policy and government affairs of the Real Estate Council of Austin, said continued suburban growth will create a host of new economic and transportation challenges.
"It becomes this sort of commuter economy that doesn't really help anyone or help the market. You're not really solving the root of the problem, which is the lack of supply," Tahuahua said.
Getting to the crux of low supply
When asked for the reason for the city's low housing inventory, multiple Austin development professionals, including David Glenn, the director of government relations for the Home Builders Association of Greater Austin, said complicated city building and development regulations and a slow permitting process were partly to blame.
"The permitting process is absolutely a barrier to housing. Every day that goes by not only means less houses to come on the market, but carries costs—property taxes that that developer is going to have to pay and will be passed down to the buyer," Glenn said.
Rivendale Homes managing partner Chris Peterson said since relocating from California he has experienced slow permitting times that have hindered building affordable houses.
"I could build a house on one side of the street in the city of Austin, and I could build the same exact house on the other side of the street outside the city of Austin for 20% less. The regulations add that much to the cost of a house in the city," Peterson said.••Since a damning 2015 report from independent consultant Zucker Systems that recommended the city spend $4.25 million to fix its permitting issues, city officials said they have made progress to improve—but builders, developers and housing experts said the work is far from over.
"To solve Austin's housing supply and affordability challenges, we need to commit to streamlined review and approval processes for new construction," said Vaike O'Grady, the regional director for real estate data group Metrostudy-Zonda.
Local officials have acknowledged the need to simplify Austin's zoning. An eight-year effort to rewrite the city's land code was halted in March, when a judge ruled in favor of Austin property owners who sued the city, arguing their lack of opportunity to offer feedback to the rewrite process was illegal. Austin City Council voted to appeal the decision but has yet to pursue this option.
Developers said zoning regulations, permitting improvements and other issues limiting the supply of new construction—such as a nationwide lumber shortage due to the pandemic—all affect their ability to build new houses.
Lilly Rockwell, a real estate agent with Coldwell Banker Realty, said new construction represents only a small part of the market—and low supply is also an issue for homes being resold. In the city, only 13.3% of homes in 2020 through September have been new builds, according to ABoR data.
"Most of the market is resale homes, so you can't blame price increase [entirely] on anything to do with lumber or construction costs. It's mostly a supply and demand imbalance," Rockwell said.
Future stakes
Without changes, real estate experts warn an increasingly unaffordable market is ahead.
"If you look at how San Francisco has been, and the Silicon Valley area, the way the housing supply has been there, that's essentially us 10 years from now," Tahuahua said.
Kelea Youngblood, chief marketing officer for ABoR, said Austinites reconsidering their homes as work spaces and teaching spaces has had a direct impact on the strong home sale numbers despite challenging economic times.
"The housing market was the reason for the last recession. It's what's leading us out of this one," Youngblood said.
But she also called the low inventory locally "not sustainable," and without solutions, prices will continue to climb. While those selling their homes may enjoy a painless process at this time, closing quickly with multiple offers over asking price, buyers are experiencing intense competition.
Rockwell said she has been working with one buyer since May, writing multiple offers and seeing no results. She and her client are "exhausted."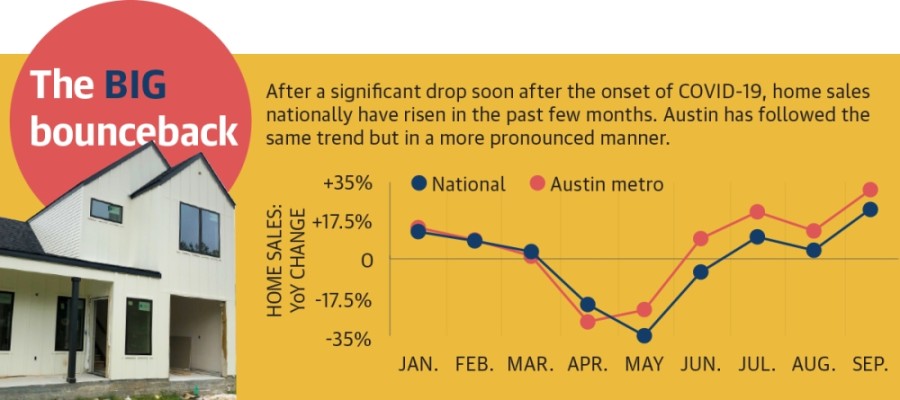 "Prices are going to rise to the point where most people can't afford it in this city," Rockwell said. "We're going to reach a ceiling. But every year I think, 'Oh my gosh, how much higher can prices go?' And every year we exceed that."