Austin Public Health officials shared the basics of a local COVID-19 vaccine distribution plan during a
Dec. 3 town hall session
with Dell Medical School and the Travis County Medical Society. Dr. Mark Escott, the Austin-Travis County interim health authority, and APH Director Stephanie Hayden outlined the projected phases of local distribution for an upcoming vaccine shipment.
About the vaccine
Gov. Greg Abbott announced earlier this week that Texas will receive its first shipment of vaccine doses allotted by the Food and Drug Administration this month. Texas will receive approximately 1.4 million doses,
13,650 of which will go to Austin-area hospitals
. According to Escott, those doses will be from vaccine developer Pfizer, although future allotments may include vaccines developed by Moderna and other companies.
Escott said the Pfizer and Moderna vaccines work similarly as messenger RNA-driven vaccines and that he personally would take either once they have U.S. Food and Drug Administration approval.
"There may be some distinctions between the two, but they both work in basically the same way," he said.
The initial doses will provide the first of two doses for 1.4 million Texans. A second dose is necessary for those who take this particular vaccine within a few weeks—ideally, 28 days later. A subsequent shipment expected later in December or January will provide that second round of doses for the first group of patients.
Who will go first
Based on guidelines from the Centers for Disease Control and Prevention, Hayden said the following groups should be among the first to receive a vaccine during Phase 1 of administration: critical infrastructure workers, people with high risk for severe COVID-19 illness, people with high risk of acquiring or transmitting the virus, and people with limited access to vaccines. Among them, the top priority will be health care workers and volunteers likely to be exposed to the virus. Austin's first 13,650 doses will go to healthcare workers in Hays, Williamson and Travis Counties. These individuals may have access to vaccines as soon as the week of Dec. 14—Escott said Dec. 17 or 18 is his best estimate.
They will be followed by essential workers not able to work from home or social distance in the workplace and people at high risk of serious illness, including those over age 65, Hayden said.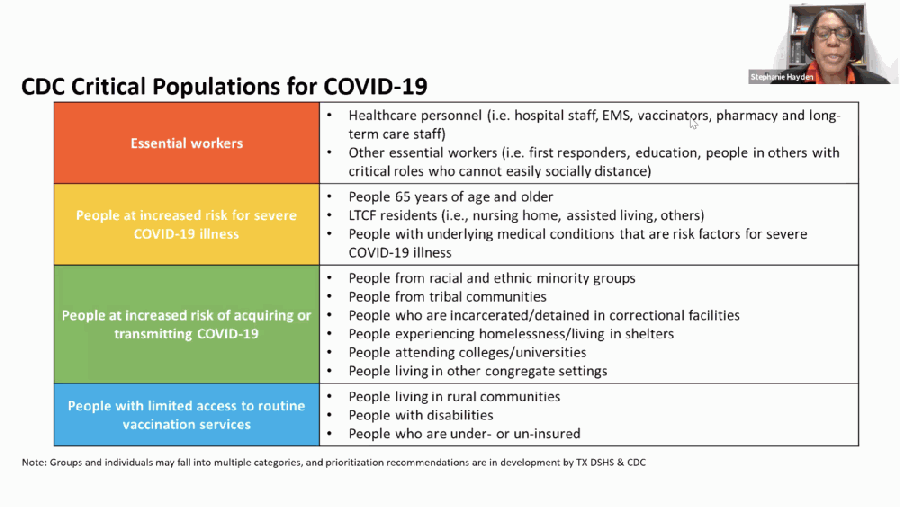 According to Hayden, those groups represent just under 1.68 million people in the 30-county region Travis County belongs to within the Texas Department of State Health Services.
Abbott expects the state to receive a larger allotment of vaccines by Jan. 21. Escott said between Jan. 21-June 21 most people around the country are expected to have access to the vaccine, including healthy, lower-risk populations and those who live in "hard-to-reach," rural areas.
Vaccine providers
Escott and Hayden encouraged health care providers to enroll as potential administrators for a COVID-19 vaccine
through the state health department's website
. According to Escott, anyone who can currently administer other vaccines will be qualified to administer this one, including at pharmacies, doctor's offices and public health clinics. The federal government has already
partnered with several chain pharmacy locations
to offer vaccine administration, including H-E-B, Rite Aid, Walgreens, CVS, Costco and others. In Travis County alone, more than 150 providers have registered to administer the vaccine, according to APH.
The vaccine itself will be free, Hayden said. However, providers can charge an administrative cost, which should be covered by most health insurance.
Editor's note: New details were added at 6:58 p.m. on Dec. 4 to reflect Austin Public Health's announcement that the Austin area is set to receive 13,650 doses of the Pfizer vaccine by mid-December. Details about the number of registered vaccine providers was also updated.