Interim Travis County Judge Sam Biscoe announced Oct. 27 that due to worsening coronavirus transmission rates, the county would not give bars permission to reopen.
Gov. Greg Abbott gave local governments the green light to reopen bars at 50% capacity starting Oct. 14. While neighboring Hays, Williamson and Bastrop counties chose to do so, Travis County elected to
consider the option for two weeks
before making a call.
"As promised, Dr. Mark Escott and I have spent the past two weeks evaluating the COVID-19 data for Travis County. Unfortunately, we have not seen significant improvement in our hospital bed utilization or in the utilization of ICU beds. Furthermore, with school districts preparing to allow for additional in-person learning and the upcoming weekend celebrations, we must be mindful of the increased public interaction that will take place as a result. For these reasons, it is my decision not to open bars," Biscoe said in a press release.
The decision comes after Escott, the interim health authority for Austin and Travis County, warned local officials earlier in the day about projections for increasing coronavirus transmission and hospitalization rates in the coming weeks.
"Right now, the projections for Thanksgiving are bleak, but it's not too late to turn that around," Escott told county commissioners at their Oct. 27 meeting.
After hovering at an average of around 22 daily coronavirus admissions for the past week, local hospitals saw only 11 new intakes Oct. 26, bringing the seven-day moving average of admissions down to 21. University of Texas COVID-19 Modeling Consortium projections now show a 92% chance transmission is worsening, with 23% more infection expected in the next two weeks.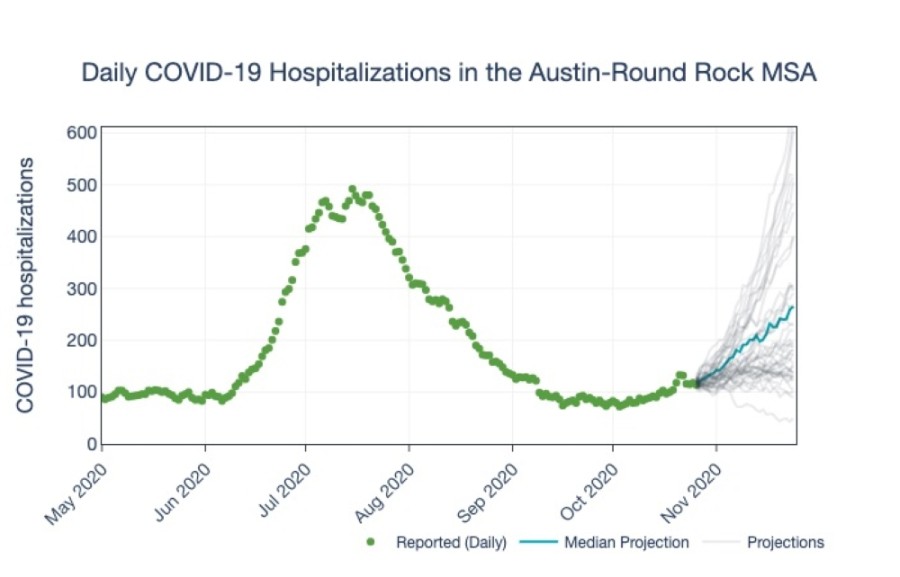 Overall, hospitals and ICUs have seen increasing occupancy from COVID-19 patients over the past three weeks, but numbers have flattened over the past three days.
"[It's] not a clear downward direction yet, but we're certainly hopeful that through ongoing vigilance in our efforts to mitigate the risk—that we will see a decline," Escott said.
Still, Escott warned that surges in other metropolitan areas in Texas, especially El Paso, which he said is in "a crisis," could precede a local surge.
Biscoe will reconsider the decision to open bars in two weeks, at which point he will again make a determination based on how viral transmission trends have developed.
"In the meantime, I continue to encourage everyone to practice safety measures that will help us reduce the transmission of COVID-19," Biscoe said.