Although projections from University of Texas statisticians paint a concerning picture of the future spread of the coronavirus, Dr. Mark Escott, Austin-Travis County interim health authority, said the community still has the ability to set a new course.
"This disease hasn't changed. What's changed is us, and the fact that we have 'pandemic fatigue,'" Escott told Travis County commissioners Oct. 20. "Now's the time for us to be vigilant again, because we can change this forecast."
Projections from UT's COVID-19 Modeling Consortium show a 96% chance of worsening local coronavirus numbers in the coming weeks after both COVID-19 case counts and hospitalizations ticked upward October.
Data from the consortium—which is compiled using local hospitalization numbers and "anonymized cell phone mobility data"—shows multiple potential tracks COVID-19 hospitalizations could take in the coming weeks, all of which are "equally plausible possibilities for what the future looks like," according to Escott. Not all of those possibilities show viral transmission and consequent hospitalizations worsening, but most do.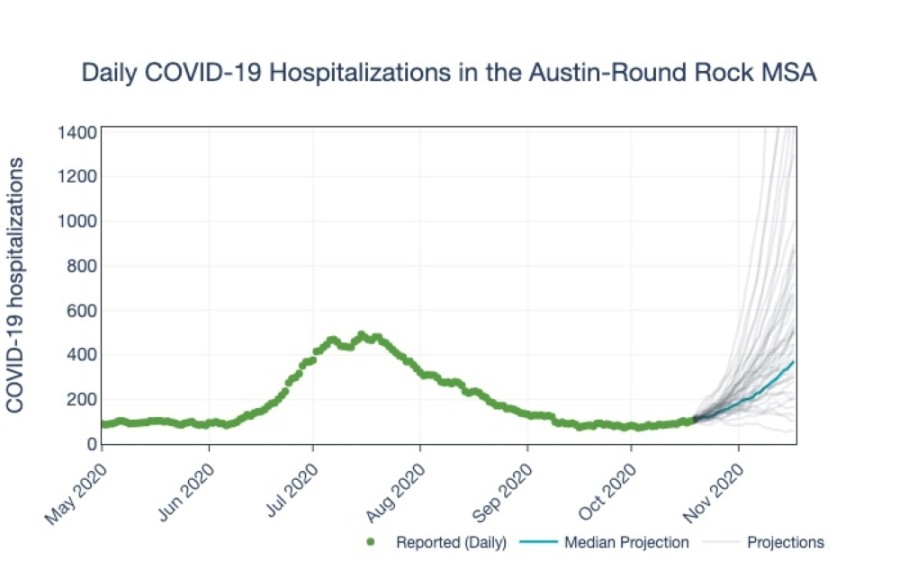 Escott said residents of the Austin-Round Rock area may be able to avoid the harsher projections presented by UT statisticians if they "reinforce their vigilance" against the virus.
"It's the simple things we've been talking about for more than six months: masking, social distancing, hygiene practices," he said.
Meanwhile, there has been a "two-week sustained upward trend" in cases, Escott said. Currently, Travis County has a seven-day moving average of 93 new cases per day, and the Austin metropolitan area has a seven-day moving average of 18 new hospital admissions, up from 11.8 at September's lowest point.