In the less than three days since local authorities placed Austin and its surrounding areas under a strict shelter-in-place order to combat the spread of the coronavirus, residents have reported 180 possible violations, according to a city spokesperson.
The shelter-in-place order,
which restricts the movement of the one million-plus people throughout Travis and Williamson counties
, went into effect March 25. The order followed a March 17 decree by Austin and Travis County authorities
to prohibit gatherings of more than 10 people and shut down dine-in service at all restaurants and bars
. The shelter-in-place order is in effect through April 13.
The 180 calls received through the city's 311 service line mostly reported the presence of too many people at a gathering or restaurants that were allegedly operating out of compliance, a city of Austin spokesperson told
Community Impact Newspaper.
On the first official day of the order, the city received 92 violation reports.
The shelter-in-place order—which also orders all nonessential business operations, including construction, to shut down—and restrictions on gathering size and dine-in service are
enforceable through penalties up to $1,000 or six months in jail.
No penalties have been handed yet for violations, the city spokesperson said. Rather, local authorities have said the priority is to educate and inform people about the new restrictions and that use of penalties is a last resort.
The strict limitations on person-to-person interactions, commonly known as "social distancing," is the key strategy societies across the world have employed to slow the spread of the highly contagious coronavirus. Slowing the spread helps prevent mass contagion, which has overwhelmed healthcare systems to crisis levels in other parts of the world.
A
recent report from The University of Texas at Austin
showed that in order to prevent an unmanageable surge in coronavirus hospitalizations in the Greater Austin area, people have to reduce daily person-to-person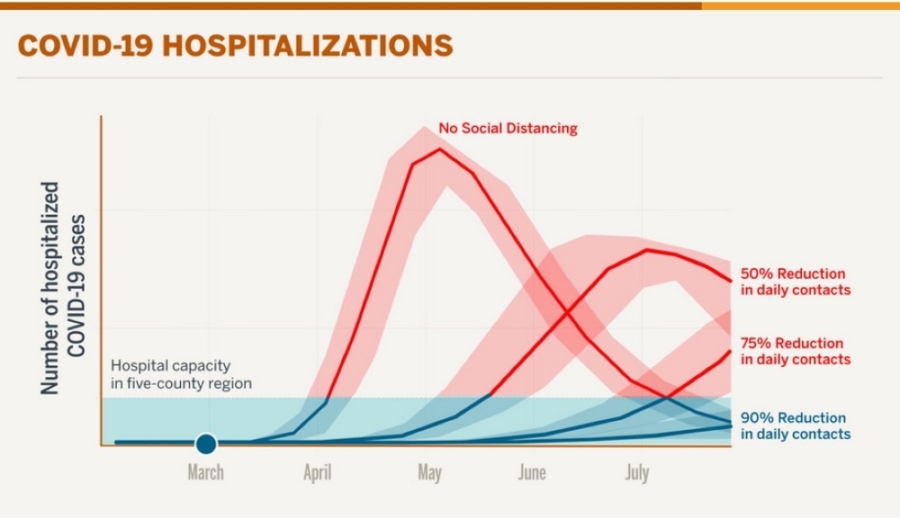 interactions by 90%. Not mandating those restrictions, the model showed, would result in close to 11,000 deaths, while using mandates to reach a 90% reduction in interactions and closing schools would result in only 267 deaths.
Despite the order to stay at home, large gatherings have remained a problem for the city. Earlier this week, only hours after the stay-at-home order was announced but still a few hours before it went into effect,
large crowds were found gathering on the free side of Barton Springs Pool.
The next day, with the order in full effect, people still gathered at the swimming spot.
"The orders ... wanted people to stay at home, and the only people that shouldn't be staying at home are people who have a critical or essential need to be out," Austin Mayor Steve Adler said. "We recognize when we do that, there is grave financial hardship that results from that, but we're talking about thousands of lives. People shouldn't be trying to figure out how they fit within the exception."