Before Travis County's number of positive coronavirus cases rose into the hundreds, before government leaders told residents to stay home as much as possible, before the city's restaurants and bars closed down for everything but takeout and delivery, just the cancellation of South by Southwest Conferences alone was enough to cripple Austin's creative economy.
That is according to HOPE Campaign founder Andi Scull, whose organization mobilized after that March 6 SXSW cancellation announcement to help the creatives—artists, musicians, designers and more—who were going to feel the biggest impacts of the cancellations.
Over the next three weeks, increasingly restrictive measures to stop the spread of the coronavirus and keep residents safe have led to thousands of unemployment claims locally and further hurt Austin's service workers, musicians and artists.
"It was like a tidal wave and then a tsunami," Scull said.
Eleven days after SXSW, Austin Mayor Steve Adler and Travis County Judge Sarah Eckhardt announced that every restaurant in the city would have to close their dine-in areas and bars would close. On Sixth Street, the epicenter of the bar scene in Austin, the effect was immediate.
"There was about 48 hours of shock," said Erik Fink, a former Sixth Street bartender who now works as a music production and tour manager.
After the announcement, Fink was helping put up plywood boards at Bijou Lounge and the Voodoo Room with his friend, Ash Seth, the owner of the adjoining Sixth Street bars.
"We put it up to protect ourselves," Seth said. "We didn't want anything broken or stolen."
In a short amount of time, many bar owners followed suit, aiming to protect their glass windows and their inventory after stocking up in March for what they thought would be a busy month with SXSW.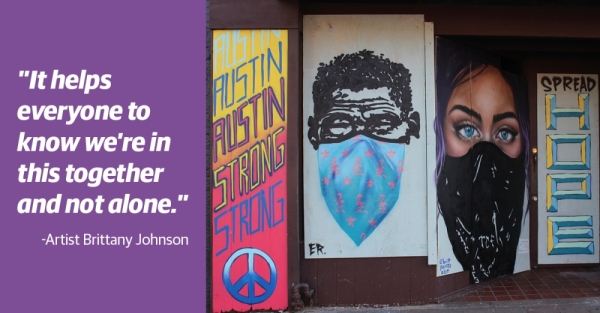 Driving away from Sixth Street, Fink said he remembers thinking the strangely quiet, boarded-up street was "abysmal" and "horrible." He called his friends, artist ZuZu Perkal and restaurant owner C.K. Chin, who is also a partner in the HOPE Campaign—HOPE stands for Helping Other People Everywhere. The organization manages the HOPE Outdoor Gallery project, a graffiti art mural wall that became an Austin landmark at Baylor Street and is in the process of moving to Southeast Austin.
"It looked like we were preparing for the zombie apocalypse. It reminded me of the Great Depression or a hurricane," Chin said of boarded-up Sixth Street. "It was so defeating, like we're losing a battle before we even start to fight it."
From there, the wheels were in motion for a project to bring some positivity to the community in a dark time. Chin got in touch with Scull, who was already working on a campaign to give artists free access to wellness products and professional services after SXSW was canceled. Text threads were started, roles were delegated, and an idea came into focus.
"Luckily, the creative community was collectively all thinking, 'What can we do?' When the pieces clicked, it was immediate," Scull said.
'Life and color'
At Chin's 40th birthday party last year, he raised money for a project to start a summer camp for kids with HOPE artists as teachers. With those plans likely canceled, he said he wondered if that money could go to those same artists to paint murals that could brighten up the area.
"It was an opportunity to spread a positive message and use street art to get to the heart of the community. That's what art is. Its intention is to make you feel something. If you're going to feel something, it might as well be something good," Chin said.
HOPE artists Brittany Johnson and Jasmine Gonzales got the email looking for artists to paint the murals March 23 and said they were immediately on board.
"All of us were like, yes, we would love the opportunity to add some life and color back to the city during such a hard time," Gonzales said.
Johnson, along with artists Mason Lackey and Efren Rebugio, painted the mural outside Touché bar, which features two masked figures and a message to "spread hope."
"It helps everyone to know we're in this together and not alone," Johnson said.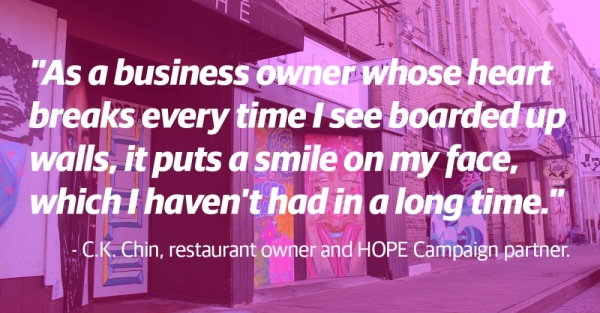 'Hope is Stronger Than Fear'
The artists kept their distance from each other, working Monday afternoon and into the evening. Because they are using spray paint as a medium, they are used to wearing gas masks as they work anyway, but Johnson called it a "surreal" experience to work alongside her friends while keeping physical distance.
"Of course, we hadn't seen each other in quite some time, so even though we couldn't touch, hug or high five, just to be next to each other and encourage each other [and] to put up what we feel was inspiring to other people was amazing," Gonzales said.
The last mural was put into place March 24, just before the city and county put a stay-at-home order in place prohibiting all nonessential activity outside to prevent the spread of the coronavirus. Gonzales, alongside artists Morgane Xenos and Carmen Rangel, finished her mural of a woman blowing a kiss through heart-shaped hands and the words "Hope is Stronger Than Fear" around 11 p.m. on the night of March 23.
"Everyone's struggling right now. We wanted to remind people, 'You're going to feel fear, you're going to feel anxiety, but always have hope,'" Gonzales said.
HOPE artists painted the plywood covering eight bars in the 400 block of Sixth Street. Fink said dozens of landlords and bar owners have reached out to have the project extend to their properties, but the project is on pause due to the stay-in-place orders from the city and county. If those orders are lifted, or if the city were to give permission for the artists to work under certain parameters, Chin said the project could continue.
Meanwhile, the HOPE Campaign is in the process of putting together 200 wellness bags for artists with items such as vitamins, supplements, dried soups and noodles and air fresheners. It also coordinating with those providing professional services, such as tax filing assistance and legal services, to help members of the creative community in need.
Chin, an ownership partner at Wu Chow, Swift's Attic and Native Hostel, has seen more than 100 layoffs at those three small businesses. He said he is trying to do what he can to avoid feeling hopeless, to stay in a positive headspace and to be there for anyone in his circle who is struggling. The murals, he said, help him focus on the positives.
"As a business owner whose heart breaks every time I see boarded-up walls, it puts a smile on my face, which I haven't had in a long time," he said.