Passing dark restaurants and empty parking lots, Manny Lopez turned his truck onto a residential street in north Hyde Park. With restrictions on public gatherings in full effect due to the spread of the coronavirus, the main roads were quiet but parked cars lined the residential blocks through which Lopez carefully threaded his 25-ton truck.
Lopez parked and hopped out into the cold, wet and windy March morning. Two at a time, he dragged 64-gallon cans, brimming with a week's worth of residential refuse, from the curb to his back-of-the-truck partner, John Baladez. On the other side, rookie Edward Segura slid another full bin to the rear. Baladez and Segura hooked the containers to the mechanized lift, swung open the lids and pulled a pair of levers. The cans emptied into the truck. Lopez triggered the compressor as Baladez and Segura pushed the bins back to the curb. The process took seconds. The trio continued down the block as a single, efficient unit. By the end of their shift, they hit roughly 1,700 homes.
Efforts to stop the spread of the coronavirus have halted large swaths of daily community life in Austin and across the globe. Restaurants and bars shut down to dine-in service,
resulting in massive layoffs
; governments
prohibited gatherings of more than 10 people
, effectively canceling cultural events;
grocery stores changed their hours
to give staff enough time to restock the shelves and, across the labor force, those who still have jobs have
transitioned to working from home
.
While, in the face of the virus, much in Austin has stopped, Lopez, Baladez, Segura and the other 97 city of Austin garbage collectors have to keep going, from predawn to the early evening, five days a week with a median salary of under $40,000, according to the Texas Tribune's government salary database.
"They're doing an essential job and something that is very necessary," Ron Romero, operations division manager at Austin Resource Recovery, said. "There can be cracks in the sidewalk, there could be maybe a couple of potholes, but if your trash hasn't been picked up or your trash was missed, [residents] are calling the mayor's office"
Collection in the time of coronavirus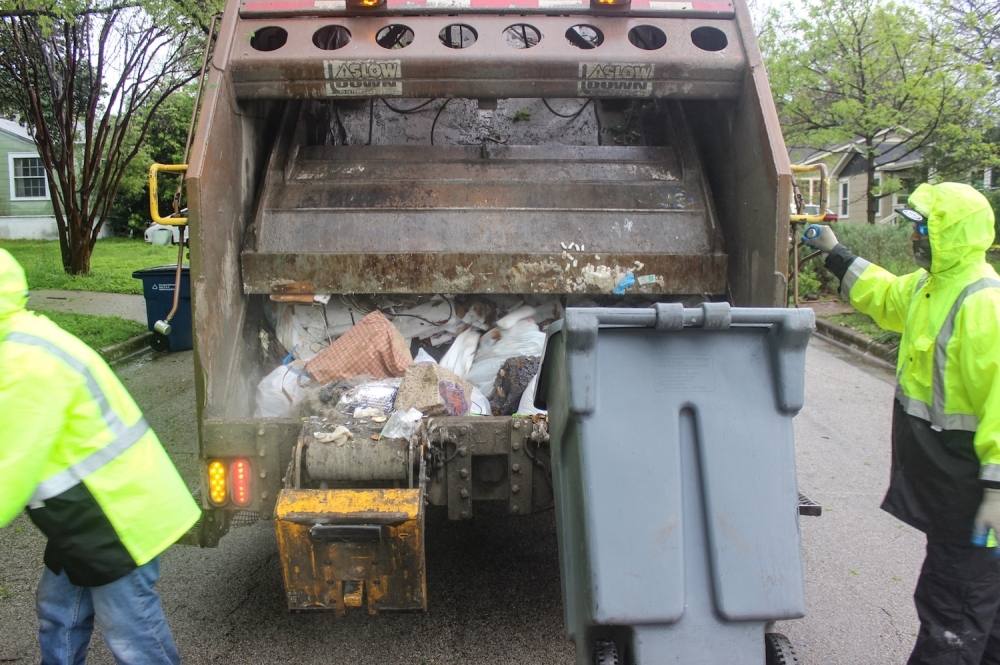 Edward Segura (left) and John Baladez said they have seen "everything under the sun" on their routes. (Christopher Neely/Community Impact Newspaper)
Since the rapidly spreading coronavirus has taken hold of the community, the garbage and recycling collection teams have taken added precautions to protect themselves. Lopez and his team are not able to go into the Austin Resource Recovery building anymore. When they show up at 5:30 a.m., they receive their route and truck assignments outside. Before they head out, they take a spray bottle and coat the entire truck in sanitizer.
In a March 17 report, the National Institutes of Health said the coronavirus could live on cardboard for 24 hours and up to two to three days on plastic and stainless steel. According to O*NET, an online occupational database, of 968 listed occupations, refuse and recyclable collectors were already among the 12% most exposed to disease and illness.
Segura said, on the job, garbage collectors encounter "everything under the sun," from feces and dirty diapers to needles and loose bathroom products. He has only been on the job for one month.
"When the wind picks up, that stuff starts flying everywhere, and you just do your best to scoop back into the can," Lopez said. "I try to preach, don't touch the trash, just touch the can. Even with your gloves, you have to remember that you're touching everything else in the truck. But sanitation has always been a big key for us in this industry and in this job, even before this whole coronavirus."
Romero said when the coronavirus became a concern, the sanitation department issued upgraded work gear, from their gloves to their uniforms.
"We have sanitizing stations at the yard and they wipe down their trucks and their equipment before they start and at the end of the day," Romero said. "We've given them everything other than masks, which we've had difficulty getting. Even for those who wanted them, they're in such high demand. The health facilities are getting them first."
Already a dangerous job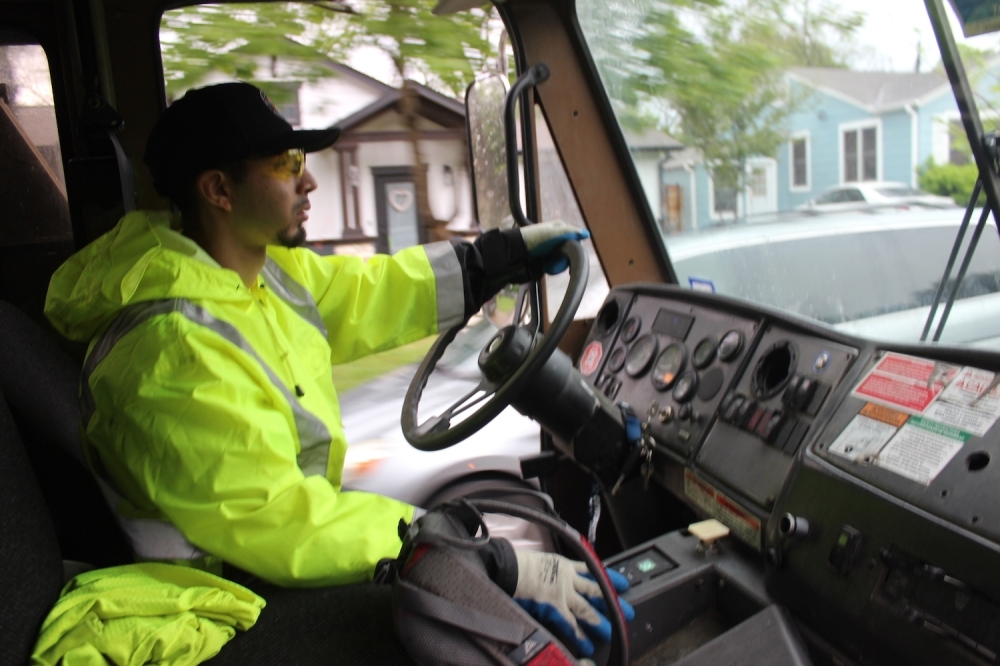 Lopez said he finds purpose in his job. "You keep the city clean," he said. (Christopher Neely/Community Impact Newspaper)
During new employee orientation, Lopez said sanitation workers in Austin's Resource Recovery learn quickly that their trade is among the country's most dangerous. Refuse and recyclable collectors die from the job at a higher rate than all but four occupations, according to a December 2019 report from the Bureau of Labor Statistics. Memi Cardenas, a spokesperson for Austin Resource Recovery, said the biggest risk they face is being sideswiped by cars attempting to pass the truck during a stop.
Lionel Benford, a former garbage collector who is now assistant division manager with Austin Resource Recovery, said the job is physically and mentally demanding.
"It's the everyday conditions—nothing is ever the same," Benford said. "You go up to a can, you don't know what's in it. It's dangerous. It's scary. You know what you put in it, but we don't. We've had people who have put dead snakes on top [of the garbage]. We don't know if it's dead or alive. Everyday it's a new experience, and if you're not in sync with the guy you're working with, you become a hazard."
Romero said the physical demands of the job, especially in the summer months, deserve the "utmost respect."
"These guys are just physically superior, they're like athletes," Romero said.
Benford, who played college football at Mary Hardin-Baylor in Belton, Texas, interjected.
"They are athletes," Benford said. "I played the safety position in football at college. This is harder. It don't matter where you came from. I don't care if you lifted weights, if you swam, if you played basketball. You won't get used to the physical demands of this job until you do it. It's like going to training camp."
Back on the route, Lopez pulls the truck up to another stretch of homes, each with cars in their driveways or at their curbs.
"I find my job is important," Lopez said. "You help keep the city cleaner; you get a good work out, it keeps you busy and helps the days go by faster. I find purpose in it."