Downtown Austin continues to see surging construction and visitor activity, and further transformational change is on the way with development set to grow by at least 25% alongside new public spaces and massive mobility additions coming online in the years ahead.
The overview
The overview of downtown's status was compiled by the Downtown Austin Alliance for its annual
State of Downtown report
released May 17. The nonprofit advocates for stakeholders and the more than 1,000 properties in the central business district, and manages hundreds of downtown acres through a
public improvement district
.
President and CEO Dewitt Peart said Austin's downtown appears to remain in a strong position—especially compared with most other major US city centers—although "some turbulence" may lie ahead. Business and corporate interest in Austin, constant new development, and many other proposed upgrades around downtown leave it in a good place to weather possible course corrections Peart said could be coming in the real estate sector and economy overall.
"If we can keep building, keep people working on building some of these buildings, both infrastructure and private buildings, and then you come out of the recession and then you've got space available," Peart said. "There's probably no better place to be than Austin right now when you're in the business of managing a downtown."
By the numbers
Austin's central business district is home to a large share of the city's residents, jobs, entertainment centers, and cultural and park space. According to the Downtown Austin Alliance, the area is home to:
Around 14,300 residents, up from 13,648 estimated in last year's report
At least 117,000 employees, up from 106,500 last year
At least 14,000 hotel rooms and 10,500 residential units, up from 13,514 hotel rooms and 9,447 units last year
150 acres of parkland and 15 miles of trails
Last year, downtown grew by about 5.54 million square feet across 22 projects. About 9.28 million square feet of construction is in progress, and an additional 13.68 million square feet of possible development is in some stage of planning.
Projections from the Downtown Austin Alliance show the buildings that are underway will bring more than 11,000 new residences and 3,000 hotel rooms to Austin's core. Peart said those projects will increase downtown's square footage by around one quarter, while the potential future additions could add as much as 35% more.
"Arguably, if all of that comes to fruition over the next five to 10 years, we're going to increase the size of downtown by 50%. But we know without question we're increasing downtown by 25% based on what's going up," he said.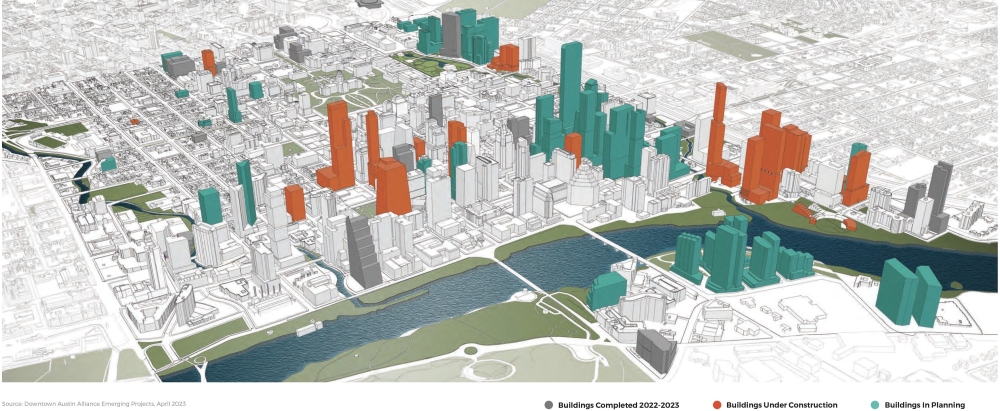 Office space
Increased vacancies and falling leasing activity in the office sector thanks to COVID-19 could be interrupting some downtown builders' and tenants' plans, according to data from CoStar.
After hovering between 4%-8% for years prior to the pandemic, office vacancies downtown and in Austin as a whole jumped to around 15% by late 2022. Total office leasing activity downtown also fell to around 1.8 million square feet in 2022, a drop-off after the area averaged more than 2 million square feet annually from 2017-19 and in 2021.
Even with those trends, downtown employment remains higher than ever, and more Austin workers are at the office in person than many other large cities amid the national remote working shift, according to JobsEQ. Jenell Moffett, the Downtown Austin Alliance's chief impact officer, also said rising vacancies could end up representing a chance for more businesses to find a place in Austin's center.
"It's just an interesting time. I think that the office market will settle after a while," Moffett said. "When those decisions are made to not lease as much space it just gives more tenants opportunity to locate downtown, which adds to the vibrancy."
Peart also noted another national trend of employers seeking out newer and higher-quality spaces with modern amenities—the Class A offices Austin has plenty of.
"As that flight continues from other markets, the Northeast, the Midwest, Austin is appealing because the talent wants the experience," he said. "Combining quality buildings, really slick buildings with the excitement of the public space, ... that's why we're so interested in making sure we've got a very active urban sector because that helps attract the talent."
Street level
While Austinites can see downtown change day to day by glancing at the skyline, more is also underway at the street level. Storefront business, tourism and entertainment have all made a comeback since the pandemic along with mobility upgrades—including Project Connect's rail routes and an expanded I-35—officials have said will permanently alter how people get to, from and around downtown.
One impact of COVID-19 shutdowns has been a changing retail mix around downtown. After more than 100
businesses and venues closed
temporarily or permanently following the onset of the pandemic, many new lively and active places with a mix of uses have popped up where service-oriented or single-use businesses once were, Moffett said.
Despite recent closures, almost 700 storefronts are operating downtown, and more than three dozen new retailers recently opened or are in the process of doing so.
"Right now what you're seeing is that, yeah, downtown is still a very active and attractive place for people to locate," Moffett said.
The Downtown Austin Alliance is also closely involved in planning around the several billions of dollars in transportation projects coming over the coming decade.
As the Texas Department of Transportation's
I-35 expansion
moves forward, Peart said the organization is focused on ensuring the new highway can support as much
capping and stitching
—burying or bridging the road between downtown and East Austin—as possible.
While TxDOT's work on I-35 through Central Austin has been generally
opposed by Austinites
, the cap and stitch concept has been embraced by community members
and officials
as an important piece to get right as the highway grows.
Funding and final designs are still to be determined, and the upgrades may not all be rolled out right away, but Peart said
the vision
of adding plenty of urban connections along I-35 is possible.
"It's definitely realistic if the community can come together and decide it's a priority, which, I think, that's where everybody is," he said.
As Project Connect planners work to finalize a scaled-back
initial outline
for a new light rail line, the alliance has also formally supported one of five options
pitched to the community
this spring.
In a letter to the Austin Transit Partnership, Peart backed the "38th Street to Yellow Jacket" alignment with at-grade rail, a Lady Bird Lake crossing off Trinity Street and an additional station around Wooldridge Square. Future extensions north to 45th Street, south to Oltorf Street and east to the airport would be possible under that plan.
"Let's face it: We can't build more roads downtown. We're challenged with ingress and egress," Peart said. "How do you move all those people on the same street grid?"
Growing pains
Affordability continues to be a top political issue in town and particularly in the downtown environment.
With many new residential developments bringing luxury living spaces and high costs of entry, Downtown Austin Alliance leaders said affordability and inclusivity are top priorities as they plan for change around Central Austin. Peart said bringing more housing options along Project Connect and taking full advantage of civic affordable development programs are keys to ensuring more types of Austinites have full access to downtown.
He also pointed to the public-private partnership that will
bring hundreds of affordable units
to the Innovation District as an example of how public land—which makes up around one-third of downtown real estate—fits into the equation, especially as the city has
fallen far behind
on its affordable housing goals.
"Property that's controlled and owned by government agencies, if they want to get serious about [affordability], start doing deals with private affordable housing developers to put those pieces together," he said.
Aside from housing, Moffett said other daily initiatives can help downtown's affordability problem as well. She and Peart said a lack of cheaper parking options and free events as well as safety concerns can also deter people from downtown, challenges the organization is working to address.
"Inclusivity to me is the idea of that, when we are developing economically, everybody's included. And because Austin benefits from this newness, ... so much demand is creating new opportunity; we have a chance to do it right," Moffett said.