Amid persisting concerns over mental health issues, Austin-area leaders are looking to get more community members and city workers trained on responding to mental health incidents.
In a nutshell
The local Community Advancement Network coalition is pushing to get at least 1,000 Austinites trained in mental health first aid, or MFHA. Mental health first aid courses take about eight hours and educate people on how to assist those who have a mental health problem or are experiencing a mental health-related crisis.
City Council will vote May 18 to formally support the CAN initiative. Through a
resolution
from District 2 Council Member Vanessa Fuentes, council would also call for the city to increase the number of its employees—especially those in public-facing roles—who are certified in the mental health response program.
What's happening?
Around
1 in 5
Americans has a mental illness, and more than 23% are taking prescription medications for mental health, according to federal data and research. The World Health Organization also
reported
last year on a 25% uptick in anxiety and depression worldwide as a result of the COVID-19 pandemic.
With those trends in mind, city and county officials gathered May 10 to promote CAN's ongoing initiative to grow the number of Central Texans who are MHFA certified. The partnership's Road to 1,000 goal aims to get hundreds of people through mental health first aid training, which some referenced as a resource similar to being CPR certified.
Given the rising number of Travis County residents
reporting poor mental health outcomes
, CAN Executive Director Raul Alvarez said everyone in the community has a role in responding to the problem.
"If we're going to have an impact on this issue, it's all hands on deck," he said.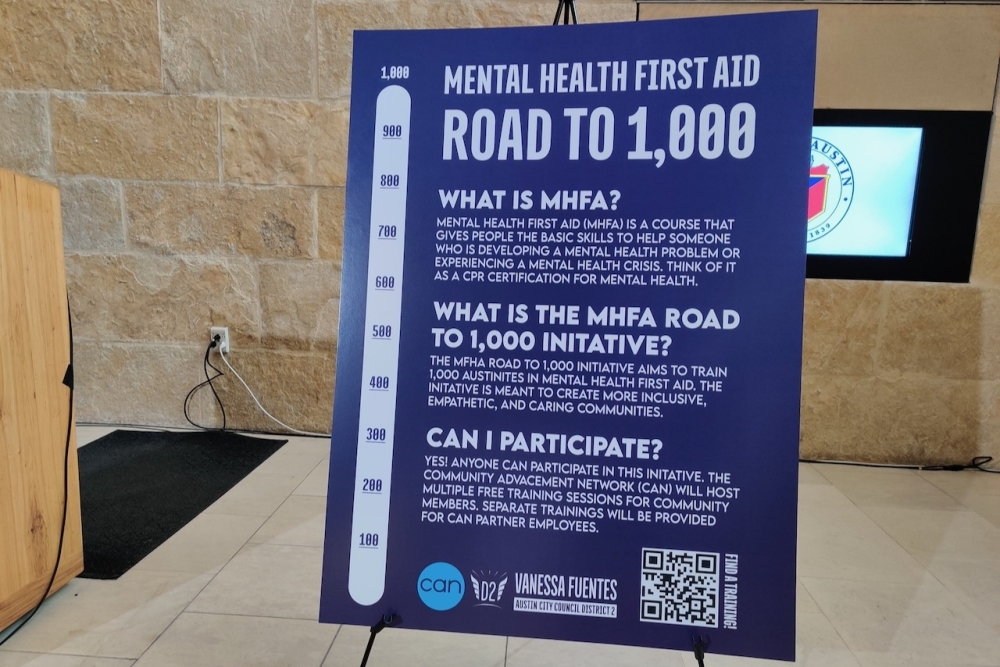 Fuentes said encouraging more community members to get experience addressing mental health can create a "more empathetic Austin," especially with the stigma that such issues have historically carried. She and District 3 Council Member José Velásquez said they have seen that stigma play out particularly in the Latino community, potentially limiting awareness of mental health needs and related support.
"Our community faces mental health challenges every day without the resources necessary to pull themselves out," Velásquez said.
Also of note
Backing for the CAN initiative extends beyond City Hall with Travis County leaders throwing their support behind expanding MHFA training.
During a May 10 meeting of City Council's Public Health Committee, members also heard from county representatives about other local efforts aimed at mental health, including
progress on a long-awaited facility
for diverting those with mental health issues away from jail. Austin and Travis County are partnering on establishing the diversion center, which could open within three years.
In Austin, thousands of emergency calls each year are
diverted away
from law enforcement for mental health reasons. And within the criminal justice system, County Judge Andy Brown said around 40% of the county jail population has reported needing help with mental health—up from 20% prior to the pandemic.
"If we don't do more of this, if we don't focus resources on things outside of the jail like the mental health diversion center that we're working with the city on, ... we're going to have a huge problem on our hands," Brown said.
Get involved
Several free, virtual mental health first aid training sessions will be open to the public over the coming weeks. Anyone interested can register online for courses
May 17
,
May 30
or
June 27
.