City Council backed a proposal to consider rolling out several new safety measures around the Rainey Street Historic District and Lady Bird Lake after a series of late-night drownings there over recent years that police have identified as accidents.
The background
This year, attention has been drawn to community safety concerns around the Rainey entertainment district and the lakeshore hike and bike trail nearby following the deaths of two men in the area.
Jason John was reported missing Feb. 5, and his body was found in the lake off East Avenue on Feb. 13, according to the Austin Police Department. Jonathan Honey was reported missing March 31, and his body was found in the lake near the end of Rainey Street on April 1.
The city said no evidence of foul play was found in the deaths of John and Honey, or in three Rainey-area accidental drowning deaths reported between 2014 and 2018. However, this year's incidents prompted the city to take on several short-term security upgrades in the area and also led City Council to call for improved local security.
Council's public safety subcommittee considered the issue
in February
and heard testimony from some who knew people who have died around Rainey Street. District 9 Council Member Zo Qadri, who represents downtown Austin including the Rainey district, went on to draft a
resolution
aimed at creating a safer environment there that was approved April 13.
"I can't imagine what so many families in the city go through and have been going through that we have heard from, and truthfully that we'll potentially never hear from, who have lost loved ones. And all they're looking for is answers and clarity and closure," Qadri said. "It's almost like living Groundhog's Day where, my first month or so [in office] we had to deal with Jason John's disappearance and his tragic death, and hearing more stories of folks who have passed away since Jason."
The details
In March, the Parks and Recreation Department
announced
it had taken several temporary actions designed to provide some protections in the area, to be followed by more permanent solutions. The initial steps included:
Placing four new lighting fixtures along the waterfront trail between Rainey Street and I-35 boat launch;
Installing a new fence between the lake and the trail; and
Adding new informational and safety signage in the area.
In partnership with The Trail Conservancy, a
separate project
to upgrade the Rainey Street Trailhead at Rainey and Cummings Street is also in the works. The parks department said that initiative will bring more signage and lighting to the end of Rainey Street where it meets the trail and park.
A parks department team is also considering long-range improvements for the area including options for lighting, signage, cameras, safety beacons and fencing.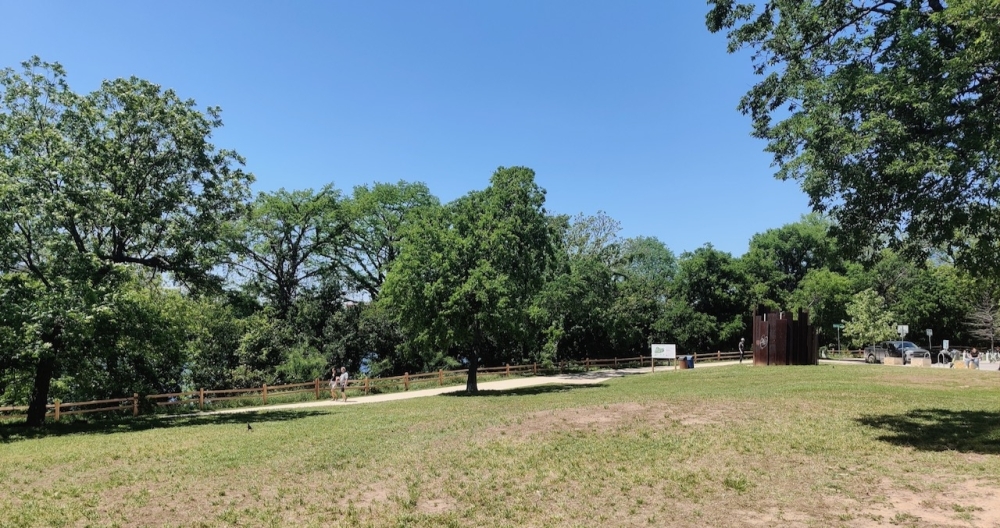 On April 7, the city
announced
that APD officers and park rangers would be increasing their patrols around the Rainey district building on the short-term park improvements. Interim City Manager Jesús Garza also asked for increased vigilance by visitors to the area.
"As a city, we recognize we need to do more to keep people safe in this area. We are moving quickly to do so and are reaching out to businesses on Rainey Street and other state agencies to partner with us in this crucially important effort. We also ask visitors to Rainey Street to drink responsibly and stay safe by staying together," Garza said in a statement.
Council's passage of Qadri's resolution outlining next steps for the Rainey district on April 13 will kick off several more initiatives in the area. Qadri's proposal, which he said was inspired by his predecessor Kathie Tovo's actions to
address safety
around the Sixth Street
entertainment district
, includes directives for the city to:
Produce an "interim pedestrian safety plan" for council review by April 20, including a focus on park ranger and EMS deployments;
Evaluate whether more HALO, or high activity location observation, surveillance cameras can be placed around the district;
Coordinate with the Texas Alcoholic Beverage Commission to curb overserving at Rainey bars; and
Work with Rainey bar owners and other stakeholders to encourage new safety planning and training.
"There is no reason to believe there is any foul play going on, but there is something going on. ... The job's not over," Qadri said. "The job wasn't over when there was temporary lighting put up, and fencing, and signage. The job's not over once we pass this resolution. So I want to thank everyone on the dais, but we have a lot of work to do."
What they're saying
Several friends and family members of those who had died near Lady Bird Lake in recent years supported the passage of Qadri's measure during the April council meeting. They pushed the city to implement more safety and surveillance measures going forward and also criticized a lack of progress Austin has made over the years in better securing the area.
"Patrolling and securing the Rainey Street trail and bulkhead I feel like, at this point, should be a no-brainer for everybody in this room and I think that that should just be the start of it as far as making the trail safer at night," said Sean Bereson, an area resident and a friend of John's. "We all know that the city is popular for its entertainment districts and for its nightlife and for its recreation, and I'm here to ensure that my friend's life was not lost in vain and to push for increasing the safety for our community members near the Rainey Street Historic District."
Christopher Pugh, who said his son disappeared around Rainey Street in 2019, called for more city and law enforcement review of past deaths in the area.
"There's too many people that have gone missing, there's too many people that have been injured, there's too many people that can walk off and we still have absolutely no answers as to what has happened to any of these folks," he said.
Mitchell Gutierrez, brother of Martin Gutierrez who drowned near Rainey in 2018, said he backed the proposed safety upgrades as more people have lost loved ones without such measures in place.
"The installation of HALO cameras and permanent lighting is no longer an option, it's a necessity to provide answers for what is truly going on in the area. I'll also support EMS and park rangers patrolling the trailhead area as well on Rainey Street. I feel this approach will increase safety not only for protection but also for medical treatment," he said.