City leaders are advising residents to prepare for disruptions and remain cautious around town as Austin's spring festival season, headlined by South by Southwest Conference & Festivals, gets underway.
Tens of thousands of visitors will soon arrive in Central Texas for events including SXSW and SXSW EDU, Rodeo Austin, ABC Kite Fest, CMT Music Awards, Austin FC home games and the WGC-Dell Technologies Match Play. Austin is planning around the coming crowds, and on March 6 officials detailed several recommendations for both residents and festival attendees over the next month.
"As we welcome all these visitors and we plan for these events that add to the vibrancy of our city and bolster our economy, we recognize it puts an added strain on city resources," Mayor Kirk Watson said during a March 6 press conference. "Traffic congestion increases, and there are potential travel delays that these large events can create. And there's a need for heightened vigilance when it comes to safety and security."
Three years after 2020's COVID-19 cancellation, city staff also said SXSW activity appears to be picking back up in 2023. Brydan Summers, consumer services manager with the Austin Center for Events, said around 140 permits have been filed for activities planned in the next two weeks, a 20% uptick from last year's festival season.
"I think we're feeling like we're really back," Summers said.
Traffic and transportation
Anyone traveling through downtown during SXSW can expect to see street closures, heightened pedestrian and cyclist activity, limited parking, and related traffic backups.
The Austin Transportation Department will be closing several streets on a daily basis beginning at 3 a.m. March 6 and continuing through the festival's end March 19. An interactive map covering closures and other transportation resources downtown may be viewed
here
.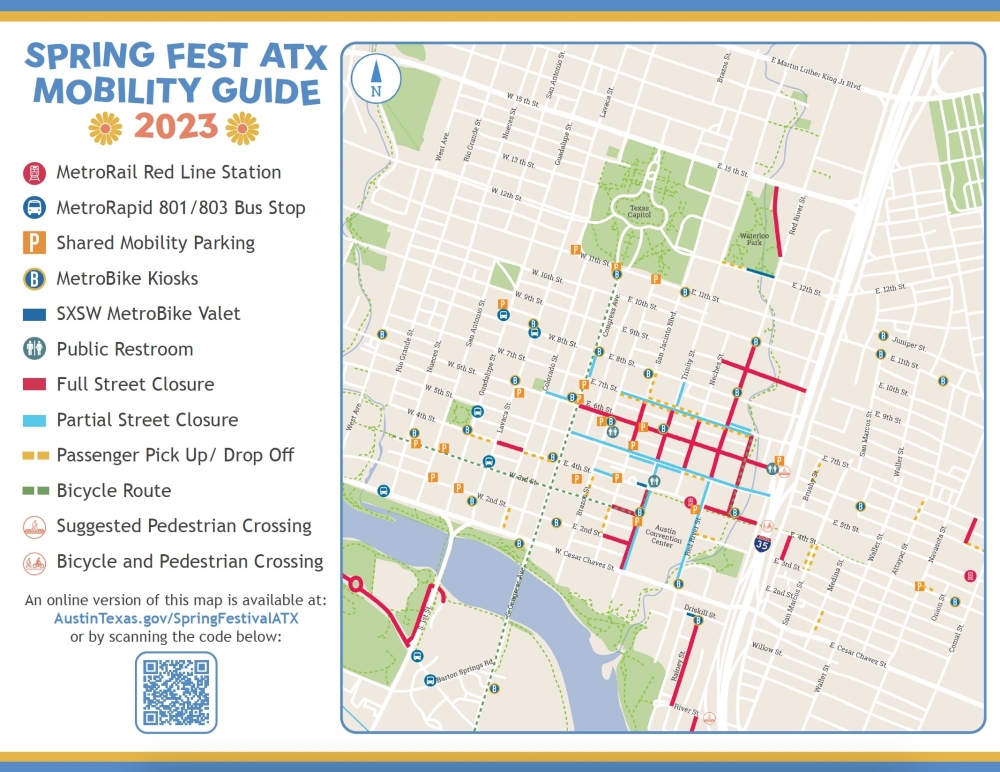 ATD Assistant Director Jim Dale noted one key change for SXSW will be on Fifth Street as the roadway is converted into a one-way eastbound route between Brazos Street and I-35 beginning March 10. Dale also said the transportation department may adjust the timing of closures and shut down more streets over the course of the festival if needed.
ATD and Capital Metro officials also urged Austinites and visitors to consider alternate transportation, such as CapMetro's bus, rail and bike options; ride-hailing services; e-scooters; walking; and biking. CapMetro's Red Line rail will be operating under extended hours for SXSW, and the transit agency will offer three valet MetroBike locations downtown as well.
CapMetro Executive Vice President Sam Alexander said rail and bike services are expected to be especially busy and advised travelers to get familiar with MetroBus routes as an alternative. More information on CapMetro's SXSW service is
available online
.
Public safety and public health
While the Austin Police Department and the city's 911 call center continue to face staffing shortfalls, public safety leaders said they expect enough officers and operators will be on duty during the upcoming festival season.
"Anytime we have a large event where there's a lot of people, we're going to have a lot of officers there to keep it safe. ... This is not uncharted territory. With or without the staffing problem, we're all hands on deck," APD Assistant Chief Jeff Greenwalt said. "The same number of positions that we need to keep South by Southwest safe is the same this year as it was last year, and we have those positions filled."
Greenwalt also said while many officers will be assigned to handling event-related needs, APD is lined up to meet its minimum patrol levels for standard calls throughout the city. Austin fire and EMS officials also said their departments' staffing is in good shape ahead of SXSW.
In addition to watching out for pedestrians, street closures and other interruptions on the road, Greenwalt highlighted several topics related to large events that APD is monitoring as well. He said patrol officers and specialized units will be tracking issues such as human trafficking, drug trafficking and gun crime, and he asked attendees to keep a watchful eye on their surroundings as well.
APD is also collaborating with the Texas Department of Transportation on a pair of DWI programs. More officers will be on the streets for traffic enforcement between March 3-19, while a targeted no-refusal initiative requiring breath or blood samples from suspect drivers will be underway March 9-19.
Anyone driving to an event who has had too much to drink can find alternate ways home without risking a parking ticket. Those who leave their car parked and find another way home can apply to have their ticket waived through the city's
Get Home Safe program
.
One year after recommending
continued communitywide masking
during spring festivals, Dr. Desmar Walkes, the local health authority for Austin and Travis County, said Austin Public Health officials believe area residents have handled COVID-19 well and did not advise additional precautions for festivalgoers. Walkes said APH will be monitoring virus trends this month and continuing to vaccinate those who need immunization.
More information is available on the city's
spring festival season website
or by following #springfestatx on social media platforms.
The city's update on its preparations for spring festival season came soon after a
forum covering similar topics
was hosted by the Downtown Austin Alliance. Details on travel, safety and various events are available in a
presentation
from the forum.