City officials are poised to approve a financial plan that would move the Colony Park Sustainable Community in Northeast Austin closer to reality.
The
Colony Park initiative
would bring a new community with hundreds of homes and apartments, office and commercial space, a health clinic, and parkland to more than 200 acres of undeveloped city-owned land off Loyola Lane. The community and its hundreds of new residents will also be accessible from two future light rail stations on the
Project Connect
Green Line.
The city is partnering with Mueller developer Catellus Development Corp. on the long-held plan for what District 1 Council Member Natasha Harper-Madison called a "transformational investment" that will bring hundreds of new affordable housing units and other amenities to an underserved area of town.
"I hope that the extension of the care and concern around these areas of Austin that have been neglected, that do suffer from benign neglect all over the place, I hope that the entire city of Austin sees this as our charge and recognizes that we're all stewards for all parts of Austin and don't continue to let a part of town languish in disrepair," she said.
Today, the closest grocery stores, financial and health care centers, and libraries are all located miles away from Colony Park. Director of Economic Development Sylnovia Holt-Rabb also said poverty remains a "very deep concern" in the community; residents in Northeast Austin's ZIP code 78724 earn less than 77% of the median Austin household's income, and nearly one-fifth live below the federal poverty level. The area is 20% Black and 67% Hispanic or Latino, more than double Austin's overall population shares for those groups.
The Colony Park area was bought up by the city in the early 2000s, and some of that land eventually became home to a school and recreation center within Colony Park District Park. Planning for the sustainable community surrounding those facilities has been underway over the past decade with years of community engagement, the creation of a
master plan
for the area and the
selection
of Catellus as the city's development partner. However, questions of how the large-scale expansion of Colony Park would be supported kept it from coming together over the course of multiple city administrations.
Now, City Council is set to vote Nov. 3 on several items that could push the Colony Park redevelopment forward, realizing a long-held goal of local advocates who have for years petitioned city leaders to get the project off the ground.
"This was our vision, and we went on the premise that a people without a vision perish. And our community was, and still is, perishing. And so this will allow us to be able to continue to live in the area that we love," said Barbara Scott, president of the Colony Park Neighborhood Association and an advocate for the sustainable community program, in front of council Oct. 25.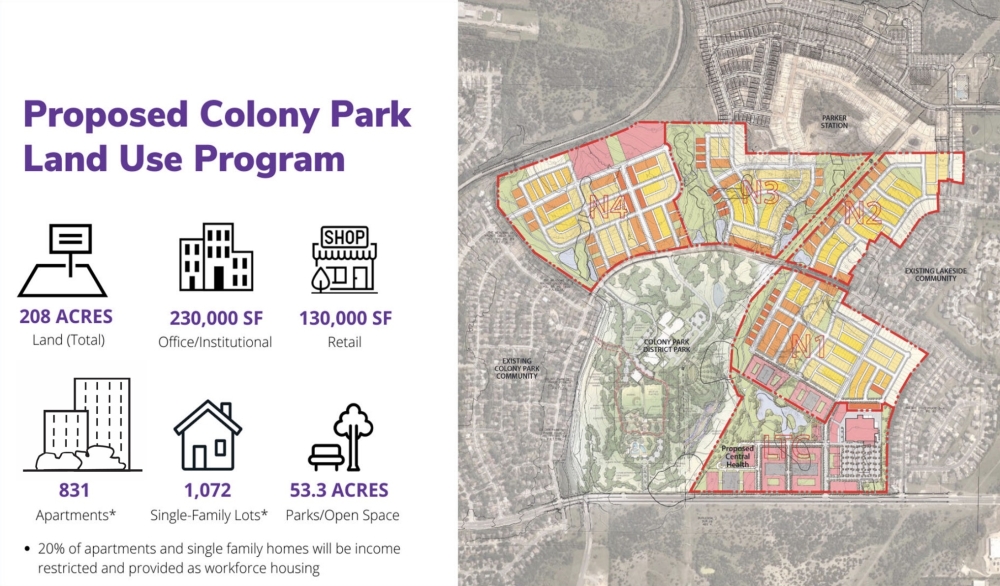 A plan in place
After city leaders formally
declared
the development of the sustainable community was a "top priority" in March, city staff returned to council this month with a final outline of how the project and $250 million-plus in related infrastructure improvements could be supported.
The majority of funding will come from the sale of the city's land in the area, now estimated at $155 million, with several million more coming from various city department budgets as well as this year's
housing bond
, if approved by voters. An additional $10 million is expected from a public improvement district, or
PID
, that will eventually be backed by property in the area.
A large piece of the funding gap, more than $80 million, will be collected through a
new tax increment reinvestment zone
, or TIRZ. The tax increment tool sets aside property tax revenue gains within a certain area over time for civic improvements and is a mechanism the city has used for other projects, such as the Mueller and the Seaholm district redevelopments.
One of council's Nov. 3 votes will establish a TIRZ for Colony Park. With the city's land there valued at $0 this year, most future property tax growth will be captured to support the project's build-out. Staff said that land could end up at a total value of nearly $1 billion by the time the TIRZ expires in around 20 years.
With those sources lined up, the city aims to spend nearly $260 million on new roads and walkways, green space, utility services and other infrastructure needs in Colony Park as the community initiative comes together. Staff said the final outline was made possible by refreshing the draft master plan, condensing the area's infrastructure and planning for increased density on the site.
In addition to creating the new TIRZ Nov. 3, council will consider sending up to $2.6 million to Catellus for predevelopment services and $331,000 to Steptoe & Johnson for related legal services. Staff also said that, in the future, the area will need to be rezoned to accommodate the initiative's updated development plan.
"This funding is reliant on the [planned unit development]," Deputy CFO Kim Olivares said. "It focuses on rearranging current densities within the area, and it'll create a more efficient land plan that can support all this public infrastructure."
After hearing the details of the TIRZ and overall funding plan, Mayor Steve Adler and several council members expressed gratitude to the staff and community members who have collaborated on the plan over the years.
"I wasn't sure how you were going to get from here to there on this project, and you have. And you needed to because Barbara Scott and the community have been such strong advocates, sustained, continual, for such a long period of time, well before my participation on this dais," Adler told staff.
Harper-Madison said reaching this stage of the project's development has been a top goal for her and her constituents since she arrived in office. While sharing her excitement at seeing the community plan nearing the finish line, she noted how decades of displacement and neglect led to existing conditions in Colony Park and said she hopes the city can better prepare to address such issues throughout the rest of East Austin.
"We have an opportunity to get out in front of it. If we make that commitment, that is an opportunity we took ahold of. If we don't make that commitment, then it is nobody's fault but our own that we didn't commit in 2022 to what the future of far east District 1 looks like," she said. "We had a chance. I don't want us to miss it."