Austin City Council is closing in on its six-week summer recess, and several revisions to land-use rules along some of the city's busier streets could be in line to pass in the coming weeks.
Officials continued
discussions from a May 17 work session
on that topic during their May 19 regular meeting, although final votes on measures such as a
vertical mixed-use program
expansion and reduced compatibility limits will wait until June. Council also considered security at a
Northwest Austin hotel
the city is aiming to convert into supportive housing for those exiting homelessness alongside several other pieces of business on a 95-item agenda.
Council's final voting sessions before summer will take place June 9 and 16.
Council passes reproductive health measures
A trio of resolutions from District 2 Council Member Vanessa Fuentes and Mayor Steve Adler targeting various aspects of reproductive health passed May 19.
Fuentes and others said the items were brought forward due to concerns about the leaked U.S. Supreme Court draft opinion overturning Roe v. Wade, and in turn leading to the criminalization of abortion in Texas following last year's passage of
Senate Bill 8
. Council
formally opposed
the contents of SB 8 last fall.
One of the approved
measures
starts the process of passing a Reproductive Health Decision Ordinance that would prevent bias against individuals who get an abortion when seeking a job or housing. The finalized ordinance is expected to be brought before council June 16, and Fuentes said it would represent the first such protection in any Texas city.
"We know that no one should have to worry about losing their job or their housing because of health care decisions," Fuentes said. "As the state and national entities continue to encroach and restrict reproductive freedom, it is our responsibility here at the local level to defend reproductive rights."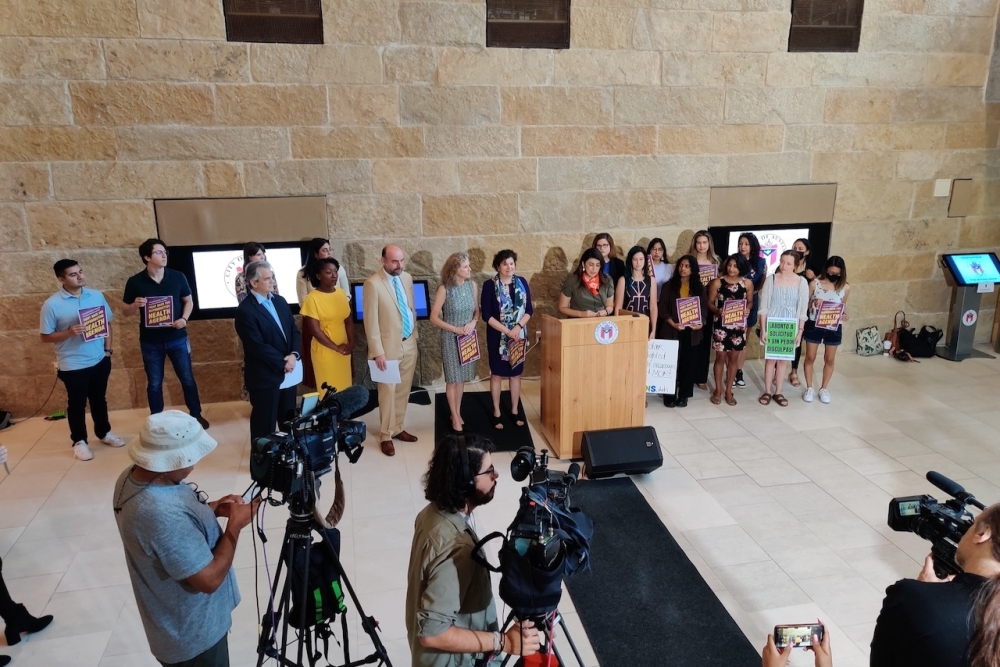 Fuentes' second sponsored
item
of the day pushes the city to provide free menstrual products in several of its public spaces such as libraries, recreation centers and Austin Public Health facilities. Funding for the measure will be prioritized in the city's fiscal year 2022-23 budget.
Council members said that resolution was aimed both at reducing the stigma related to menstruation and period products, and to address the additional cost burden many community members face in securing those materials; Texas is one of many states still charging sales tax on menstrual products.
"It is very expensive to be poor and purchase the things that you absolutely need," District 1 Council Member Natasha Harper-Madison said.
Finally, a
proposal
from Adler could lead to an expansion of the city's family planning benefits related to in vitro fertilization and cryopreservation, adoption and foster care. The move comes weeks after a Fuentes-sponsored item
launched a study
of extended parental leave benefits in the city, and Adler said his concept was drafted given his worry that more privacy and personal autonomy rights could be at risk after the "reckless" Roe rollback.
"In vitro fertilization has not been the focus of the discussion, but make no mistake about it: It is just one of what I fear will be too many casualties that will probably come from this radical step backwards," Adler said.
All three items were approved in near-unanimous votes, with District 6 Council Member Mackenzie Kelly voting against the reproductive health ordinance.
Capitol-area development 'unlocked'
An approved
resolution
from Harper-Madison kicks off an adjustment to Austin's Capitol Dominance Overlay District, a
section
of land development code designed to keep properties within a quarter-mile of the landmark dome from "dominating" the Capitol.
The proposed code amendment would not change those boundaries, but it would allow properties within the dominance overlay district to participate in Austin's Downtown Density Bonus Program. The bonus program grants additional development entitlements, such as building height, in exchange for affordable housing units or fees.
The overlay district is not the Capitol's only protection from larger development. Capitol view corridor districts set at both the city and state levels extend outward from the building to protect sightlines to the dome citywide, and any new construction in the dominance overlay district would still have to fit within those lines.
"Relaxing the Capitol dominance overlay to allow more density downtown in exchange for more community benefits including affordable housing is something council agreed to do already during our last attempt to revise our outdated land development code. This will incentivize more housing, jobs and other destinations along our busiest transit corridors, which will soon host three separate light-rail lines," Harper-Madison said in a statement. "[W]hile it will allow more people to live, work and play near the iconic pink dome, what it won't do is interfere with any of the existing Capitol view corridors that protect scenic vistas across the city of one the most beautiful buildings in the country."
The move was also
backed
by the Downtown Austin Alliance as a positive move around the "outdated" dominance overlay that could "unlock" more of the area's tax base. DAA President and CEO Dewitt Peart said that applying the bonus program near the Capitol could produce $1 million in housing fees and dozens of affordable units from a project coming in at 14th and Lavaca streets.
Two more police brutality settlements approved
Council signed off on settling a pair of lawsuits brought against the city for the actions of Austin Police Department officers during the May 2020 police brutality protests for $950,000, the latest in a string of payments Austin has made to those allegedly injured by police.
In her lawsuit, plaintiff Christen Warkoczewski said police shot her in the face with a beanbag shotgun round that fractured her jaw, resulting in "physical pain, mental anguish, impairment, and disfigurement," after covering an active tear gas canister with a traffic cone. Plaintiff Tracy Cates also said she was injured after an officer shot her with a "dangerous projectile" while she was unarmed.
Including Warkoczewski and Cates' May 19 settlements, council has authorized $14.9 million in payments to seven 2020 protestors this year.