Austin city staff spent months rolling out a plan to address inequities in cultural arts funding, but they announced Sept. 20 they were pumping the brakes due to public feedback.
The proposal, developed after two years of community input, would have redistributed arts funding to reach more minority-led organizations, which city data shows have not received funding at an even level. The proposal would also trim funding to be more sustainable. City staff said those cuts became much deeper as the pandemic slashed the city's overall bottom line. The combined effect of the smaller pot of money and the reorganization of its distribution would mean many organizations that had received money historically would no longer be able to rely on the cash.
Questions and concerns from the creative community regarding the implementation of the changes led the city to put the plan on hold.
While there are no widespread calls for the city to abandon its equity goal, defined by the city as reaching a point when race does not affect opportunities and quality of life, the timing and the changes have led many to speak up.
"It's going to be devastating to the arts ecosystem," said John Riedie, CEO of the Austin Creative Alliance, which has received or managed millions in cultural funding since 1982. "We agree that there's inequity in the system. We don't agree with the city's path toward fixing it."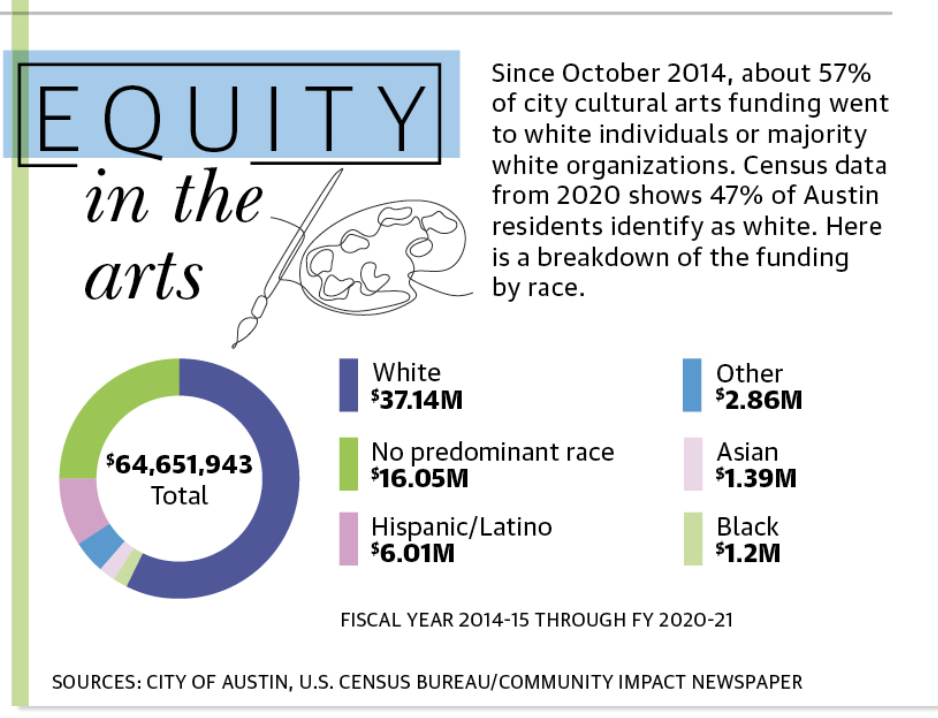 Equitable distribution
Austin's funding of local artists stretches back decades with nearly $150 million doled out to support hundreds of painters, dancers, musicians, jewelers, authors and other cultural institutions since the early 1980s, according to city data. A selection of some top recipients over the years includes the Zach Theatre, The Contemporary Austin, the Austin Symphony Orchestra, Mexic-Arte Museum, Center For Women & Their Work, and the Vortex Repertory Co.
Austin's Cultural Funding Program, the target of staff-proposed changes, is bankrolled through a portion of city hotel occupancy taxes. For years, the money has been crucial to many local art institutions.
"I started a theater company [eight] years ago. Although I am no longer a part of it, we relied heavily on the cultural arts program to get us started as it was the main source of revenue for us to mount shows," actor and singer Jacqui Cross said.
The program supported more than 350 distinct members of Austin's cultural space last year alone, but city staff said they increasingly became aware the funds were not reaching certain sectors of the arts community.
"We knew that we had marginalized folks and that we had excluded some community members because of the components of our system that were inequitable," said Meghan Wells, manager of the city cultural arts division.
In 2019, the city kicked off an engagement process that led to a proposal. The money would be available to those scoring highest on an equity-based rubric, with preference given for more diverse hiring, community mentorships and expansions of cultural programming. The funding is not necessarily aimed at matching the demographic makeup of Austin.
Staff said they hope the approach will eventually serve groups of all demographics, with priority given to applicants identifying as minority, LGBT, disabled and women. The proposal was put on hold in September. However, the size, scope and timeline of the plans are likely to change.
"I wouldn't say it's new versus old or white versus [Black, Indigenous, people of color], it's just a new framework of looking at the city's investment to support a more equitable system overall," Wells said.
Shrinking funds
When the city began planning for the equity changes, it also expected to trim the budget as the amount of money being doled out was unsustainable, staff said. However, as the city faces other pandemic-related budget issues, the cuts will be more significant than initially anticipated.
The arts funding is expected to be reduced to around $3.5 million next year, about one-third of last year's program total. The reduction comes amid hotel tax shortfalls brought on by COVID-19's effect on tourism in the city, and to balance the size of the recipient pool, according to the cultural arts division.
"Part of the hard conversation we're having with the community is that city funds are never a guarantee," Wells said. "It's a reality that has proven out that in no way, shape or form should city government be the mainstay of your funding for your organization because it is volatile."
"If you get it wrong in a normal year, you're going to have a lot of people upset. If you get it wrong in a pandemic year, people are already at a point where they're stretched thin and feeling desperate," said Ryan Crowder, Penfold Theatre's producing artistic director.
While the community anxiously awaits the arts funding revamp, some pandemic-related relief could be coming. The arts commission, which has worked closely with staff on the program changes, recommended to City Council on Sept. 20 that around $5.4 million of Austin's American Rescue Plan Act funds be sent to former award recipients.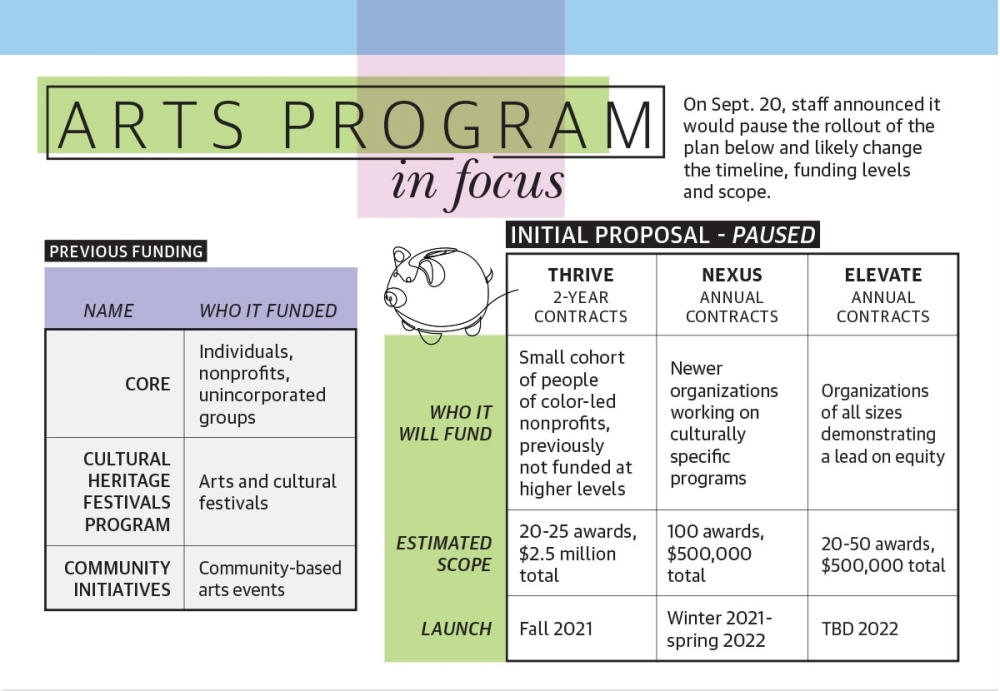 The art community reacts
While the city's plan will likely reduce the payout for many organizations used to receiving the fund, it has garnered praise from those who see the equity change as long overdue.
Singer-songwriter Mobley co-founded the Black Austin Musicians' Collective last year as an outlet to advocate for underserved artists. He has not received funding, and he said the city has seen years of neglect for members of his constituency in spaces such as hip-hop or R&B, and on "the wrong side of the 'high art-low art' divide."
And while change is coming, he also noted that systemic issues could continue if the city is not careful with the plan's implementation.
Laura Donnelly, founder and CEO of the girls media and technology nonprofit Latinitas, said she welcomes a new equity-based thrust in the city programs. In the past, she said some groups benefited from funding while putting little effort into diversifying leadership or opening programs to a broader selection of Austinites.
"Making your organization or audience more diverse and inclusive is a long game. It takes courage, and there will be discomfort," Donnelly said. "To my peers in arts delivery griping about these necessary changes to keep in pace with Austin's existing and growing diversity—I say welcome to that journey!"
Cross and Tonya Pennie, a director and performer with the Lannaya Drum & Dance program and Dance Africa Fest, shared similar sentiments.
"Organizations that did not seem to reflect cultural heritage were applying, and that was no fun. That was inequitable," Pennie said.
Lara Toner Haddock, co-producing artistic director at Austin Playhouse, said the uncertain outlook for reduced city funding means she cannot rely on the money for future budgets. Since the mid-2000s, the playhouse has received tens of thousands of city contract dollars.
Toner Haddock also said the perceived lack of transparency and support for Austin's arts ecosystem in the new plan could have a negative effect on the art industry.
"Something that gets lost often in these discussions of helping the arts and helping the artists is that we're actually a major employer. ... It's not just a couple plays that won't happen a year; it's people who won't be employed and who will look for jobs elsewhere if Austin is no longer seen as a welcoming cultural center," she said.
City staff said they are prepared to assist community members in navigating their options as the programs open up in the months ahead.
Wells said the city plans to track the proposal's progress once it is in place, both with data and anecdotally, to ensure it is having its designed effect.
"We don't want unintended consequences to come from the work that's very well-intended but may accidentally shoot us in the foot. So we're looking at all the aspects of how we can evaluate whether we're really getting there," Wells said.