After a school year burdened with campus closures and event cancellations, Magnolia High School senior Mia Perkins said she is grateful to be giving the Magnolia ISD livestock show one last go Sept. 18-19.
As with many other extracurricular activities and events in the last six months since the onset of the coronavirus pandemic, Perkins, who is also president of the Future Farmers of America organization on campus, said the district's livestock show was almost a no-go.
"[COVID-19] brought a lot of uncertainties to the whole livestock show, because there was a period of time where we thought we weren't going to have a show at all, which is pretty devastating," Perkins said. "But our teachers really worked hard and they said, 'No matter what happens, we're going to have this show whether we have to make drastic changes or not.'"
The 2020 Magnolia ISD Livestock Show will take place in the Magnolia High School agriculture barn Sept. 18 starting at 8 a.m. with the final show at 4:30 p.m. and Sept. 19 from 8 a.m. to the final live auction event at 6 p.m.

According to MISD Agricultural Teacher Layton Jones, planning for the 2020 MISD Livestock show was a chaotic process for teachers and event staff as they worked to adapt protocols to put on a fun, yet safe, show for students, many of whom have cared for animals since December to August.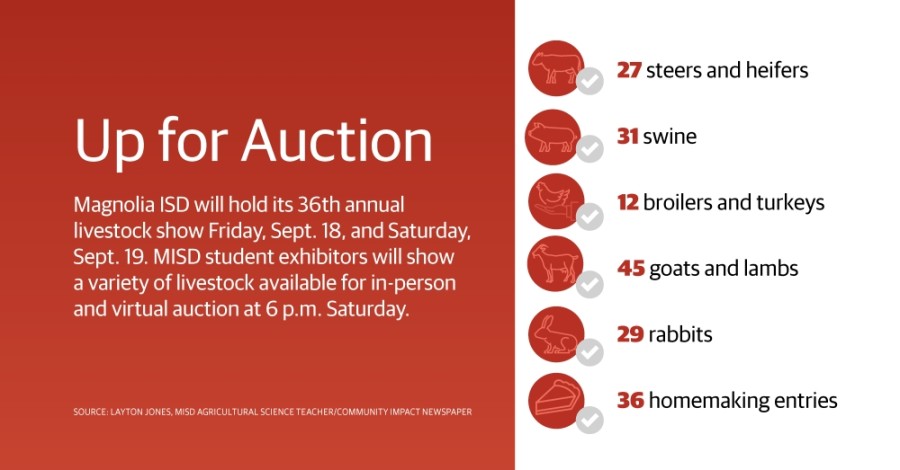 "A lot of kids and parents were very apprehensive about showing this year because they didn't know what was going to happen," she said. "It was our job to be the reinforcer and the positive person saying, 'We're going to find a way; all of this work will not be for nothing.'"

During the students' animal selection process in the summer and early fall months, Jones said show staff adopted a drive-thru-like process of randomly assigning students time slots to pick up selected animals. Whereas prior to the pandemic, students randomly selected written time slots from a collective bag, Jones said they expect to utilize the new selection process for future shows.
"It made us realize that ... there's some things that may have been inconvenient that we had to do that are actually more convenient in the long run," Jones said.
In addition to innovating students' animal selection process, this year's MISD Livestock show will be incorporating safety protocols such as mandating the use of masks and social distancing and even livestreaming the event and auction on the organization's Facebook page as a virtual alternative to attending the show.
The show is free to attend for the general public, and those looking to participate in the live auction are asked to attend the buyer's dinner and registration event at 4 p.m. on Sept. 19. To register to participate in the virtual auction, contact Tiffany Waits at [email protected]. For a full schedule of the livestock show, click here.
"If [people] have individuals in their family that don't have the best of health or they have [a] grandma or grandpa that don't really want to get out, they still have the opportunity to see that student show their animal, even if they can't be there in person," Jones said.
In the aftermath of coronavirus-related school and event closures, Jones said the livestock show must go on as a reminder that greener pastures lay not too far ahead during such challenging times.
"It's really important that we have this show–it's like a beacon of light that this entire time will end," Jones said. "Bad things can happen to you in life, but you have to be positive about it and know that it's not going to be bad forever."