After being in the restaurant industry for 25 years—more than 20 of those as a senior partner with Papa John's restaurants in Houston—Tamara Hamilton said she wanted to start a new endeavor for herself and the Tomball community. When she and her husband, John Hamilton, started Just Love Coffee Cafe in November, she said she wanted to offer the area something different.
"Our neighborhood needed something, and not just a doughnut shop [or] another coffee shop," Tamara said. "We wanted somewhere that provided a good meal with great coffee and a friendly environment."
Tamara said they chose to start a franchise of Just Love, a coffee cafe company based in Nashville that has one other Texas location in Georgetown, because the company is built on giving back. She said she was a single mother for a time, and that motivates her.
"I always promised myself that if I was ever in a position to give back I always would because there was a point in my life where I needed some help," Tamara said.
The cafe gives back through its Love Fund, which provides money for those in the community with immediate needs, such as gas, groceries or medical bills, Tamara said. The restaurant also "adopted" six single mothers last holiday season and provided them with gifts, wrapping paper and a meal for them and their families, she said.
Beyond giving back, John said he wants the cafe to be a place where all ages can visit.
"We want to be a place where people can come and feel comfortable," John said.
John said part of what makes Just Love unique is most of the food is cooked on waffle griddles, from omelettes to sandwiches and burritos. The restaurant also offers coffees and teas.
Tamara said the couple hopes to open two other locations: one in The Woodlands and the other in Bridgeland in Cypress. She said the plan is to have three locations so each of her three sons can inherit one of the restaurants.
"We didn't know Just Love was going to be exactly what we wanted to do," Tamara said.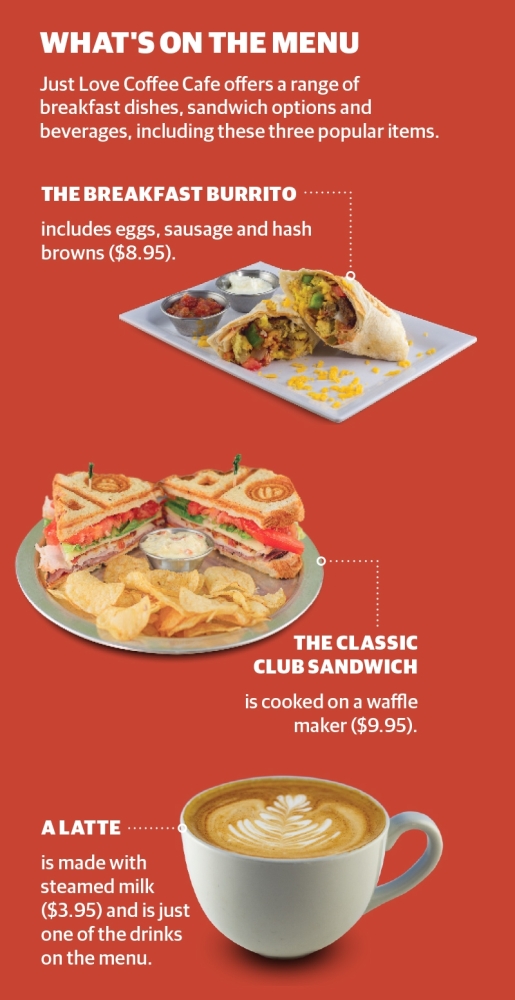 Just Love Coffee Cafe
213727 Sunset Canyon Drive, Tomball
281-547-6984
www.justlovecoffeecafe.com/tomball
Hours: Mon.-Fri. 5:30 a.m.-8 p.m., Sat.-Sun. 6:30 a.m.-8 p.m.