Timika Simmons, the CEO of TOMAGWA HealthCare Ministries, said there are about 100,000 residents without health insurance in her 600-square-mile service area. That number is expected to surge as more residents find themselves unemployed as a consequence the ongoing coronavirus pandemic causing a host of layoffs and temporary business closures.
"That was before the layoffs, so now the phones are ringing off the hook. We've had to streamline our process and move it online to start accommodating the number of people who are now without insurance who live within our service area and they're finding out TOMAGWA is their only option," Simmons said.
TOMAGWA is a safety-net clinic providing care to those ineligible for or unable to access health insurance, Simmons said. The nonprofit's reach spans 16 ZIP codes throughout portions of Harris, Montgomery and Waller counties and serves about 3,000 patients annually.
In Tomball and Magnolia, the only other option for uninsured residents seeking care is an emergency room, Simmons said; however, the area's only hospitals are located along the Hwy. 249 corridor, miles from TOMAGWA's western limits.
"When you think of the other hundreds of miles, there is no hospital, no emergency care," she said. "When we are not being supported, then naturally we would have to direct our patients to the hospitals who are already taxed."
During the pandemic, it is crucial that the most vulnerable populations have access to health care and free coronavirus testing to stay healthy, avoid flooding emergency rooms and limit the spread of the virus, Simmons said.
More than 22,400 residents within the five Tomball and Magnolia ZIP codes are uninsured, according to 2018 five-year estimates from the U.S. Census Bureau, which totals 14% of the population.
"That's what keeps me up at night is fighting tooth and nail every day to be a voice for the population we serve, the uninsured citizens in our area, so they can have access to care," Simmons said.
Counting the uninsured
Texas leads the nation in having the largest percentage of residents who are uninsured. Census estimates show 17.4% of Texans were uninsured in 2018, down from 22.8% in 2013. This totals 4.76 million Texans in 2018 who did not have health insurance.
By comparison, the U.S. rate dropped from 14.9% to 9.4% in 2013 and 2018, respectively, according to census estimates.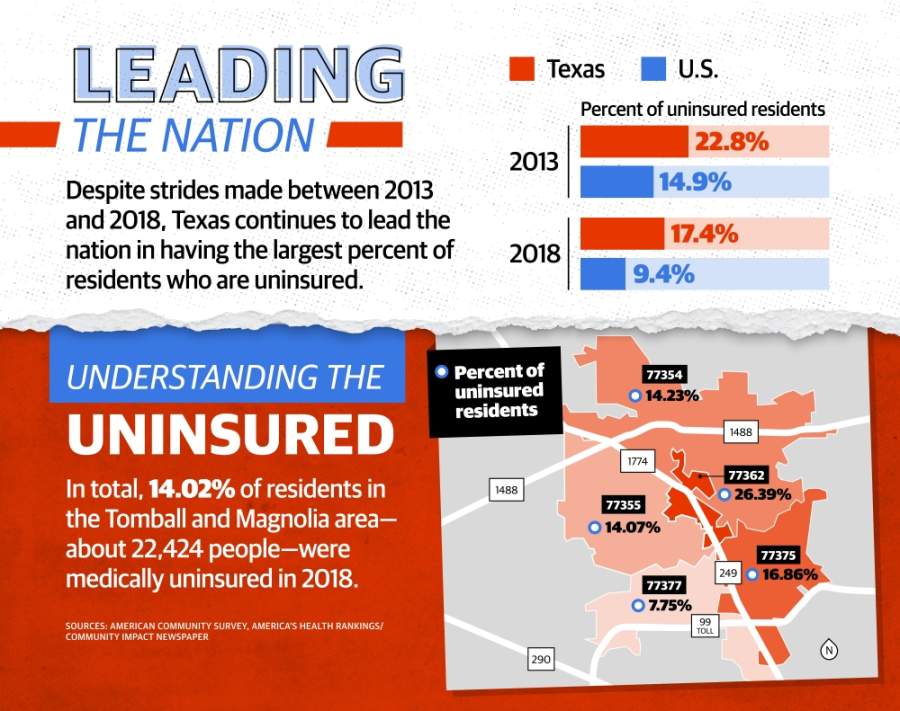 "One of the challenges we have in Texas is we've got a lot of small businesses, a lot of independent contractors. These businesses struggle to provide health insurance. If you're an independent contractor, it's hard for you to be able to afford health insurance," said John Hawkins, senior vice president for advocacy and public policy with the Texas Hospital Association.
Texas also has the second-highest noncitizen population behind California, totaling 2.96 million individuals, nearly half of which were uninsured, according to 2018 census estimates.
Health care and policy leaders also point to Texas' hesitancy to expand Medicaid eligibility—as outlined by the Affordable Care Act—as a contributor to the state's large uninsured population. According to a report from the Kaiser Family Foundation, 1.5 million currently uninsured nonelderly adults could be covered if the state expanded Medicaid eligibility.
Four of the five ZIP codes in Tomball and Magnolia fall below Texas' uninsured rate in 2018, but only ZIP code 77377 falls below both the state's and nation's uninsured rate in 2018 with 7.75% of residents uninsured, according to census estimates.
Pinehurst ZIP code 77362 has the highest percentage of uninsured residents locally at 26.39% and is also the only local ZIP code to see its uninsured rate increase from 2013, according to Census estimates.
Simmons said many of her patients are among the retail and food service workers as well as small businesses for which paying for or providing health insurance is difficult.
"Most of our patients are in those industries who had to do the layoffs, and so they are finding themselves without insurance—or even before [the pandemic] they could not afford it so they relied on safety-net clinics like TOMAGWA," Simmons said.
A growing rate
As unemployment claims surge, a higher uninsured rate is expected to follow, said Lynn LeBouef, chief executive officer of the Tomball Regional Health Foundation.
"Certainly the uninsured population is growing. We have a whole lot of people that have been furloughed because of COVID-19," he said. "Certainly the insured population has changed dramatically in the last eight weeks, but I don't think we've hit the full force of that just yet."
Data from the Texas Workforce Commission shows 1.96 million unemployment claims were filed in Texas between the weeks ending March 14 and May 2.
Locally, about 7% of the labor force in Tomball and Magnolia has filed for unemployment in the month spanning April 1-May 2, according to census and TWC estimates.
A May 13 report from the Kaiser Family Foundation projects 382,000 Texans will be within a coverage gap—meaning they will be unable to access health insurance—in January 2021 when employer-sponsored insurance and unemployment insurance benefits are likely to run out. This is up from the 30,000 Texans projected to be in the coverage gap in May because of job loss.
"I don't think we have seen the full impact of the uninsured population yet in our area," LeBouef said.
To prepare for an influx of uninsured residents locally, Simmons said TOMAGWA is moving its enrollment process online. By May 26, TOMAGWA will roll out its online system, where patients can fill out forms to be approved virtually, and then health assessments will be done in person and scheduled daily. Previously, prospective clients had to have lengthy visits with TOMAGWA staff and doctors to become a patient, Simmons said.
TOMAGWA is also primarily using telehealth services to care for its patients who are not chronically ill; those patients are still being seen in person by appointment. Telehealth has allowed the nonprofit to see patients more efficiently and conserve personal protective equipment, Simmons said.
"For us, because our focus is the rural areas where there is just a lack of access to health care, period—even for the insured—if the insured struggle with access to health care, imagine things without insurance," she said.
Care during COVID-19
Simmons said caring for the uninsured is particularly difficult currently because of limited funding, a lack of PPE and few COVID-19 testing resources close by for the uninsured population.
Simmons previously
said
TOMAGWA has seen financial contributions slow significantly amid economic effects of the coronavirus.
Although the foundation has funds available for COVID-19 testing, LeBouef said TRHF has had little success working with community partners who have access to COVID-19 testing kits to fund free testing in the community.
Like TRHF, Simmons said TOMAGWA has not been able to access COVID-19 testing kits, perhaps the largest need in caring for the uninsured community currently.
"That's the big issue," she said. "As a safety-net clinic we are not on any list to receive COVID-19 tests so we have to get out there and fight just as an individual practice to get access to the tests. So far we're still unsuccessful, so that leaves the uninsured population without a place to go or receive tests."
Some testing sites have been set up around Harris County, and Montgomery County rolled out a
voucher-based testing program
May 13 where county residents could register for a free test in Spring or Conroe. However, Simmons said not having transportation is the No. 1 barrier for the uninsured population to receive health care.
"Without them having the resources—the money to pay for tests—without them having their safety-net clinic being able to provide the test, you have this large population of people who are not tested who can be spreading the virus and making it worse," Simmons said. "I think that will continue to be a barrier in our ability as counties to manage the spread because we have not made it accessible for uninsured residents in the rural areas to have consistent access to testing."
Hannah Zedaker contributed to this report.