The Montgomery County Sheriff's Office launched a new regional public information initiative Feb. 2 aimed at soliciting leads for unsolved county crimes.
Through the new program, Cold Case Warm Up, Montgomery County cold cases will be featured on billboards throughout the Greater Houston area alongside contact details for anyone wishing to submit possible information or tips about the cases. The campaign is a partnership between the county sheriff's office, advertiser Clear Channel Outdoor and the nonprofit Multi-County Crime Stoppers.
"It's a sad situation that we have a case that is this old. But someone, somewhere knows something about this case and we hope that with the creation of all these market impressions throughout the area, someone will come forth with some information that will lead to the arrest and conviction of the perpetrators of this particular case," Lee Vela, vice president of public affairs for Clear Channel, said at a Feb. 2 press conference in Conroe.
The first unsolved crime to be featured through Cold Case Warm Up is the August 1995 murders of John and Pansy Stewart in Conroe. Sheriff Rand Henderson said the pair were discovered in their Foster Street home around one week after the murders took place, with the house "ransacked" and several guns and pieces of jewelry missing. Despite efforts over the past 25-plus years to solve the case, the sheriff's office and its cold-case unit are now seeking additional assistance from the public, Henderson said.
"We have kept this case open trying to develop leads. As the years have gone by, that has become more difficult. It has finally evolved into the status of a cold case. We are blessed at the Montgomery County Sheriff's Office to have an active coldcase unit who have also picked up this case, and they are working tirelessly," he said. "Through this partnership we hope to develop leads. If anyone in our community has any information on this absolutely senseless murder, we ask that you contact Multi-County Crime Stoppers and relay that information. You may do so anonymously."
Several of the victims' relatives were also present at the press conference and asked for assistance through the program from anyone with new information on the 1995 killings.
"We would just like to see if we can find someone, somewhere that knows something about this crime. We need closure. My parents need justice," the victims' son John Stewart said. "I just would like one person to say something to someone that would help us solve this."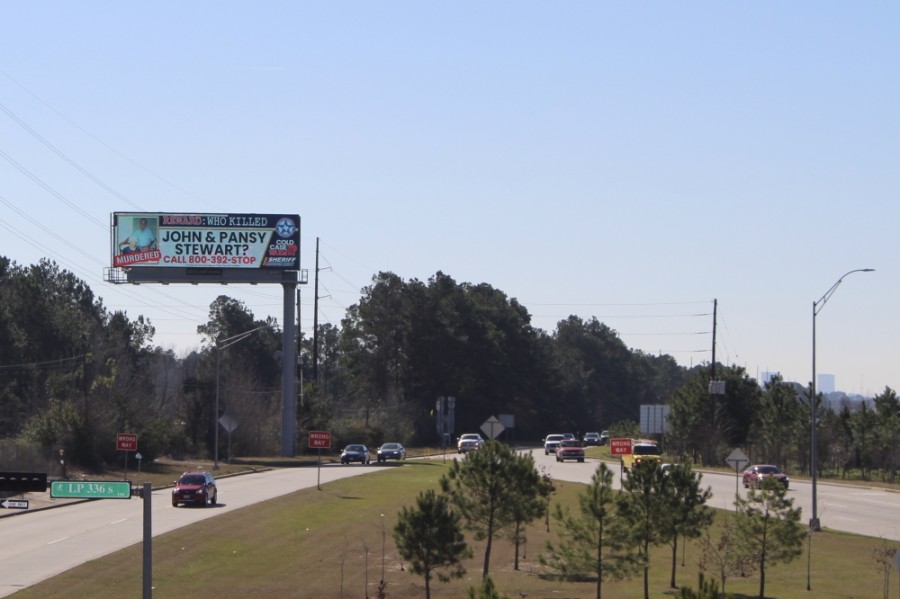 The first billboard displaying information for the county's Cold Case Warm Up partnership was unveiled just north of Exit 84B on I-45 N. in Conroe on Feb. 2, south of S. Loop 336 E. on Hwy. 75.
Vela said the initiative will eventually include 32 billboards throughout the region and is expected to generate millions of market impressions from passersby every month. A new Montgomery County cold case will be featured across the billboard network on a quarterly basis, Vela said.
Anyone with information on a cold case can contact
Multi-County Crime Stoppers
at 800-392-7867.