A project centered on two intersection improvements along Woodson Road in Oak Ridge North is moving forward and could begin construction later this spring.
Public Works Director Joe Sherwin shared details on final plans for the project, covering Woodson's intersections at both the northbound I-45 frontage road and Blueberry Hill Drive, during the Oak Ridge North City Council's March 22 regular meeting. The project has been under consideration in city plans for years and was designed over recent months to address traffic and turning issues at the intersections, especially relating to trucks turning off the frontage road, Sherwin said.
The project will mainly expand the turning radii of Woodson's intersections at I-45 and Blueberry Hill, as well as adding lane delineators and a new center turn lane set back from the interstate frontage road, according to
city design plans
.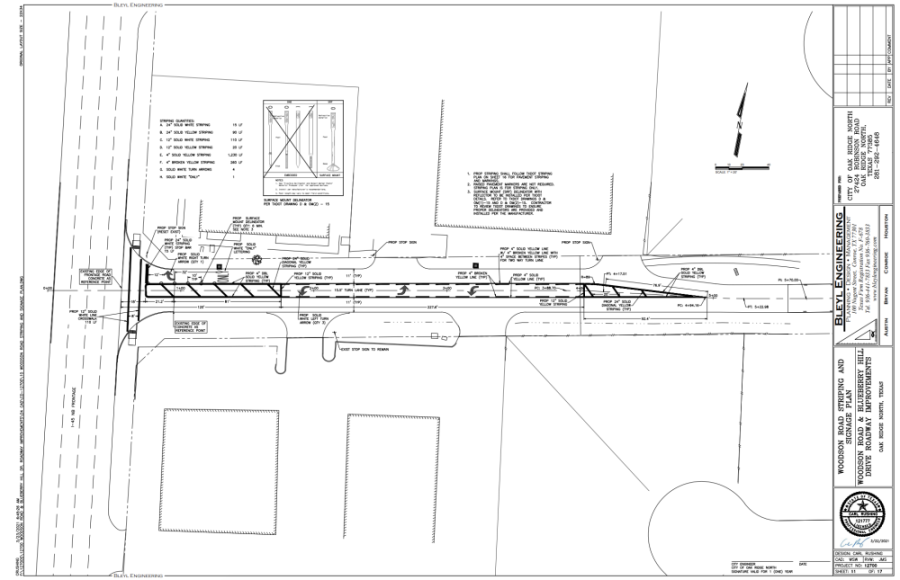 "One of the things that Councilman [Tom] Coale and I talked about was adding delineators to the upper side of the stripe with a new third lane to keep trucks who are traveling from I-45 turning into Woodson," Sherwin said. "There's really no physical barrier to keep them from taking a little bit extra into that northern lane onto oncoming traffic and basically having the same problem as always just because they want to hog the road. So we're going to try some delineators up there and channel the trucks and give them kind of an eyepoint to aim for to keep the nose in those lanes."
Sherwin said the project will also include some rebuilding work for driveways connecting the commercial centers on the north and south sides of Woodson adjacent to the frontage road. The city expects both the commercial and residential areas off Woodson will retain access to the feeder road during construction, Sherwin said.
"I-45 will still have access to all of the businesses at all times, and the residential area will have access to all the businesses at all times as well; they just won't meet," he said.
The project, budgeted at $250,000 and funded through the city capital improvement fund, is expected to be advertised for construction this month with bidding set to close April 8. Construction could begin later in April on a 75-calendar day work timeline.
Later in the March 22 session, council members also approved 2% annual salary increases for city employees, resulting in an approximate $73,800 increase to the city budget.
City Manager Heather Neeley said the raises are typically applied automatically each year through city policy as a cost-of-living adjustment, but council deferred the increases last year due to uncertainty relating to the COVID-19 pandemic and city revenues. Neeley said officials had planned to revisit the item this quarter and recommended applying the increases due to the current state of city revenues.
"Our compensation policy does recommend cost-of-living increases each year for employees that corresponds with the annual [consumer price index] adjustment," Neeley said. "You all had asked that we defer that to make sure that we could see the sales tax that was coming in. ... Sales tax is getting back to normal; we are above on revenue, below on expenditures."
The item passed unanimously, although Coale requested a review of the city's annual application of cost-of-living salary increases. Mayor Paul Bond said the city's personnel committee would evaluate that policy item in the future.