The Spring Creek Watershed Partnership is moving forward on its evaluation of water quality issues throughout the watershed area following the group's second virtual meeting Oct. 8.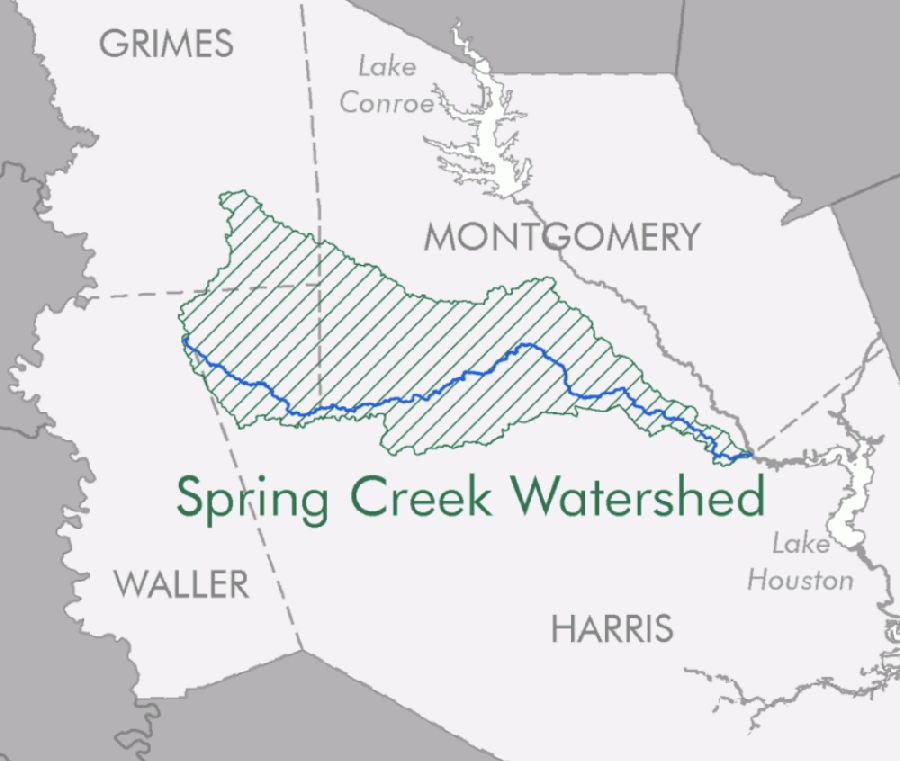 The partnership, which is made up of community stakeholders and is supported by the Texas Commission on Environmental Quality and the Houston-Galveston Area Council, was
established earlier this year
to review water quality concerns throughout the 440-square-mile watershed spread across four Greater Houston counties. The group's end goal is the creation and implementation of a watershed protection plan, expected to be completed by late 2021, that will guide regional efforts to improve currently-impaired water quality throughout the Spring Creek Watershed to sustained compliance with state standards.
During the partnership's Oct. 8 virtual session, H-GAC planner Rachel Windham shared the results of recent water quality assessments along the creek and its two attainment areas, or sub-watersheds, based on the central waste-related concern of bacteria impairment. The two areas include headwaters, located mainly west of Hwy. 249 and north of FM 2920, and downstream, covering the creek's run east from Hwy. 249 and Mill Creek through North Harris County and South Montgomery County to the West Fork San Jacinto River.
"On the headwaters side of the watershed, the actual magnitude of bacteria loading is lower compared to the bacteria loading that occurs on the eastern side of the watershed," Windham said. "What we recommend based on this information is considering the watershed to be one whole, but there are two main sections of the watershed that we need to be concerned about."
While the presence of
E. coli
bacteria—a sign of high levels of fecal waste and other possible pathogens that affect water quality—was charted throughout both attainment areas, Windham said the two areas require different levels of bacteria loading reduction based on how the bacteria enter waterways.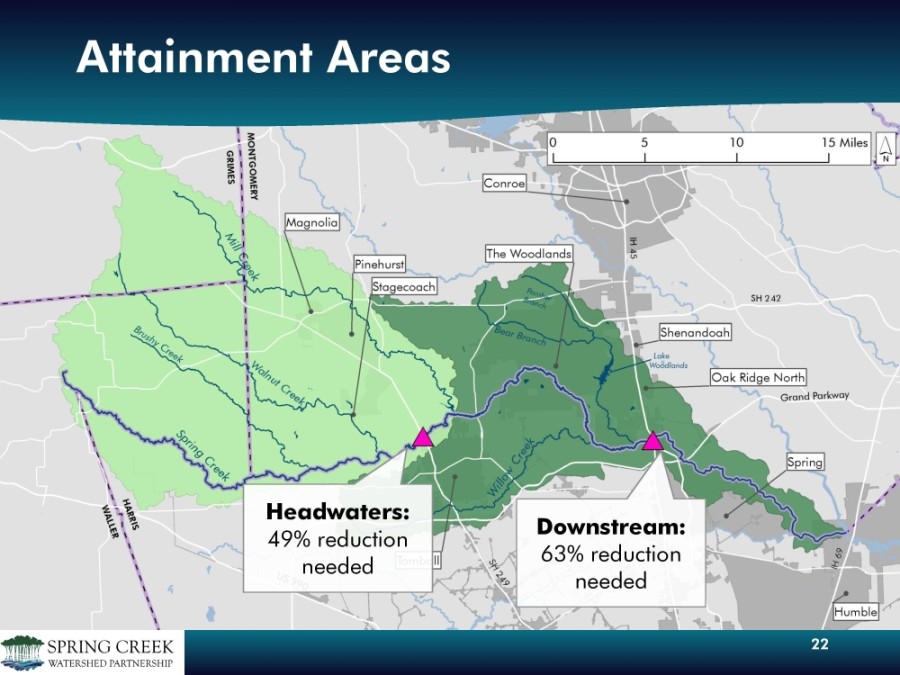 Based on analysis of the past decade of state records at monitoring stations in the two attainment areas, a 49% reduction is needed in the western headwaters, and a 63% reduction is needed in the eastern downstream portion as a growing population brings new potential bacteria loading throughout the region.
"It's important to look to the future when we're considering bacteria loads in this system because we want to be sure that we're not just answering the question of 'How do we improve water quality today?' but also, 'How do we account for how this land area's going to change over time?'" Windham said. "'How do we respond to these changes in ways that we're still going to reduce bacteria impacts even in the face of expanded development and things of that nature?'"
Windham said that the main culprit of bacterial loading throughout the watershed is currently dog waste, which accounted for nearly two thirds of the estimated daily load as of 2018. Other identified contributors are livestock, such as cattle and horses; wildlife; and human waste stemming from sewage facilities or sewer overflows—one of the more significant, while less common, human-caused impacts.
"These can be very significant events that really contribute to bacteria loading in the system, and they're extremely harmful, potentially, to human health, as these events represent a large volume of pollutants," Windham said.
Based on 2018 metrics, total daily bacterial loading is expected to more than double within the next 25 years, led by a more than 20% increase from dogs alone as development and population growth in the region continues.
Windham said the partnership will use those metrics to solidify its goals for load reduction in order to develop its potential long-term fixes for the area as planning continues over the coming year. The partnership will next meet in December.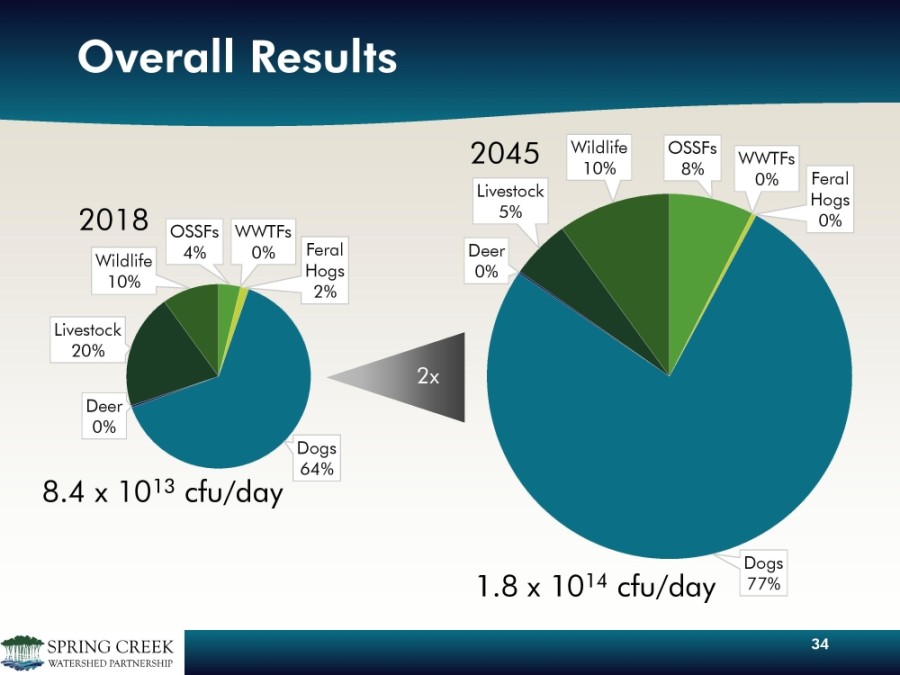 "Once we have these reduction targets and loading values set in stone more or less for this group, then we can have a more focused trajectory for identifying water quality improvement solutions for this watershed. Once we get those solutions together, we can put it all down in writing in the watershed protection plan and move forward with implementation," she said.
More information on the watershed and planning process may be found on the
partnership's website
.