For Odis Jones, Missouri City's eighth city manager, public service has always been in his blood. Jones grew up in the city of Detroit, where his mother was a community activist and his brother went on to be a police officer.

"As a young man I grew up understanding the value of contributing back to the community," Jones said. "That was ingrained in me at a very young age, and I wanted to make sure that I put my heart and attention into working as hard as I can to help communities prosper."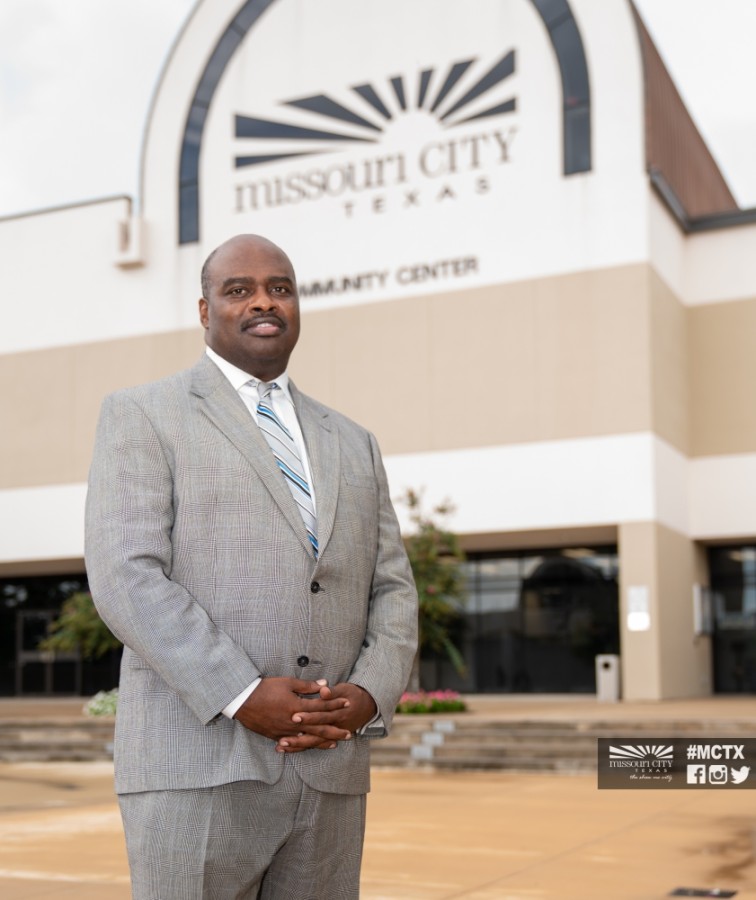 Jones attended college at Central Michigan University on a football scholarship, where he studied sociology. He went on to receive a Master of Public Administration degree from Western Michigan University.

"After realizing that I would be better off in life trying to make a living for myself with my brains and not my body, I decided to commit myself to this thing called public service," Jones said.

Jones began his career in city government as a special projects manager for the city of Battle Creek, Michigan, before becoming the city manager of Obetz, Ohio. He said his time in Obetz launched him to Columbus, Ohio, where he led development for the city. After that, Jones worked as the economic development director for the New Jersey Economic Development Authority and the executive director of economic and community development in Cincinnati.
In each of the places Jones worked, he left a legacy of economic growth. In Obetz, Jones said he helped recruit companies to the city and positioned it as an industrial hub. In Columbus, he led development of the Center City area, attracted industrial parks and affordable housing to the city, and recruited Time Warner Cable's midwest corporate offices.
But one of his proudest accomplishments came during his time as the CEO of the Public Lighting Authority in Detroit. Jones held this role during Detroit's bankruptcy proceedings and worked to restructure how the city handled its street lights and electrical system.
"I think [the lighting projects] gave the public the sense that they can believe in government again after bankruptcy," Jones said. "The lights are very visible, so when they saw that the street lights were on and working ... it gave them a sense of hope that our government can do some positive stuff."
Most recently, Jones served as the city manager in Hutto, a city located 22 miles northeast of Austin. In Hutto, Jones helped the City Council open the city up for business by redoing the zoning code and economic redevelopment policy. These changes led to housing developments, mixed-use developments and new companies coming to the city.
"A lot of things came together and just, boom, exploded the town," Jones said. "But at the heart of all that was a community participatory process, where the community got an opportunity to reimagine his future and how it wanted to proceed."
Jones and the city of Hutto reached a separation agreement in November 2019, and at the time, Jones said he was looking for a city that embraces diversity and growth.
"There's a real opportunity to lead growth and lean forward into the future of Missouri City, and that's what excited me about diversity here," Jones said.
In his first few months as city manager, Jones said he will work with the mayor, City Council and residents to better understand the direction they hope to move the city in.
"My mother said when I was a kid, I've never met a stranger in my life, so that toolset is coming in handy as I get about town," Jones said. "My plan is to take the next 120 days or so to go on a listening tour and understand the concerns and desires and opportunities of the residents."
A divided Missouri City City Council voted to offer Jones the city manager position July 7, and Jones stepped into the role July 20. Jones said moving forward he plans to work with the full council to accomplish goals they can agree on.
"We've got to focus on the issues that are on hand, and the issues that we've got on hand are things that everybody agrees with on this council," Jones said. "I have a unified council around several issues. One issue is they're unified around making sure that the COVID[-19] response from the city is effective. My council is unified around making sure that economic development and growth takes shape in this community. My council is unified in making sure that we have an effective customer service-driven organization. So, those are the things that I'm going to focus on."