For more information about who is on the ballot in Fort Bend County and Q&A's with local candidates, visit
communityimpact.com/voter-guide
.
Updated at 5:55 p.m.
Those seeking to vote in Fort Bend County have a little more than an hour to get in line to vote. According to Texas law, any registered voter in line by 7 p.m. can cast their ballot.
As of 3:30 p.m., more than 21,000 Fort Bend County residents have voted in person on Election Day, according to a Facebook post from County Judge KP George.
Election Day votes, plus ballots cast during the early voting period or returned by mail, total more than 361,000—surpassing the total number of votes cast in both the 2018 midterm election and the 2016 presidential election by almost 100,000.
Updated at 3:40 p.m.
As of noon on Election Day, more than 13,000 votes have been cast in Fort Bend County, according to an afternoon press release from County Judge KP George. This means that approximately 70% of registered voters in the county have cast ballots so far, including during the early voting period.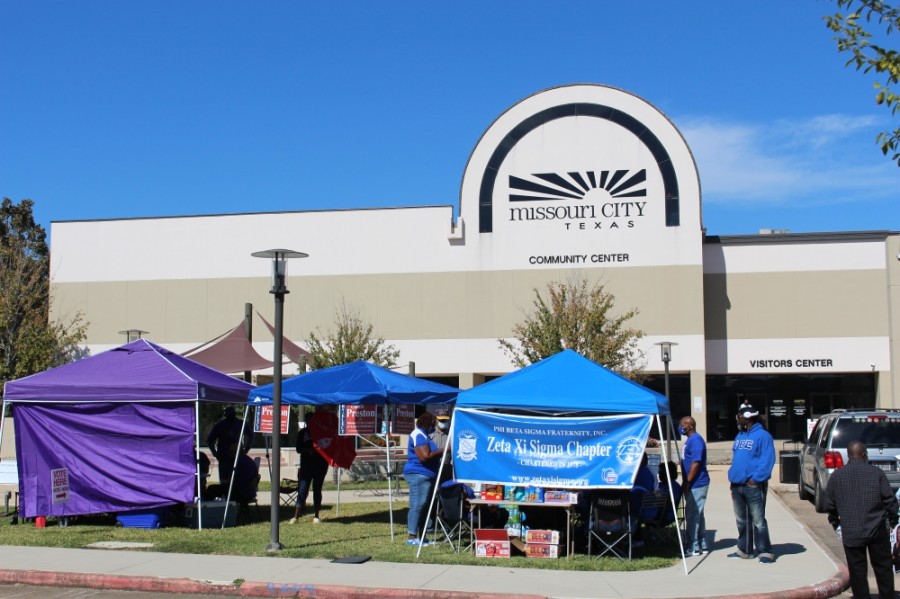 Volunteers at the Missouri City Community Center polls said they saw fewer voters than expected over lunch but added that they hoped more people will turn out to vote this afternoon and after work.

Still, campaign volunteers flocked to the City Hall complex to talk with voters and encourage them to support their preferred candidates.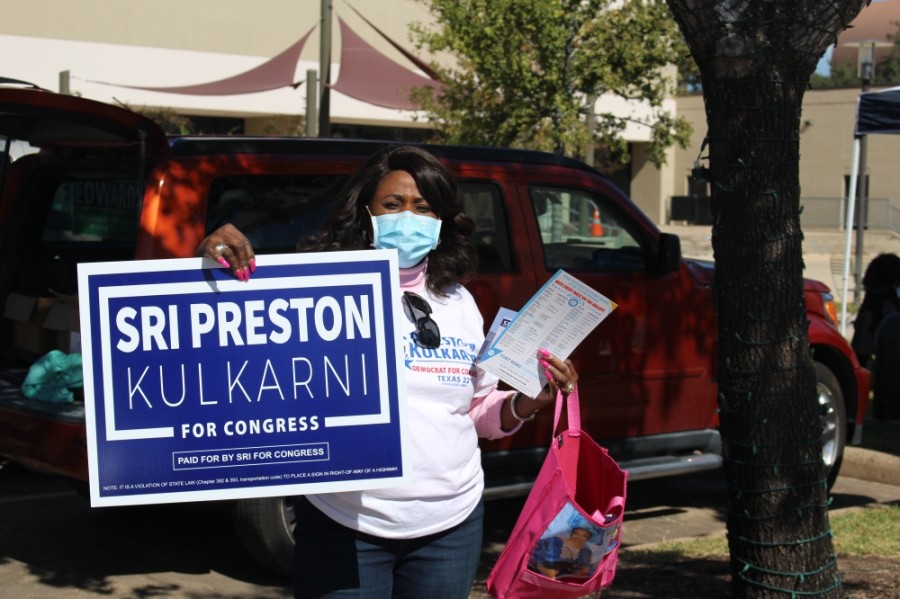 According to the county's "How Long is the Line" interactive online map, all 84 polling places have a wait time of less than 20 minutes. Registered voters have until 7 p.m. to get in line to vote.
Updated at 12:05 p.m.
Heading into the lunch hours, most voting centers are reporting no wait times, according to the county's "How Long is the Line" interactive online map.
Community Impact Newspaper
took photos at four Sugar Land polling locations from 8:30-10:30 a.m. Check out the gallery above for scenes from the Smart Financial Centre, the Fort Bend ISD Administration Building, Sugar Creek Country Club and Townewest Towne Hall.
At the Smart Financial Centre—Fort Bend County's mega polling location, which has more than 60 voting machines—William Ferguson, Sugar Land City Council At-Large Position 1 candidate, and Kristin Tassin, Fort Bend ISD board of trustees Position 4 incumbent candidate, were greeting voters. The candidates and other campaign representatives said voters were steadily coming out to the polls Election Day morning.
Updated at 10:06 a.m.
Cities and elected officials are encouraging Fort Bend County residents to vote. Here are some posts encouraging voting today.



It's a beautiful day to #vote. Make sure to use our "How Long is the Line" tool at https://t.co/v2R2CYZWIf and go #vote today! TODAY IS #ElectionDay! pic.twitter.com/v47Raf3mQt


— County Judge KP George (@JudgeKPGeorge) November 3, 2020



Today is Nov. 3 #2020 Election Day!

If you haven't voted yet, make a plan to cast your ballot from 7 a.m. to 7 p.m. today.

Harris County: https://t.co/UhvbvTRa3Z



Fort Bend County: https://t.co/yb623FRk3M pic.twitter.com/Mbo8lvyitS
— Missouri City, TX (@MissouriCityTX) November 3, 2020



It's Election Day, y'all! Today is the last chance to let your voice be heard and cast that ballot. - polls close at 7 p.m.

Election Info https://t.co/TWsnC3PVD4

Election Day Voting Centers https://t.co/ndoH52ohQt

Sugar Land Election Guide https://t.co/nEweiw5RSB pic.twitter.com/c62aIWIqrH


— City of Sugar Land (@SugarLandtxgov) November 3, 2020



https://www.fortbendcountytx.gov/government/departments-e-n/elections-voter-registration/presidential-election-day-polling-location?fbclid=IwAR1pj09RlX5mPeWc3q_glcG0UaY58Dqr9MF0eAtvQvn-D8Q3s6nvmiB-vQs


Posted by City of Fulshear on Tuesday, November 3, 2020
Fort Bend County has 84 polling locations open from 7 a.m.-7 p.m.
Published at 5:00 a.m.
It is Election Day, and in addition to the presidential election, Fort Bend County voters are casting ballots in congressional races and statewide contests as well as for city, county and school board positions.
In a press conference Nov. 2, Fort Bend County Judge KP George and officials emphasized the measures the county has taken to make sure voting is easy and safe.
There are 84 Election Day polling locations, which will be open from 7 a.m.-7 p.m. Registered voters in Fort Bend County can vote at any location in the county.
"We are doing a lot of things to make sure ... you can go and vote," George said. "You're going to have a polling location right in your backyard, so you don't have to go very far."
Voters can look up how long the wait is at their nearest voting location by using the map on the
county elections website
.
Additionally, the Smart Financial Centre in Sugar Land is serving as a mega voting site with 60 individual voting machines, George said.
Fort Bend County Transit is
providing free transportation
to and from the polls, and curbside service is available at any voting location by calling 281-342-8670 after arriving. George said personal protective equipment and no-touch voting are available and utilized at each voting center.
County District Attorney Brian Middleton said at the press conference that law enforcement will be in the community tomorrow looking for anyone trying to intimidate voters or disrupt the election process.
"We want our citizens to know that you may safely vote and know that we're there to assist you in protection," Middleton said. "So, have no fear. Tomorrow, when you go to vote, you will be protected."
Of Fort Bend County's registered voters,
67.97% cast ballots
in person or via mail during the early voting period Oct. 13-30, according to county elections documents.
John Oldham, Fort Bend County elections administrator, said the county will post early voting and mail in ballot results shortly after 7 p.m. Election Day results will be posted as they are received, he said.
"It all depends on turnout," Oldham said, speaking of when complete election results can be expected. "If we have 55,000 people vote, I think we'll be done by 11 o'clock. If we have 80,000 people vote, it may be 1:30 [or] 2 in the morning—it just depends."