The local distribution of the coronavirus vaccine began last month, with Methodist Hospital in Sugar Land being the first to receive a Pfizer vaccine shipment in the area. Additional hospitals and local pharmacies received shipments from both Pfizer and Moderna the following week.
"Hope is on the horizon," Fort Bend County Judge KP George said at a press conference Jan. 4. "The vaccine is here."
So far, the Moderna and Pfizer vaccines are the only ones available in Texas—but a trial of the AstraZeneca vaccine should yield results early this year and could lead to its distribution, the process for which is decided by the state.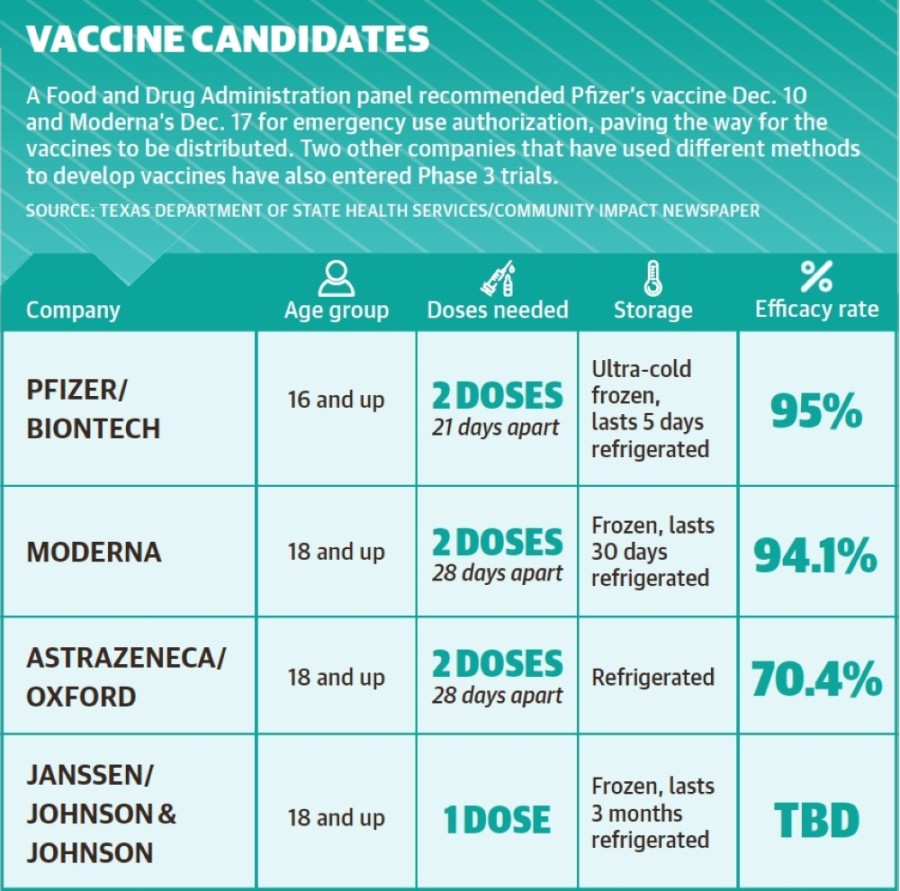 "Texas has convened a team of appointed external and internal subject-matter experts into the COVID-19 Expert Vaccine Allocation Panel (EVAP) to develop vaccine allocation strategies as recommendations to the Texas Commissioner of Health," said Dr. Jacquelyn Minter, the Fort Bend County Health and Human Services director, in an email.
The distribution process is taking place in phases, beginning with individuals allocated to Phase 1A—hospital staff working directly with COVID-19 and high-risk patients.
"Protecting health care workers is essential to keeping the health care system intact and able to care for COVID-19 and other patients, so Phase 1A of vaccine distribution, when the vaccine supply is most limited, will focus on making vaccine available to health care workers," Minter said. "To support this distribution, the EVAP has recommended, and the Commissioner of Health has approved, a tiered definition of health care workers specific to Phase 1A."
Phase 1B, which began in Houston at the beginning of the month, extended to individuals outside of the health care industry, focusing on those who have a greater risk from the virus that causes COVID-19. That group includes those age 65 and older and individuals age 16 and older with at least one chronic medical condition that puts them at increased risk for severe illness.
The second tier of vaccines includes direct care staff in freestanding emergency medical care facilities and urgent care clinics; community pharmacy staff who may provide direct services to clients, including vaccination or testing for individuals who may have COVID-19; public health and emergency response staff directly involved in administration of COVID-19 testing and vaccinations; last responders who provide mortuary or death services to decedents with COVID-19; and school nurses.
On Jan. 4, Fort Bend County announced it had received 1,000 vaccines and would begin contacting preregistered individuals to schedule their first dose, but according to its website, Fort Bend County's coronavirus vaccine preregistration was full as of that date.
"We have requested that more vaccine be made available to our citizens," George said. "We are working very closely with the concerned authorities, and we are doing everything in our power to make sure it is distributed in an orderly manner."
George said the county has requested "hundreds of thousands" of vaccines, but the actual allocation remains up to the state. While preregistration for the vaccine has filled up, George said registration for future vaccine shipments will open soon. According to the Fort Bend County Health & Human Services website, "registration will re-open once a significant number of registrants are vaccinated or FBHHS receives a larger allotment of the vaccine."
Registering, however, does not necessarily mean someone will be next in line for vaccination, George said. Prioritization of the distribution at that point will defer to the Health and Human Services Department.
"As soon as they make them available, we will get the information out," George said. "We are eventually going to open up a registration process where you could sign up—you could register—to get a COVID vaccine when it is available."
As of Jan. 7, Harris County had provided the first dose of the vaccine to 69,900 individuals, with Fort Bend County at 10,782, according to the Texas Health and Human Services website. During that distribution, Fort Bend County has focused on first responders, health care workers and medical providers.
"We are ready to receive this vaccine," George said before the initial shipment of 1,000 doses was received by the county. "We are ready to administer the vaccine. ... We are ready to get to work."
As the county awaits additional shipments, George and Minter both reiterated the need for continued precautions.
"Please continue to keep your guard up," George said. "Wear your masks. Wash your hands. ... Be patient."
Details regarding vaccine distribution in Fort Bend County can be found at
www.fbchealth.org
.