Local counties and cities will seek to tackle flood and drainage projects this year. The city of Humble will work on internal drainage, while the city of Houston and Harris County are close to purchasing land for a regional stormwater detention basin.
Additionally, with the 87th Texas Legislature set to continue through this summer, local lawmakers and leaders are solidifying their priorities for what should be funded by the state over the next biennium.
Jenna Armstrong, the president and CEO of Partnership Lake Houston, said the organization is advocating for flood resilience, pandemic relief and economic development to be priorities in the upcoming session.
"Flood resilience is still going to be a big piece," she said. "Because we need things to happen upstream, too, that impact us."
The city of Humble will begin several drainage projects this year, one of which is a $2.05 million project on Black's Bayou in the Northshire subdivision. Humble Public Works Director Mark Arnold said the project, which will desilt and stabilize the channel, is set to begin August 2021 and be completed by February 2022.
"When it starts to rain or if there's a black cloud in the sky, [the Northshire residents] get panicky," Humble Mayor Merle Aaron said.
Additionally, Harris County and the city of Houston approved an interlocal agreement in December to buy Woodridge Village—a roughly 268-acre property accused of causing flooding Kingwood neighborhoods twice in 2019. Officials want to buy the property for $14 million and make it a regional stormwater detention basin.Russ Poppe, executive director of the Harris County Flood Control District, said at Harris County Commissioners Court on Dec. 15 that the entities will close on the property in March. It will cost roughly $20 million to remediate the property.
Statewide initiatives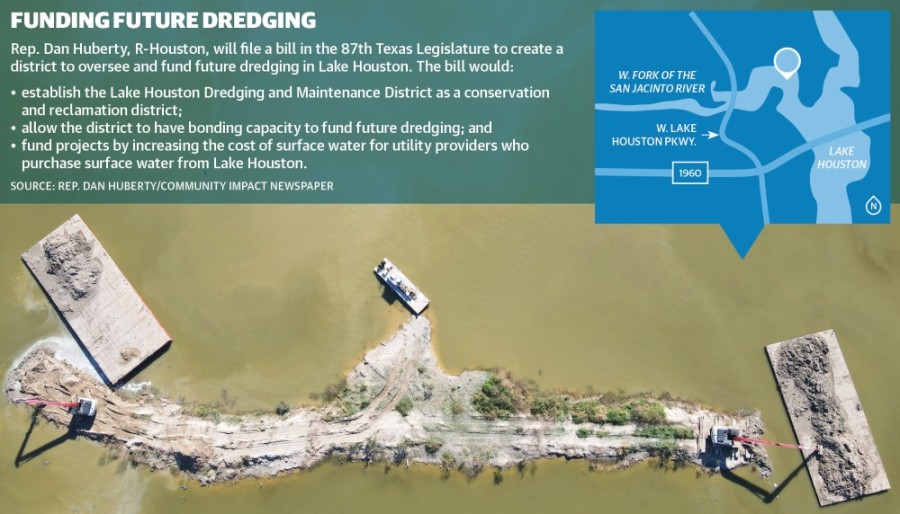 Meanwhile, state Rep. Dan Huberty, R-Houston, will file a bill in February to create a conservation and reclamation district to oversee and fund dredging in Lake Houston. Built-up sediment has been dredged from the lake and its tributaries since September 2018.
The
Lake Houston Dredging and Maintenance District
would have the power to take out bonds to fund projects, with the bonds being paid by charging a rate to utility providers who purchase surface water from Lake Houston.
"If you don't [dredge], you're not going to have a water supply ... 50 years from now," Huberty said. "What we're doing is we're preserving this lake for the next 100 years."
Seven officials would manage the district—three appointed by the city of Houston, three appointed by Harris County and one chair, Huberty said. If passed in the session, he said the district could be in effect in 2022.
Additionally, the Texas Water Development Board's San Jacinto Regional Flood Planning Group began meeting in October to form a regional flood plan to protect the area from flood damages.
Armstrong, who was nominated to the board, said the group will hire technical experts to determine regional solutions to flooding. The group must adopt a regional plan by January 2023.
---
Read the other top stories of 2021 from our print edition: Harris County's preliminary flood plain maps to be released in late 2021.
Humble Mayor Merle Aaron announces retirement, will not seek re-election in May.