When winter storms brought record-low temperatures to Texas in mid-February, millions of people lost power for days, and tens of thousands of homes suffered plumbing damage caused by frozen pipes.
Among the residents and businesses affected by the storm's turbulence was Autumn Grove Cottage Humble, an assisted-living community that specializes in memory care in Atascocita. On Feb. 16, the ceiling collapsed around the facility's 15 residents and one caregiver, causing at least $20,000 in damages, said David Keaton, president of Retirement Center Management, the facility's management company.
He said the cold temperature burst the building's sprinkler system.
"The generator was fired up, but it was still just so darn cold that the heat in the building was not sufficient enough," he said.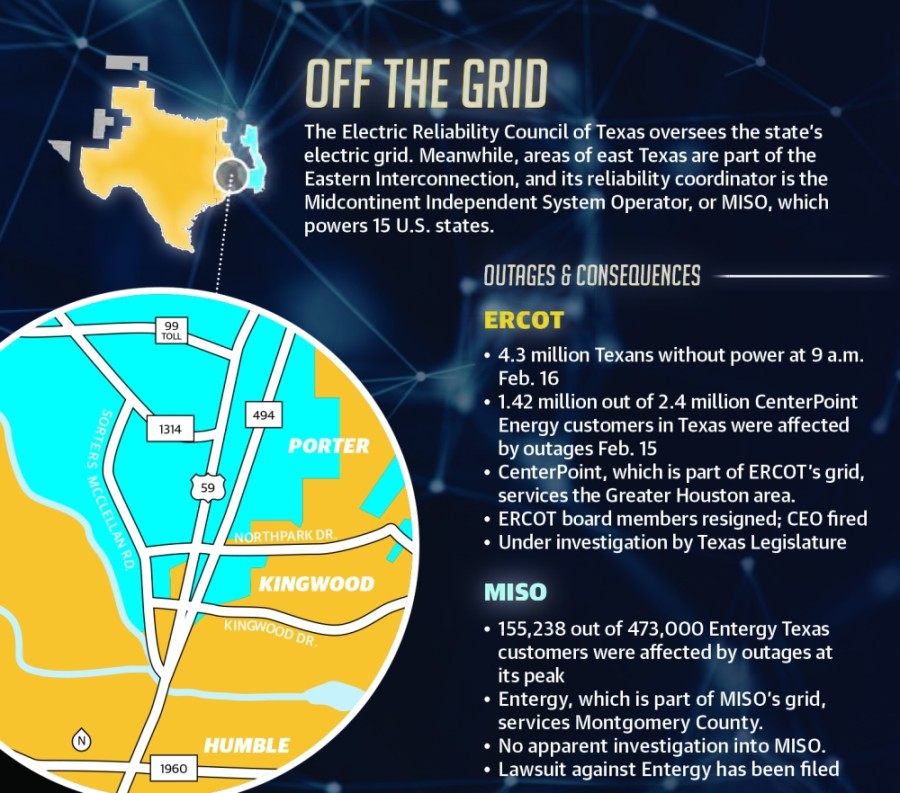 Atascocita Fire Department responded to the call, transporting residents and caregivers to a Rice Village memory care facility; residents returned home several days later.
That was one of 407 calls AFD responded to from Feb. 14-20. About half of the calls were for emergency medical services, per AFD data.
AFD Chief Michael Mulligan said the department responded to 50% of its monthly call volume in six days, leading AFD to watch staff closely to ensure they were not overworked.
"We try to do this during unusual circumstances, although the last 12 months have all been unusual," he said. "Our hope is that we will maintain the physical and emotional wellness of our members."
Additionally, the Humble and Houston fire departments responded to a combined 288 calls between Feb. 14-19 in Humble and Kingwood, officials at the departments said.
Harris County Engineering Department officials estimated around 55,000 homes in unincorporated areas had pipe damage, with some of that happening in local school districts.
Humble and New Caney ISDs reported damages from burst pipes, with NCISD estimating $500,000 in damages. HISD officials said the cost of damages were not yet available.
Although a portion of the Lake Houston area is serviced by a separate grid, the isolated energy grid that services most of the state was one of several faults pointed out by critics that contributed to devastating outages that have since led to a political reckoning.
"Texans accept a culture of independence and competition—until it fails. Then it's a test of our culture," said Bruce Race, a University of Houston professor and director of the Center for Sustainability and Resilience. "This was a shock, an event that, as shocks do, they reveal the weak points in any system."
Maintaining the grid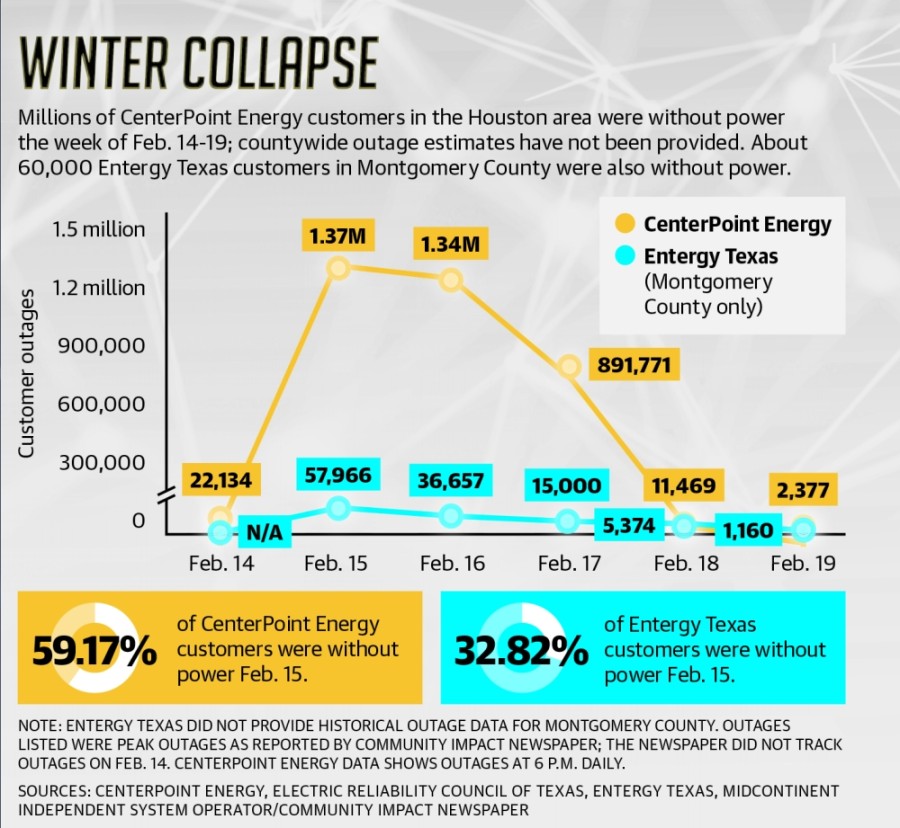 The Lake Houston area is serviced by two electricity providers: CenterPoint Energy and Entergy Texas. CenterPoint is in the state's grid and is coordinated by the Electric Reliability Council of Texas. Entergy is part of the Eastern Interconnection, and its reliability coordinator is the Midcontinent Independent System Operator, or MISO, which powers 15 U.S. states.
Prior to the storm, ERCOT did alert generators and distribution partners that the storm would bring "record-breaking demand" to the system, but some lawmakers said decisions made years ago—such as failing to protect facilities from harsh cold conditions—set up the grid for potential failure.
Entergy had winterized its power plants and transmission grid by adding wind breaks, heaters and insulation, said Allison Payne, senior communications specialist of Entergy Texas. Still, the company will review of what could have been done better.
"[We will be] investing in improving our system not just for reliability but [also] further investment in grid resiliency ... [to] help us adapt and quickly respond to impacts to our system," she said.
Despite this, Entergy's outage map showed nearly 60,000 customers in Montgomery County were without power Feb. 15. At its peak, 155,238 of 473,000 Texas customers were affected by outages, according to Entergy.
Comparatively, across the CenterPoint service area—which includes Humble, Atascocita and Kingwood—1.42 million customers were in the dark by 8 p.m. Feb. 15, according to ERCOT data.
Several days later at 7 p.m. Feb. 17, 29,600 residents across seven ZIP codes in the Lake Houston area remained without power, according to outage data collected by •Community Impact Newspaper•. At the time, only 667 local outages were Entergy customers, and the rest were CenterPoint.
Officials statewide called for an investigation into ERCOT and the Public Utility Commission of Texas, or PUC, the state agency regulating electric, water and telecommunication utilities. Yet no apparent investigation is underway into MISO or Entergy.
"There's no excuses for [the failures]," Montgomery County Judge Mark Keough said of Entergy. "[But] they worked as hard as they could in the time that they had."
Storm aftermath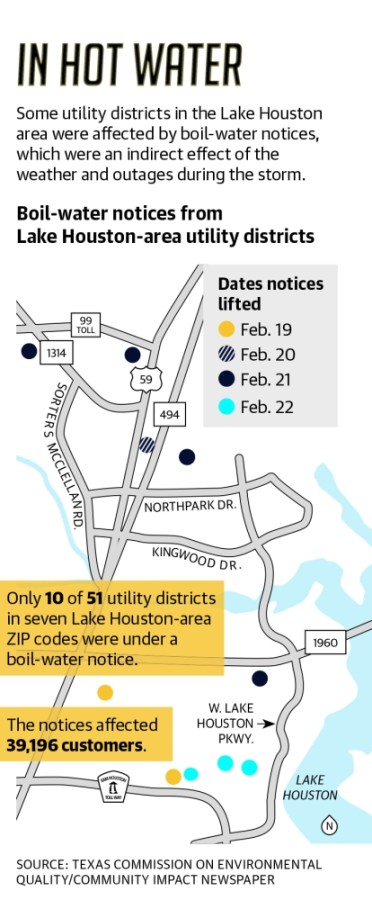 In the storm's aftermath, Gov. Greg Abbott made ERCOT reform an emergency item during the 2021 Texas legislative session and the Legislature began hearings Feb. 25 with ERCOT and the PUC.
Former ERCOT CEO Bill Magness—who was ousted by the board March 3—told lawmakers that the council can recommend how plants should winterize but said generators follow an honor system when it comes to implementing them.
After ERCOT's power strain in February 2011, the House Committee on State Affairs released a report outlining the committee's concerns with the regulatory initiatives taken by the PUC and ERCOT. Rep. Dan Huberty, R-Houston, who was a member of the committee, said via email he does not want to comment on what could have been done differently at the time, but he is committed to moving forward.
Huberty filed House Bill 2000 and House Joint Resolution 2 that seek to create two utility funds to finance projects that "enhance the reliability of water, electricity, natural gas and broadband utilities," per the bill. They are modeled after the State Water Implementation Fund for Texas program, which offers financial assistance for water projects.
"I am hopeful that the [State Utilities Reliability Fund] program will be just as, if not more, successful in enhancing the reliability of utilities in our state," Huberty said.
But while ERCOT and PUC have come under fire—Magness was fired, its board of directors resigned and all PUC board members resigned—it is not clear if any action will be taken against MISO.
When asked, Rep. Will Metcalf, R-Conroe, did not say if similar scrutiny would be applied to Entergy or MISO.
"ERCOT is 90% of the state of Texas, so that's why they're the first in our committee hearings," he said. "We will definitely be continuing [conversations with Entergy and MISO]."
Hunter Marrow and Ben Thompson contributed to this report.