Multiple regional flood studies have been or will be completed this year—many of which outline multimillion-dollar improvements that could reduce flooding in the Lake Houston area.
Matt Zeve, the deputy executive director of the Harris County Flood Control District, said the district will wrap up nine different watershed planning studies in the next several months. These studies—coupled with recently completed drainage studies—will outline potential countywide flood projects for decades to come.
"What we're building is our next decade's Capital Improvement Program that could be funded by CIP [or] it could be funded by another source like grants or loans," he said.
The flood control district released results of the Kingwood Drainage Analysis in late October, which showed nine potential channel improvements in Kingwood totaling roughly $148.35 million. While two specific projects will move to preliminary engineering and could begin construction in the next two or three years, Zeve said others can join the countywide CIP.
Meanwhile, the San Jacinto Regional Watershed Master Drainage Plan was completed in August. The regional plan outlines billions of dollars in proposed projects—all located near channels that run into Lake Houston.
However, Houston Mayor Pro Tem Dave Martin, who represents District E in Kingwood, said the issue is less of which projects to tackle, but more of how to "cobble" together funding.
"A monkey can identify what the problems are in Kingwood, but the problem we have is money," he said. "[But] how do you address problems that have occurred since [the] 1960s and 70s and with the growth of Kingwood, and what do we do about it to make our neighborhood viable?"
Only $9.4 million is allocated for Kingwood drainage projects through Harris County's $2.5 billion flood infrastructure bond from August 2018. Remaining projects must get alternative funding, officials said.
Kingwood improvements
The $700,000 Kingwood Drainage Analysis, a yearlong study that was presented to community members Oct. 20, evaluated the capacity of all channels in Kingwood and determined nine channels did not meet a 100-year level of service.
A 100-year storm event, or a storm with a 1% chance of occurring each year, in the Kingwood area brings about 17.3 inches of rain in a 24-hour period, according to the National Oceanic and Atmospheric Administration's Atlas 14 rainfall data.
The study determined improving, widening and deepening the Kingwood Diversion Ditch and Taylor Gully would bring the most substantial relief to the areas. Together, the projects would cost $84 million and could subtract almost 450 structures from flow paths during 100-year storms and lower the risk of flooding for almost 650 historically flooded structures, according to the study. The projects would not involve home buyouts.
"If all the projects are done, a lot of residents, not all residents, but hundreds and maybe thousands of residents, ... would absolutely see their flood risk reduced," Zeve said.
Zeve said the diversion ditch was created in the 1970s when Kingwood was being developed. The diversion ditch—which flows from the confluence of Bens Branch, then south to the West Fork of the San Jacinto River—was built to divert water from Bens Branch, but it was not built to its full capacity, he said.
Martin said it came as no surprise to him that the Kingwood Diversion Ditch and Taylor Gully were prioritized in the study. Flooding along Bens Branch—which would be reduced with the diversion ditch project—has been a constant issue in the area, he said. Kingwood High School and St. Martha's Catholic Church were two structures along the channel that flooded during Hurricane Harvey.
Taylor Gully, a channel in northeast Kingwood that flows from Bassingham Drive to the confluence of White Oak Creek, was also found to have contributed to flooding in north Kingwood neighborhoods twice in 2019, Martin said.
However, while both projects could bring relief to the Kingwood area, they are long-term projects that will begin at the earliest in 2023, Zeve said.
"It's not what people want to hear, but all of our projects—not just Kingwood projects—take time, and they all follow a process," he said. "These are all complicated projects, and there's a lot of things we have to figure out, and it just takes time."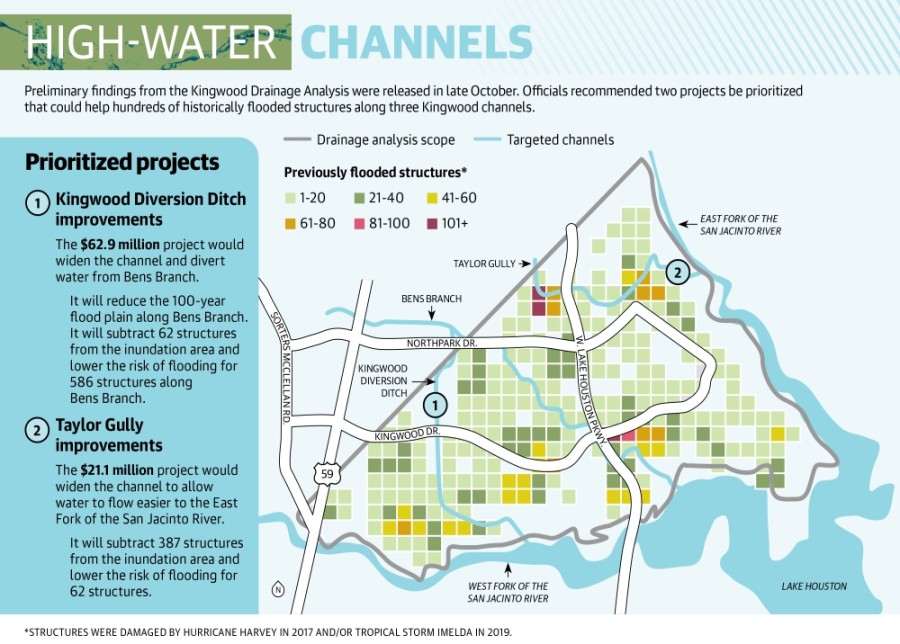 Short-term projects
While long-term projects may be years away, officials said there are some ongoing projects that offer short-term relief to Kingwood and the surrounding areas.
Since Hurricane Harvey hit in 2017, the flood control district has completed 10 maintenance projects in the Taylor Gully area totaling almost $336,000. The projects included desilting the channel, repairing broken pipes and erosion, and removing debris.
Meanwhile, the city of Houston's Storm Water Action Team is working to expand culverts in the Forest Cove neighborhood south of Kingwood. The SWAT projects in Forest Cove have been ongoing since 2017, according to officials from Martin's office.
When the diversion ditch is widened—allowing more water to flow through the channel—the expanded culverts in Forest Cove will be able to handle the northern flow, Martin said. Work on Forest Cove's culverts will continue in 2021, officials said.
"Forest Grove has been neglected by the city of Houston for many years," Martin said.
An effort to remove built-up sediment from Lake Houston and its tributaries is also ongoing. To date, roughly $114 million has been invested from local, state and federal funds to dredge 2.7 million cubic yards from the area, Martin said.
Mechanical dredging continues on sediment collecting at the mouth bar, which is located at the confluence of Lake Houston and the West Fork of the San Jacinto River. In early November, contractors completed a $40 million project to remove about 400,000 cubic yards of debris from the mouth bar, and they will soon begin removing an additional 1.1 million cubic yards from the mouth bar.
In the Texas legislative session in 2021, Martin said state Rep. Dan Huberty, R-Houston, plans to author a bill that would, if passed, fund all future dredging.
"We hope to be able to have ongoing dredging day in and day out for the next hundred years," he said.
Regional studies
In addition to the Kingwood Drainage Analysis, the flood control district in partnership with the San Jacinto River Authority completed the $2.7 million San Jacinto Regional Watershed Master Drainage Plan in mid-August.
The preliminary study outlined several channel projects in the Lake Houston, Humble and Kingwood area, including along the West Fork of the San Jacinto River south of Kingwood, and at Peach, Caney and Spring creeks.
No funding mechanism has been provided for the projects that officials estimate would cost between $2.9 billion-$3.3 billion to complete. A regional flood planning group will soon prioritize projects in the study to help develop a statewide flood plan.
Several studies are also on the horizon, including a similar Atascocita Drainage Analysis the flood control district will begin by fall 2021 and finish in spring 2022. The study will evaluate Atascocita's channel capacities.

Additionally, the SJRA received a draft of the San Jacinto River and Tributaries Sediment Removal and Sand Trap Development study in August, which looks at the feasibility of creating sand traps along the West and East forks of the San Jacinto River to capture sediment before it enters Lake Houston. The study, which will be released in January, identified two possible sand trap spots, said Chuck Gilman, the SJRA's director of water resources and flood management.
The SJRA is also seeking $460,000 from the Texas Water Development Board to partially fund another sediment study called the Upper San Jacinto River Basin Regional Sedimentation Study. SJRA officials said the second study would determine causes of sedimentation in the upper San Jacinto River Basin and in Lake Houston and then create a proposed management plan.
"This effort for sedimentation is just focused on where's it coming from, how is it moving, where's it going and what can be done to better manage the movement of that material," he said.
Gilman said he hopes to find out by late 2020 whether the SJRA will be awarded funds to complete the study. If awarded, the study could kick off in early spring.
The SJRA also sought TWDB funding to build the two sand traps identified in the sediment removal and sand trap study; however, Gilman said it was not advanced in the grant funding cycle.
"We're going to continue our partnership with [Harris County] flood control and go at it with our own money and not the state's money, unfortunately," he said.