Three years after voters passed a $2.5 billion flood bond referendum in response to Hurricane Harvey, the Harris County Flood Control District continues to work on flood prevention projects while dealing with funding and land acquisition issues.
Although millions of dollars in projects are underway in Cypress Creek, HCFCD Deputy Executive Director Matt Zeve said the district would need nearly $4.5 billion to protect the Cypress Creek watershed from 100-year storms, such as the Tax Day flood of April 2016, which have a 1% likelihood of occurring each year.
"Hurricane season brings risk for residents across Harris County. No single project or even group of projects will mitigate all flood risk for an area." Zeve said. "However, the district has completed a lot of work, with more ongoing, that will improve drainage conditions across the Cypress Creek watershed, and overall, the drainage level of
service in the watershed has been improved over the past three years."
Experts recommend the district add at least 25,000 acre-feet—about 8.15 billion gallons—of stormwater detention to the Cypress Creek watershed to alleviate the area's chronic flooding issues. By comparison, HCFCD has constructed about 50,000 acre-feet of detention countywide since the district was established in 1937, and the Tax Day Flood of April 2016 dumped about 240 billion gallons of water on Harris County over two days.
While the HCFCD will still need to obtain billions of dollars to protect the county from severe flood events, district officials said they will not require additional money for years. Despite funding obstacles, officials said bond projects in the Cypress Creek watershed are all funded and underway. Four years after Harvey, all 181 bond projects have been initiated; 27 projects have been completed; and 660 home buyouts have been completed.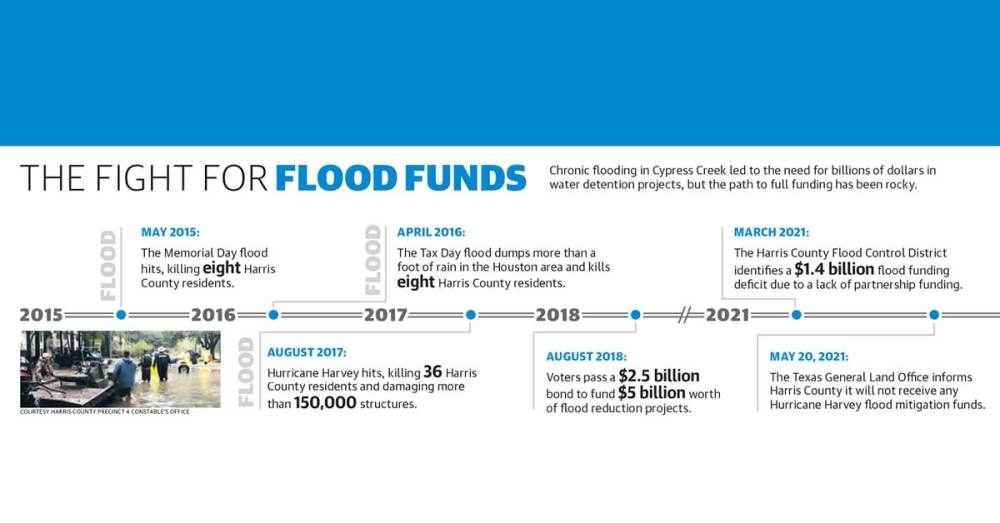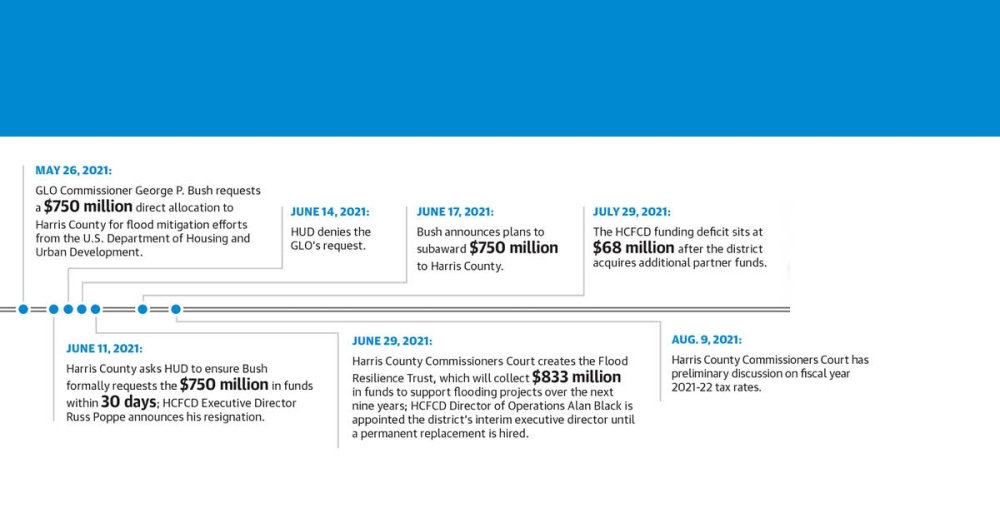 The funding puzzle
After failing to receive an anticipated $1 billion in federal flood mitigation funding from other sources, HCFCD identified a $1.4 billion deficit in matching funds largely needed for its bond projects in March. As of late July, the district sits at a $68 million deficit as it seeks additional partner funding.
"The bond program, we thought when we first started, was going to take 15 years to finish," Zeve said. "We're trying to compress it down to 10 years, but it may take longer. But we don't need every single dollar today."
However, an estimated $35 billion is needed to protect Harris County from severe flooding events, according to Harris County Precinct 4 Commissioner Jack Cagle.
To address project finances, Zeve said the funding may come from myriad sources, one of which could be a $750 million allocation through the Texas General Land Office. After informing Harris County and the city of Houston the entities would not receive any Hurricane Harvey flood mitigation funds in May, public pushback prompted the GLO to request a $750 million direct allocation to Harris County. The U.S. Department of Housing and Urban Development denied this request in June.
Brittany Eck, GLO director of communications, said the GLO is proposing to subaward $750 million to Harris County and expects HUD's response by October. The subaward would require the GLO to oversee projects to ensure they follow HUD guidelines, such as ensuring 50% of the funds go to help lower- to moderate-income residents, Eck said.
If more money does not become available, the Flood Resilience Trust—which the Harris County Commissioners Court created June 29—will fund projects with the $833 million it will build in its reserves over the next nine years. The Harris County Toll Road Authority will contribute $40 million annually to the trust to support flood mitigation projects that also include transportation aspects. Zeve said most projects in the Cypress Creek watershed also incorporate transportation.
Property tax tweaks could also provide extra funding. Each year, property tax collections allocate $120 million to HCFCD, Cagle said. In the current fiscal year 2020-21, the overall county tax rate is set at $0.59 per $100 valuation, with HCFCD receiving $0.03 of that revenue.
Decreasing tax funds to one agency would allow an increase for HCFCD without increasing the overall tax rate, said Joe Stinebaker, the director of communications for Cagle's office.
"With a lot of assumptions in place, I will probably be supportive of thus increasing the amount of the budget in flood control," Cagle said.
Stinebaker said he anticipates the Harris County Commissioners Court will vote on final property tax rates for fiscal year 2021-22 in September.
As of August, Lucinda Silva, Harris County budget management director for agenda and administration, said in an email the commissioners court is not aware of a second flood bond proposal.
"Probably anywhere from a year or more away, we will need funding to complete the projects," Zeve said. "But we have time before we get to that point."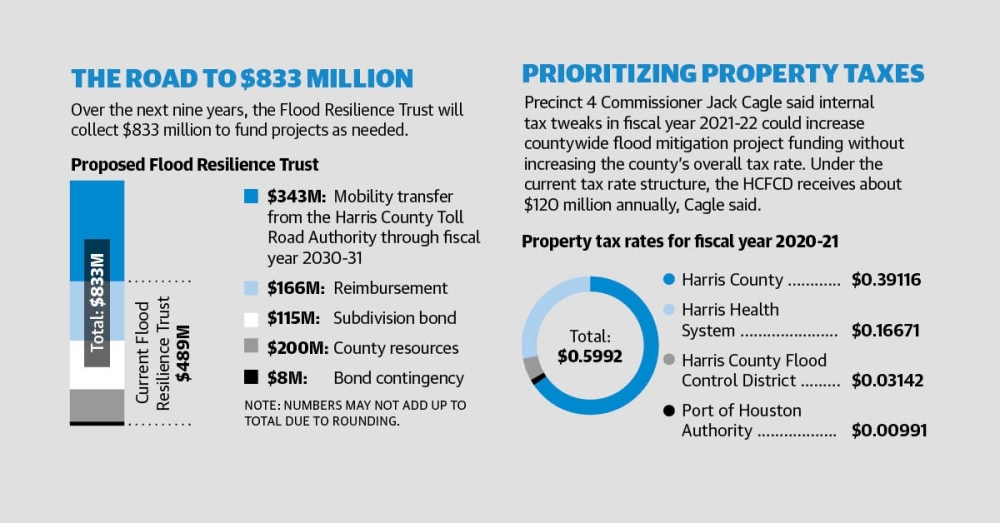 Project progress
The 2018 bond included 12 flood mitigation projects in the Cypress Creek watershed totaling nearly $288.5 million that are fully funded and underway, Zeve said.
The district plans to build nearly 20 additional stormwater detention basins in the Cypress Creek watershed, with the potential to add nearly 14,000 acre-feet of stormwater detention. However, this number is subject to change as Zeve said the HCFCD has not determined the costs or funding sources for all the detention basins. The 2018 bond does include funds for land acquisition.
The district anticipates construction to be complete on all detention basins over the next decade, dependent on funding. Part of a $1 million project completed in early 2020 investigated the potential benefits of expanding the Cypress Park stormwater detention basin near the point where Cypress Creek meets Little Cypress Creek. The study recommended a major expansion of this detention basin that would help reduce flooding risk for nearly 1,600 homes in the watershed. HCFCD will move forward as funding allows, according to district documents. A future project will investigate a stormwater detention basin along Faulkey Gully in Cypress.
In addition to detention basins, HCFCD has several subdivision drainage improvement projects underway in the watershed. Zeve said these bond-funded projects will allow water to travel from neighborhoods through drainage systems and ultimately into Cypress Creek more efficiently.
Local neighborhoods identified for this work include Riata Ranch, Barker Lake, Timberlake Estates, Ravensway, Cypress Creek Estates, Tower Oaks Plaza and other flood-prone communities.
Additionally, HCFCD plans to release Phase 2 studies on the potential for an underground flood tunnel in the Cypress Creek watershed in September for community review. If approved, Zeve said the project could take five to six years if the HCFCD can secure the billions of dollars needed for construction.
"If we build just one of these tunnels, it'll be a massive, massive project," Zeve said. "Probably the biggest project that we'll ever undertake."

This month, the second set of project repair sites on Cypress Creek and its tributaries will be underway, officials said, with a goal of restoring channel conveyance capacity for nine channels that include tributaries of Faulkey Gully and Pillot Gully.
Cagle said of the county's 23 watersheds, the 2018 bond allocated 10% of funds to Cypress Creek. While members of local grassroots organizations such as Cypress Creek Association—Stop the Flooding said they are happy to see progress being made, more funding will be needed to holistically address chronic flooding in the watershed.
"We're happy to see the start, finally, of the big repair work that's happening; we're happy to see them catching up on repairs that are decades overdue," said Paul Eschenfelder, the founder of Cypress Creek Association—Stop the Flooding. "But still, we're having this problem with the funding because the flood bond did not properly address the Cypress Creek area."