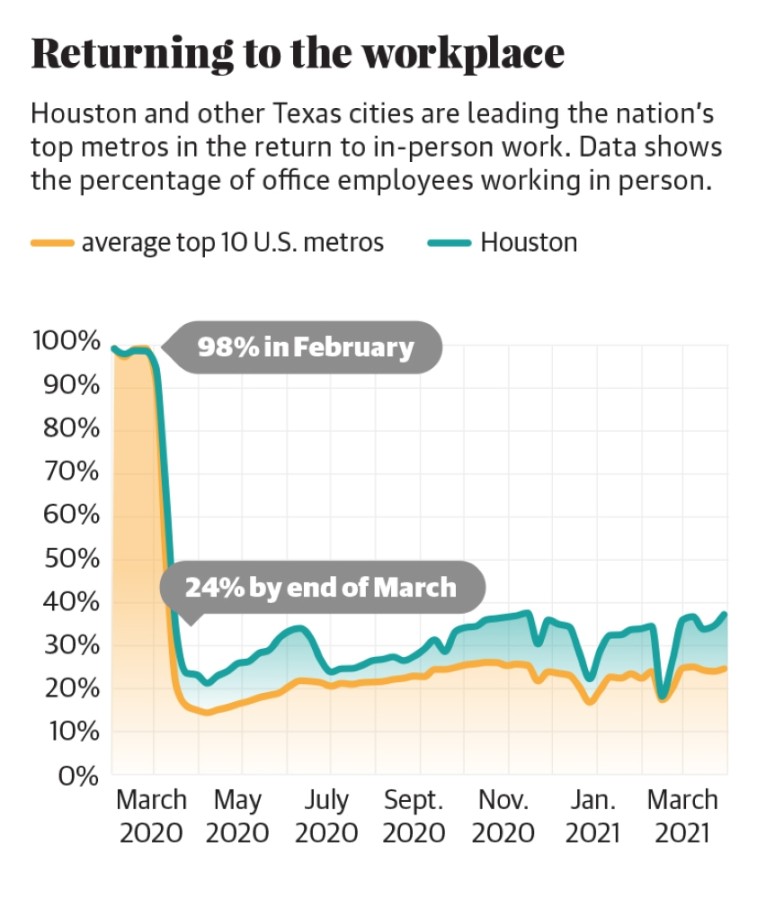 Less than 5% of Cy-Fair residents worked from home before the COVID-19 pandemic, according to data from the U.S. Census Bureau, but the global public health crisis forced many office employees into a full-time telecommuting arrangement.
By the end of March 2020, only about 24% of Houstonians were scanning into their workplaces, according to
Kastle Systems
, which offers managed security services to more than 40,000 businesses nationwide. A year later, that number is up to about 39%, meaning more than 6 in 10 office workers in the Greater Houston area continue to work remotely.
"People want to return to a work environment that they feel is safe, and so I think people are just more cautious until the vaccine gets fully rolled out," said Mike Slauson, a Houston-based general manager with Kastle Systems. "I think ... mid-summer, early fall—that's when we're going to start seeing some ramp-up as more people get vaccinated."
Commercial real estate experts said they expect to see an uptick in Houstonians returning to in-person work as the spread of COVID-19 diminishes. But after months of using remote collaboration platforms, that return will likely look different than it did pre-pandemic.
Miranda Hadamik, senior vice president of investment and operations at
Caldwell Companies
, said she believes a portion of the workforce will seek to work closer to home—whether from a coworking site or one of the many new local office condos.
"We did a worldwide test run of working from home, and I think now people know if that works for them or if it doesn't," she said. "Employers can make those informed decisions and create solutions. People can figure out how to have that flexibility and that work-life balance where you're spending more time at home than commuting."
Even before COVID-19, local experts said office vacancies in Houston were notably high due to overbuilding for the energy industry before the 2014 oil and gas downturn. Vacancy rates in Cy-Fair's office market were on the rise before the pandemic and reached 18.5% by the first quarter of 2021.
Leslie Martone, president of the
Cy-Fair Houston Chamber of Commerce
, said companies continuing telework policies might save some costs, but she expects to see more Cy-Fair residents return to the office setting as the COVID-19 vaccination rolls out.
About 25%
of Cy-Fair residents were fully vaccinated against COVID-19 as of press time, according to the Texas Department of State Health Services.
"I think there will always be a telecommuting component to our 'new normal,' but those that I have visited with said they miss the face-to-face relationships," Martone said.
State of the market
Colliers Houston
President Patrick Duffy said before COVID-19, Houston had the highest office vacancy rate of any major city in the U.S., largely due to a rush in construction to accommodate upstream energy companies expanding from about 2010-14.
"We build whole buildings for these large companies and then the crash hit, and they never even took up occupancy; they just dumped it in the sublease market," Duffy said. "And we've never recovered from that."
Many Cy-Fair residents commute into Houston for these jobs, and plenty of the ancillary energy services operate from the suburbs, so local residents feel the ripple effects from energy downturns as well, said Tracy Eddy, principal and associate broker with
Texas Commercial Real Estate Services
.
Between complications in the oil and gas industry and COVID-19, Duffy said depending on the submarket, it could take at least 10 years to stabilize.
Cy-Fair's office market has grown by 1.1 million square feet in the last five years, and rental rates have remained between $21.70-$22.80 in that time, according to Caldwell Companies. Duffy said while rent costs might not be drastically changing, landlords are offering more generous incentives in hopes to attract tenants to fill their empty space.
"Rental rates will remain fairly static," Duffy said. "Most landlords are trying to give more free rent and more tenant improvement dollars and hold the rate so that they don't long-term devalue their building. ... They're just accelerating the leasing by saying to the tenant, 'We'll give you the first year free on a 10-year deal.'"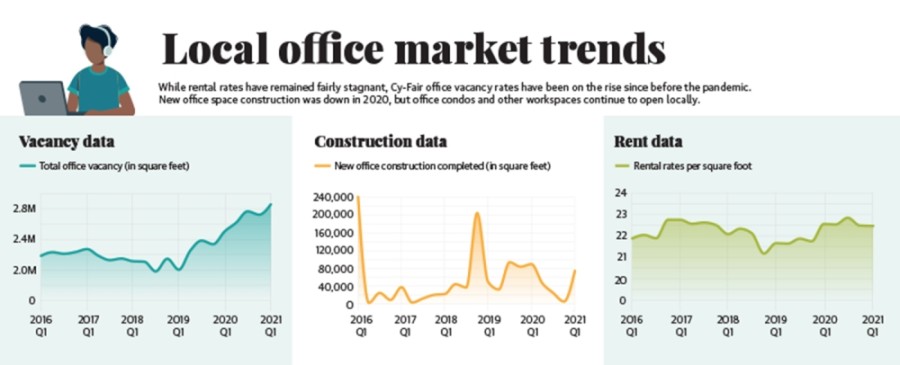 Eddy said retail real estate has been more resilient this past year, but local office vacancy rates have been significant as businesses choose not to renew or break their leases.
"Companies that used to have larger office spaces have realized that with all of our new capabilities technology-wise, that even if people could come back they don't want to, and they're actually more efficient from home," she said. "Basically, workers are available 24/7 now. You never leave your office; your office is your home."
But even as companies downsize, Eddy said most still want to keep some sort of a home base to send clients and at least have a conference room for meetings. The focus is now on necessities compared to expansive facilities with multiple private offices, she said.
Local businesses respond
Jerry Mogyorody, president and CEO of office furniture company
Cubiture
, said sneeze guards and high-wall cubicles with glass and doors have become popular as businesses look to safely reopen. But despite these trends, sales have been down about 40% for the local company.
"I still think there's tons of businesses that haven't gone back yet. When I leave my house in the morning, I'm the only one going to work at 6:15," he said.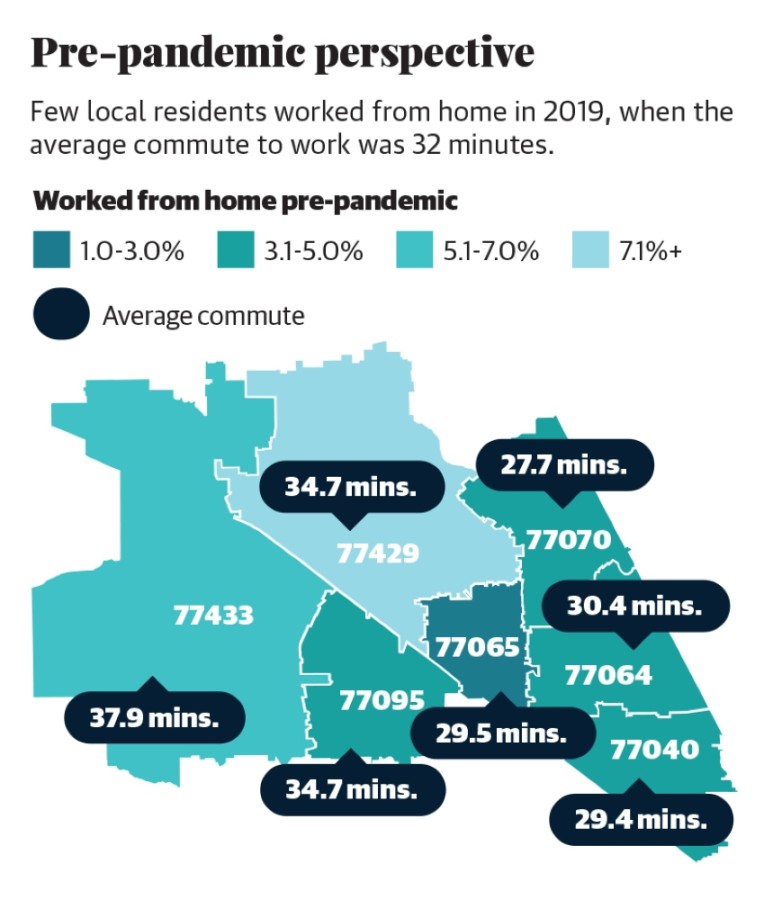 According to the U.S. Census Bureau, the average Cy-Fair resident had a 32-minute commute to work before the pandemic. A portion of the workforce could eliminate their commute entirely as they transition to working from home indefinitely, including several employees of
First Community Credit Union
, said Katie Rigby, senior vice president of human resources.
During the COVID-19 pandemic, employees who do not interact directly with credit union members such as marketing and support staff worked from home. Rigby said as many as 42% of the company's 360 employees worked remotely during the pandemic, and that number was still 15% by April.
"There were some permanent changes in terms of our flexibility with people working remotely as a result of us having to adapt and change very quickly with COVID," she said.
While remote work can be isolating, Rigby said many are more satisfied as they can spend more time with family and take care of to-do list items such as exercise and laundry during lunch breaks.
Duffy said employers will likely continue to offer more flexible work schedules with some level of a remote option. However, employees are more likely to stay engaged if they have friends at work, have adequate materials and feel their managers care about them. These items are all more easily accomplished from an office, he said.
"I think if you want to recruit and maintain your intellectual capital, which is your people, it's going to be very difficult to replace the benefits of working in an office," he said.
Becoming more flexible
Mike Thakur opened a coworking space with executive suites in 2015 after working from home and realizing small businesses had few versatile, impressive office options.
The WorkLodge
was designed to offer the flexibility to scale up or down as needed in a vibrant, collaborative environment.
"The value for flex spaces has just become so much more apparent because of the pandemic," he said. "Here, you can grow or shrink almost on demand. You can't do that with a traditional lease or a traditional landlord."
Thakur said after months of remote work, some have realized it is no longer a good fit because of distractions at home or mental health concerns.
"In the majority of companies, working from an office [is] there for a reason," he said. "History has proved for collaboration, communication and for efficiency overall between teams, you just can't beat it."
Hadamik said she is also seeing increased interest at
The Work Well
coworking space and
Creekstone Office Condos
, and some companies with corporate offices downtown are giving employees a stipend to work out of satellite offices closer to home.
Coworking spaces offer a range of flexible packages, and office condos allow businesses to purchase their own space rather than committing to long leases. Hadamik said these options can accommodate entrepreneurs as they re-evaluate what comes next.
"Now that they have skipped the commute ... I think they're used to it, and they don't want to go back to downtown or in the loop or wherever they were traveling every day," she said.