Although it still plans on graduating the class of 2020 on time, Conroe ISD has finalized alternative summer dates for graduation, according to a April 13 Facebook livestream by Superintendent Curtis Null.
Null said the district plans to return to campuses in time to have graduation as planned, with ceremonies beginning May 21. The only change is with Caney Creek High School, which has been moved to May 26 at The Cynthia Woods Mitchell Pavillion due to Sam Houston University canceling all graduations. These graduations may be altered with reduced or no audiences, which Null said is not ideal.
"If we can have graduation in any way in May, we will have it in May," Null said. "Because we have no idea what the future will hold."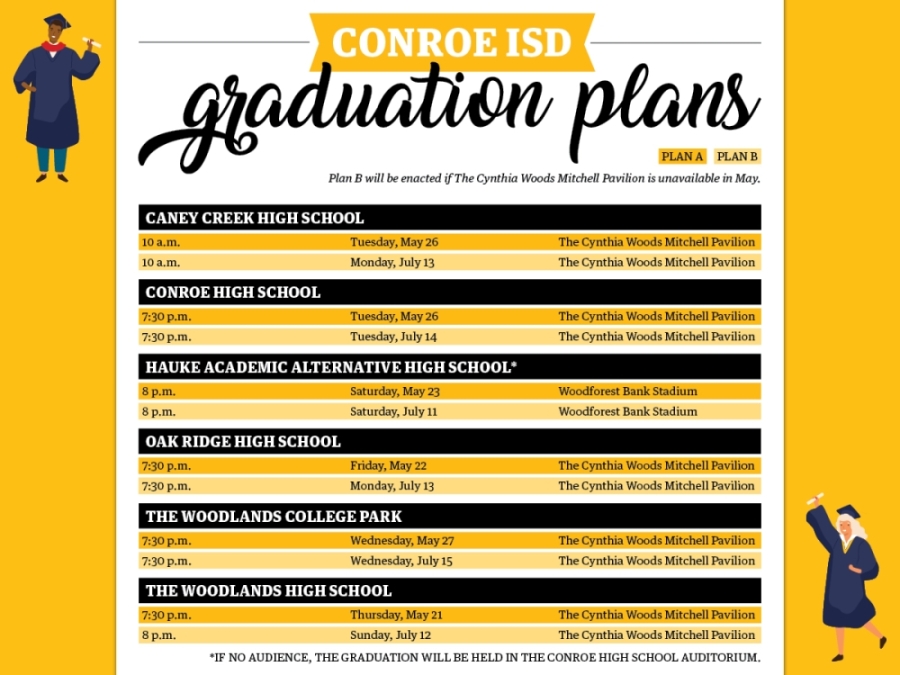 If restrictions on groups are still in effect, Null said the district has already made plans to hold graduations June 11-15. He said although some students may not be able to attend due to commitments to the military or their colleges, "this is the better option than just canceling."
Grades and tax rates
Null said the district's new grading policy is in place, which was presented to the CISD board of trustees April 7. This policy allows any student to raise their grades from where they were before the closure began but does not allow their grades to be lowered.
"I received multiple emails from students, high school students. They're now working twice as many hours because they work at a grocery store, and they're now the only person at their house who still has a job," Null said. "And they were trying to do all those hours, and they're worried about their GPA, and they're worried about their credits. ... It's our job to protect our most vulnerable students."
As the district looks ahead, Null said the district will be able to provide all regular services for students next year, including full-day pre-K and additional staff for elementary students. The district has also proposed a tax rate decrease from $1.23 per $100 valuation to $1.2135.