Montgomery County is finalizing its federal Coronavirus Aid, Relief and Economic Security Act funds, which it has used to fund medical and public health expenses, community outreach programs and local school districts' needs during the pandemic. The county was awarded $105 million in federal CARES Act funds to be used for expenses incurred due to COVID-19.
As of Dec. 15, there is roughly $8.9 million in unallocated funds according to County Auditor Rakesh Pandey, which is not enough to cover the county's requested reimbursements for public safety expenses for the first quarter of 2021. At a Dec. 15 meeting,
commissioners approved
using the remaining CARES Act funds, with Precinct 3 Commissioner James Noack casting the lone dissenting vote.
The requested expenses total $13.1 million and are related to the salary expenses of law enforcement and other county expenses, Pandey said. However, the county does not have enough CARES Act funds to cover these requested reimbursements, he said.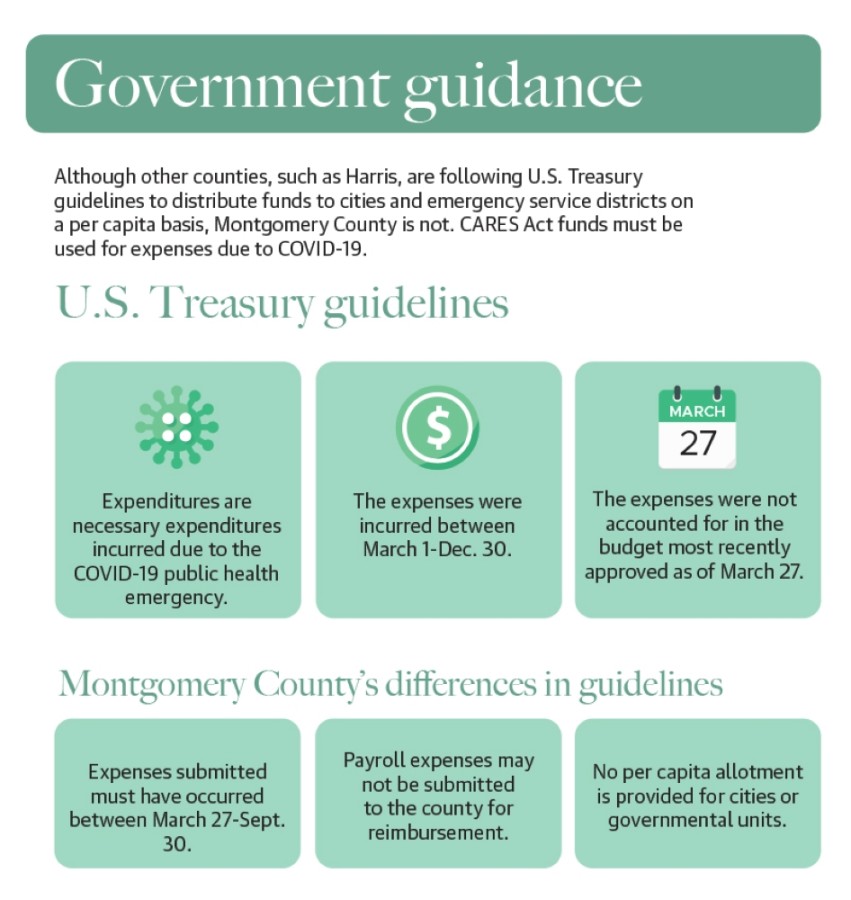 The county is up against a deadline; any funds not used by Dec. 30 will have to be returned to the federal government. Still, local officials said they have been careful spending CARES Act money to make sure it meets U.S. Treasury guidelines; otherwise, they could be subject to a claw back—meaning the county would have to repay the money to the U.S. Treasury.
"We shouldn't spend one dime of [the funds] until we get a 100% approval [from the federal government]," Noack said in a phone interview. "If we use it incorrectly, we're going to have to issue debt to get it back, and the federal government will take it, go into our bank account, and we'll have to fill it in on the back end."
Meanwhile, there is a discrepancy between how Montgomery County and other counties are doling out funds, with the former not reimbursing cities on a per-capita basis, nor reimbursing for payroll for cities.
Of its total CARES Act funds, Montgomery County has spent just 0.5% to reimburse cities, The Woodlands Township and emergency services districts. However, it has spent a larger percent of its funds towards school districts than Harris County.
City allocations
According to guidance from the U.S. Treasury, counties with populations of more than 500,000 can—but are not required to—distribute funds to cities and other governmental entities within their boundaries such as emergency service districts.
Harris County, for example, is following U.S. Treasury recommendations with $55 per capita reimbursement to local governmental units for expenses incurred through Dec. 30, including payroll costs for public safety employees. Travis, Dallas and Fort Bend counties are also offering proportional amounts based on population.
However, Montgomery County is not including a per capita allotment or payroll costs for cities. It is, however, reimbursing $42.49 million for payroll for county public health and safety personnel, not including the $8.9 million that was approved for use Dec. 15.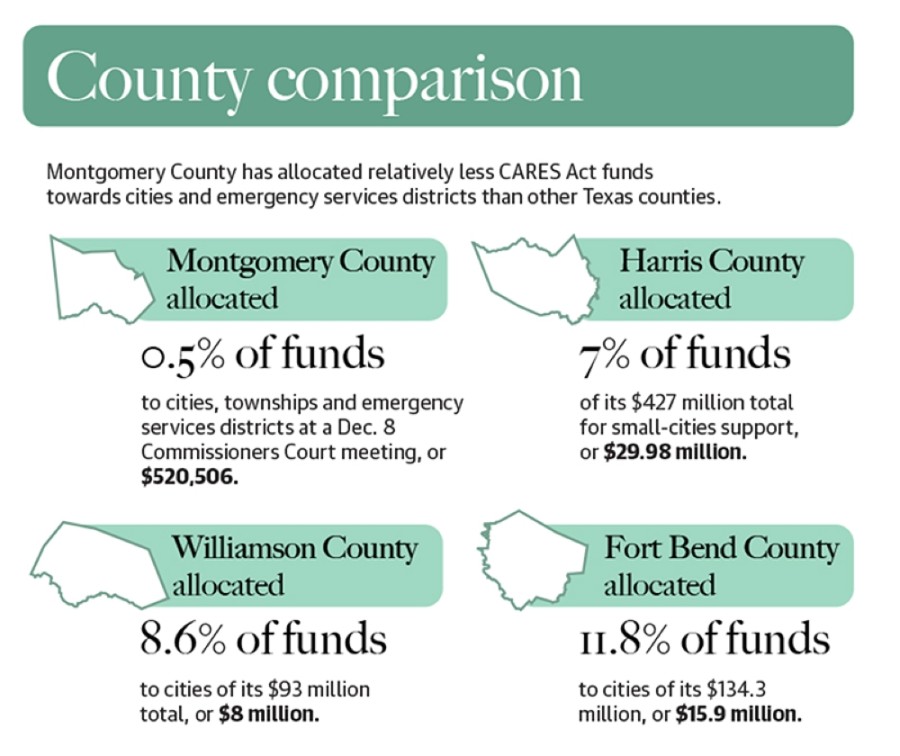 "I know that our interpretation is different than Harris County," Noack said in a phone interview, noting he did not know if per capita distribution was necessarily the best way to distribute funds. "I think all governmental entities are best to stay focused on the core services they are there to provide. The county has been the one responsible for providing direct aid when it comes to COVID-related activities."
Montgomery County Judge Mark Keough said in an email most cities and entities have had no expenses or little expenses related to COVID-19 because the county has supplied personal protective equipment and other supplies. However, 12 entities requested reimbursements for a total of about $520,000.
On Dec. 8, commissioners approved authorizing all or part of these expenses, granting the city of Conroe $73,602.30; Montgomery County ESD No. 1, which serves Willis, a request of $10,247.84; and Montgomery County ESD No. 2, which serves the city of Montgomery, $12,109.79.
Rusty Griffith, the battalion chief of ESD No. 2, said the money will be used to reimburse expenses related to PPE and other equipment as well as lodging for quarantined firefighters. However, the county is not reimbursing for payroll for firefighters who had to quarantine, he said.
"That's our other big expense," Griffith said.
Although the city of Montgomery has not submitted a request to the county as of press time, City Administrator Richard Tramm said they filed a request with the Federal Emergency Management Agency. The city of Conroe did not provide comment.
Careful spending
At various court meetings, commissioners have rejected or stalled on approving various requests for fear of clawback. A proposal to provide $500 stimulus checks to homesteaders in the county was
halted in August
after officials said they could not confirm with the U.S. Treasury if the proposal met CARES Act guidelines.
Despite the county's hesitancy to approve certain expenses, officials have approved $4.68 million for teleworking efforts; $7.55 million for medical and public health and $42.49 million for payroll for county public health employees; among other expenses.
The county has also put about a third of its funds—roughly $30 million—toward public school districts. For comparison, Harris County has allocated about 19%, according to the budget management department.
The districts—Conroe, New Caney, Splendora, Willis, Magnolia and Montgomery ISDs—will receive $300 per student in CARES Act funds for expenses relating to COVID-19 after a Nov. 17 Commissioners Court decision.
The amount was an increase from $40 per student originally adopted by the court Oct. 27, or $4.4 million. Commissioners have also approved more than $1 million to purchase remote learning devices for districts.
CISD Superintendent Curtis Null said the funds will help with the year's unprecedented expenses. The district will receive about $16 million in CARES Act funds from the county.
"[The funds fill] some of those expenses that we've already incurred and puts us in a position next year ... to hopefully protect jobs and protect the solvency of our district moving forward," Null said at a Nov. 17 meeting.
Montgomery ISD Superintendent Heath Morrison expressed gratitude at a Nov. 17 MISD board meeting.
"[Commissioners know] the challenges our schools have had to engage in this year," he said. "I could not be more grateful."
Andrew Christman, Ben Thompson, Olivia Aldridge, Olivia Lueckemeyer and Vanessa Holt contributed to this report.