Bellaire Dermatology was seeing on average about 200 patients per day before COVID-19.
When Gov. Greg Abbott issued his executive order March 22 that postponed all nonessential procedures, that number dropped to 20 patients a day, said Dr. Craig Teller, a partner at the practice.
"For a while, we cut back tremendously," said Dr. Kayla McNiece, manager of the Bellaire Dermatology surgery center and medical aestheticians. "We only took really really bad skin cancer cases, where they were threatening the life of the patient."
Neither Teller nor his partner, Dr. Howard Gerber, decided to furlough or cut jobs.
"I know a lot of MAs took a hit, but I do think Bellaire Dermatology was admirable in that it didn't lay off a bunch of people and decided to weather the storm," McNiece said.
The rest of the health care industry, however, was not so fortunate. According to the Bureau of Labor Statistics, 1.4 million health care workers lost their jobs in April.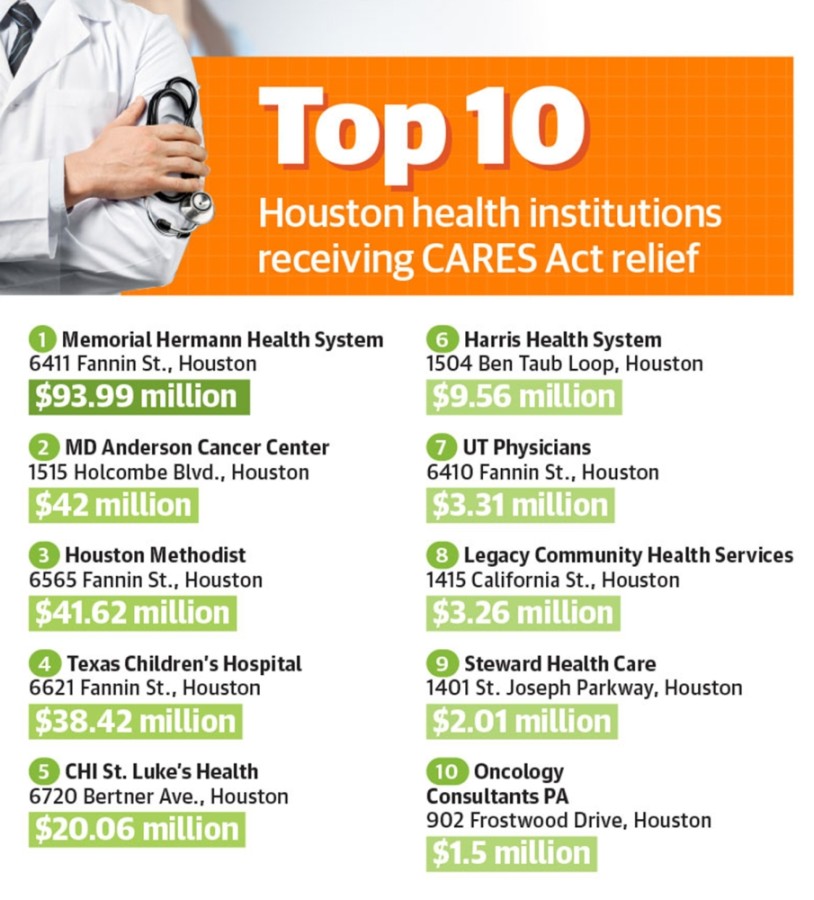 Financial hit
The American Hospital Association estimated in a May report that from March 1 until June 30, America's hospitals and health systems would lose $202.6 billion because of the effect COVID-19 has had on hospital costs. The Texas Medical Center, with member institutions across the Greater Houston area, will likely face losses up to hundreds of millions of dollars, said Vivian Ho, the James A. Baker III Institute chair in health economics at Rice University.
This is significant considering health care and social assistance jobs make up 10.7% of Houston's total employment, at 344,200 jobs, according to a Greater Houston Partnership study from December.
One of the biggest factors in the ailing figures is hospitals lowering capacity to make way for COVID-19 victims and canceling elective procedures under Abbott's order while still keeping a majority of staff, Ho said.
"If they have positions on salary, large health care systems just can't furlough them because they are so highly valued, and it's a competitive health care market," Ho said. "They have specialized people."
Hospitals, health systems and even smaller clinics needed to continue paying for salaries, equipment and other expenses as revenue shrunk, Ho said.
Teller saw this at his own practice at Bellaire Dermatology. From March 23 until May 4, the practice was still paying 100% of its expenditures, though revenue dropped to 5% to 10% of normal levels.
"The common denominator really is that this has been a devastating financial impact," Teller said. "You can't be prepared for it. You can't have insurance for it. All of us are struggling big time, but we're going to persevere."
However, Abbott's executive order allowing nonessential procedures and surgeries, with restrictions, which began April 22, could help some medical providers regain their business.
Other effects
Another effect COVID-19 has had on hospital systems is a drop in emergency room visits, Ho said.
"Patients normally going to the ER for sometimes minor conditions are going to avoid the virus, so they are foregoing that, which can be quite dangerous," Ho said.
On a smaller scale, Legacy Community Health, with clinics across the Greater Houston area, cautioned in April and May something similar for families of pediatric patients; the clinic projected a 94% drop in annual checkups for children over 3 years old and an 88% drop projected for children age 2 and under across its clinics.
Families had stopped taking their children to the clinics out of the same unease patients felt when opting not to check in to the emergency room, Legacy's CEO Katy Caldwell wrote in a May 1 letter.
"Only a short time ago we had a major outbreak of measles in hotspots across the country, and there's a big chance that if parents don't take their children to their annual checkup now they may forego them altogether," Caldwell wrote. "This will unintentionally put their kids and people in the community in danger of contracting another highly contagious and deadly disease that is actually preventable."
As a result of social distancing measures, clinics have embraced telemedicine and telehealth, especially Kelsey-Seybold Clinic, with close to 90% of its patient visits being performed virtually as of May 12, said Kenneth Janis, chief operating officer for Kelsey-Seybold. That is up from just 2% of patient visitors before the COVID-19 outbreak.
"The platform was there, and the infrastructure was already there," Janis said. "We were already in the process of rolling out virtual services to more specialists, but COVID[-19] accelerated that."
Bellaire Dermatology, meanwhile, had yet to roll out its own telemedicine service when COVID-19 hit. "Telemedicine is not just about being ready to go; you have to have HIPPA [privacy law]-compliant platforms," Janis said. "The Centers for Medicare and Medicaid waived a lot of the privacy guidelines so we could use FaceTime and Zoom."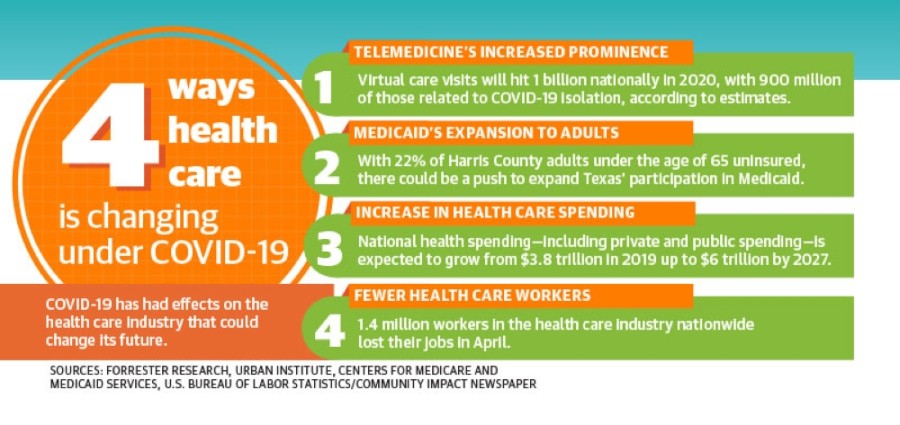 Looking forward
As the state relaxes restrictions on elective procedures, clinics and hospitals are asking patients to schedule appointments for procedures that cannot be performed virtually.
Kelsey-Seybold, for example, is attempting to reach out to patients as it continues to maintain heightened sanitation measures across its clinics.
"We're beginning to perform an increased number of elective procedures," Janis said. "There is an ongoing process to not only increase visits, but to increase the availability of in-person visits."
Health care providers also agreed telemedicine is here to stay and will likely increase in the future.
Houston Methodist is one such example, seeing 4,000 virtual patient visits per day across its hospital network as of May 12, up from 5,500 per month in January and February, Executive Vice President Roberta Schwartz said.
Houston Methodist has also begun catching up on surgeries as it returns to its normal schedule, Schwartz said.
For Houston Methodist, from using Amazon Alexa and iCloud to virtual intensive care units for beaming in patients from home isolation, technology is here to stay.
"We've proven the effectiveness of it," Schwartz said.