Those anxiously awaiting the end of stay-at-home orders have another thing to look forward to: progress on several transportation projects around Clear Lake and League City.
Despite the coronavirus outbreak, contractors are making progress on transportation projects around the Bay Area. The COVID-19 pandemic has not delayed road work, officials told
Community Impact Newspaper
.
While the estimated completion dates of some phases of the widening of I-45 from NASA Bypass to Galveston were recently pushed back, they were not due to the outbreak. In fact, the outbreak may lead to some parts of the project being completed sooner, said Danny Perez, a Texas Department of Transportation public information officer.
"We agree that lighter traffic on our roadways potentially presents some opportunities to advance some of our work, and that is being assessed on a case-by-case basis," Perez wrote in an email. "That said, there are a few opportunities where our contractors have already been able to advance some of their work."
Due to lighter traffic, some contractors are asking for extended road closure times to speed up their work, Perez wrote.
"In such cases, the contractor is being allowed to work in some areas for longer stretches of time, specifically because peak travel periods are not as congested as they would be under 'normal' circumstances," Perez wrote.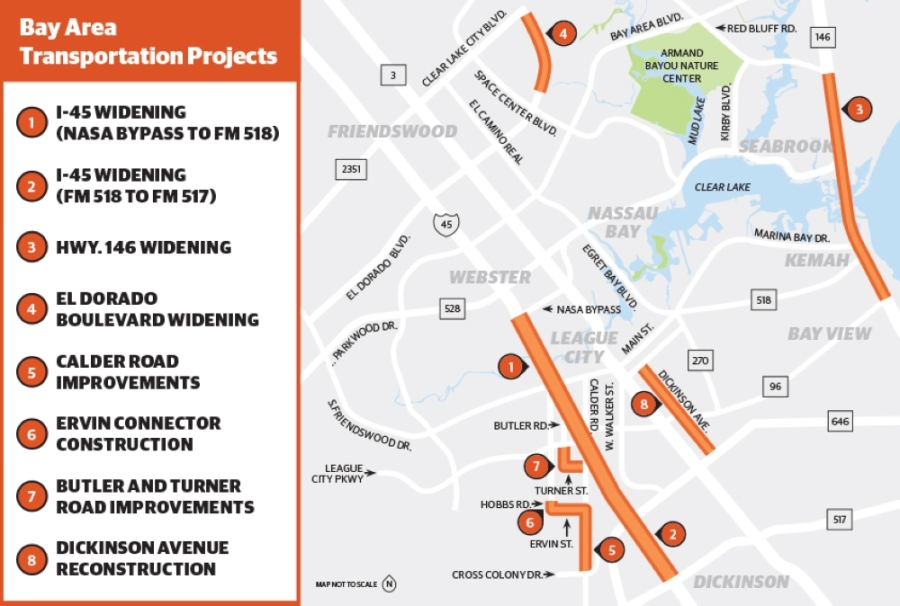 Additionally, the widening of Hwy. 146, another TxDOT project, is unaffected by the coronavirus, according to online schedules of road closures.
The widening of El Dorado Boulevard between Clear Lake City Boulevard to Horsepen Bayou was on the cusp of starting before the outbreak. There have been delays but not due to the coronavirus, said Katherine Cunningham, the chief of staff for Houston Mayor Pro Tem Dave Martin.
<
"[Contractors] pushed back the temporary street lighting installation, which began March 30 and is expected to be completed by April 13," she wrote in an email to
Community Impact Newspaper.
"They are also waiting to hear back from [Clear Lake City Water Authority] on the approval of their drainage plans."
Workers are still at the site of the project as usual, waiting to begin widening the road, she wrote.
In League City, several road projects are underway and unaffected by the pandemic.
Calder Road from Ervin Drive to Cross Colony Drive is being converted from an asphalt, open-ditch roadway to a concrete curb-and-gutter roadway with widened lanes and new sidewalks. The work, which began March 16, is still underway, City Manager John Baumgartner said.
"Contractor is out there, working every day," he said.
The Ervin Street connector that a contractor is building so Hobbs Road connects to Calder Road, which will allow for two-way traffic in and out of nearby subdivisions, is a "success story," Baumgartner said.
The project has been expedited so crews can more quickly begin working on widening and otherwise improving Turner Street and Butler Road nearby. Two lanes of Ervin Street could be open as soon as mid-April, Baumgartner said.
"We haven't seen a slowdown of activity by either of those contractors," he said of both projects.
As for improvements to Dickinson Avenue, there have been delays on the north side of the project due to necessary utility relocations that have pushed the estimated project completion date into the summer, but the coronavirus outbreak hasn't affected work.
Additionally, League City has a reinvestment program to rehabilitate asphalt roads throughout the year. That program has also not slowed amid the pandemic, and $3.8 million is being spent to fix about 3.4 miles of road, said Baumgartner and Angie Steelman, director of budget and project management.
"I think from our perspective, the construction industry has continued to rise to the occasion and continued to work," he said. "Everybody's working, and we're happy."