Dallas Area Rapid Transit is planning its first major bus network redesign to address the significant growth that Richardson and the surrounding areas have seen since the service was created in 1983.
The new DARTzoom program has been designed to improve service frequency and hours buses are available in areas with the heaviest ridership. Richardson riders will see revisions to a number of the city's routes and the services offered, but DART officials expect the city's coverage area to see little change overall.
Jerry Rubio, who regularly rides DART buses in Richardson, said he was happy to hear about the planned redesign.
"Some of [the bus network] doesn't make sense—the stops are too close together or real far apart," Rubio said. "I'll usually get where I want to go, [but] it could be better."
As a landscaper and painter working mostly in Richardson, Fidel Saenz said he uses the DART bus line to get to work every day.
"Sometimes the bus doesn't get there on time," Saenz said, noting he has had to walk "pretty far" to make it to another stop. "You [have] got to be patient."
Bus service during peak usage hours in Richardson is currently "very limited," according to Rob Smith, DART's assistant vice president of service planning and development. Weekend service in the city is also not as extensive as during the week, he said.
"Under this proposal, all of our local bus routes will operate seven days a week, for the full hours that they're normally in operation," Smith said. "Many of them will operate more frequently."
Planned changes
Discussions on balancing DART's high-ridership routes with more coverage in its member cities began in July of last year, following initial discussions on the redesign in fall 2019.
"The beauty of the Richardson impacts is that there weren't that many overall, and the [changes that are being made] are pretty inconsequential," Deputy City Manager Don Magner said. "We believe that riders, if they're knowledgeable, will still be able to utilize those routes that are seeing some service impacts in an effective way."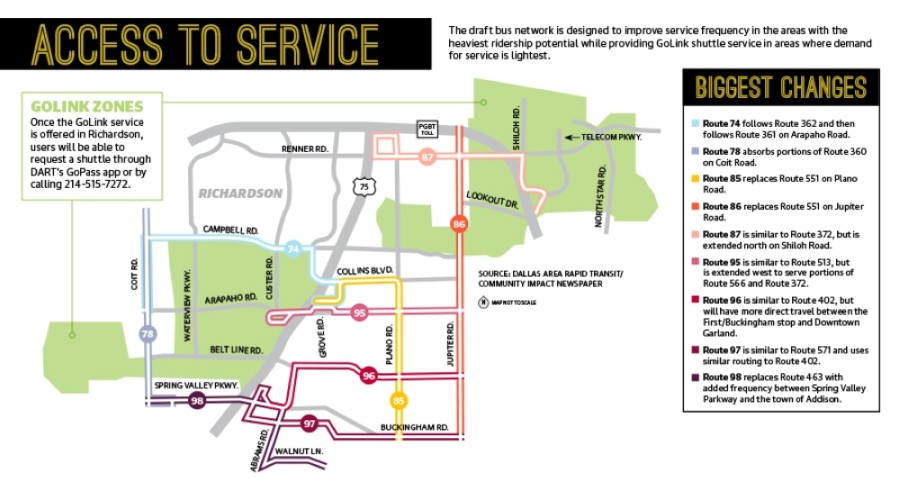 The biggest change Richardson residents are likely to see, Smith said, is the expansion of DART's GoLink service, which offers on-demand shuttles in a pair of zones being added to the city. According to the agency's website, the charge for a GoLink ride is the same as a regular DART bus fare, though users are also able to use UberPool for additional fees that range from $1-$3 per person, per trip.
The DARTzoom plan shows one of the new GoLink zones will focus on Central Richardson, covering portions of three current bus routes. The other zone will also cover portions of three existing bus routes in the Telecom area in the northeastern portion of the city and extend into Plano.
"We're adding a little bit of new coverage in the [Richardson] panhandle in particular, running a little bit farther east than we have done traditionally along Renner Road and some other locations," Smith said. "Beyond that, the coverage in Richardson is very comparable to what we currently have."
The GoLink service allows users to request a shuttle via app or telephone to take them between any two places within a single zone. Smith said the service can also take users to a DART "anchor point," such as a major bus facility or rail station.
"You can use GoLink to go within a neighborhood, or you can use it to do a much larger trip that extends throughout the DART system," he said.
While users are not able to go from one GoLink zone to an adjacent zone, Smith said public input has influenced the agency to take another look at that possibility.
"That's something that we're looking into as a part of the review of the public input that we've gotten on these change proposals," Smith said. "We'll see if that's something that we can ultimately implement."
The proposed revamps of current Richardson bus routes are being proposed to improve efficiency, Smith said. Another major feature of the bus network redesign is the expansion of weekend service, he said.
The Central Richardson GoLink zone would be part of that expansion, as the DARTzoom program shows the service proposed to be offered on Saturdays. The other GoLink zone would be available only Mondays through Fridays.
"What we are really trying to do, whether it's Richardson or really any of the 13 cities [in DART's service area], is be able to get people to more places—whether those be jobs or places that they want to go—in a given amount of time," Smith said.
Local services
DART held a community meeting for Richardson residents in early April, so the agency has already received some input on the planned changes from the public and the city. Magner said staff worked to protect the most used bus routes from significant changes.
"Where there were some cuts, we felt like ridership [on those routes] was not as strong," he said. "Therefore, [we felt] that we could work with DART in making some of those routes more effective and particularly more efficient."
The portion of Richardson that relies on the DART bus system the most is in the northwest quadrant around The University of Texas at Dallas campus, according to Magner.
"The Renner route is one of the heaviest, most utilized runs in the whole DART system," Magner said. "I would say that the campus is by far the most dependent [section of the city on DART buses]."
In his nearly 15 years with UT Dallas, Calvin Jamison, vice president of facilities and economic development, said the university has gone from having no buses on its campus to providing around 1.5 million rides annually before the coronavirus pandemic.
"DART has been extremely responsive to our needs and to the needs of our student body," Jamison said. "The bus service has become integral to our ability to move people around and provide access to the campus itself."
Smith said DART staff expect ridership from the UT Dallas campus to increase significantly this fall as more students return to campus.
"The UT [Dallas] shuttle service is not changing as a part of DARTzoom," Smith said. "But what it connects to will be changing, and students, faculty and other users will be able to take advantage of some of what it connects to."
Jamison said he "absolutely" believes the bus network redesign will be a benefit to UT Dallas students and faculty.
"As the campus grows, there needs to be multiple ways to have access to the campus," he said. "We are truly a multimodal campus, which is the next generation of what needs to transpire [for the university to] move forward."
Public feedback
A public survey for feedback on the proposed bus network changes is available on the DART website, and the agency has a public hearing for the plan scheduled for its June 8 board of directors meeting.
"That, basically, is the conclusion of the public input process for the proposed changes," Smith said. "We're going to be taking all the comments that we've heard ... and assess whether we need to make adjustments to the proposal. I expect that we will make adjustments."
The DART board will then have the opportunity to approve any further changes to the proposal in August. If all goes as planned, Smith said DART is scheduled to implement the revised bus network Jan. 24.

Once the agency receives approval from its board, he said there will be many things to do ahead of January in order to implement the new network.
"Because it's a complete redesign of the system, we literally have to change out potentially every bus stop sign in the entire DART service area," Smith said, noting there are nearly 10,000 such signs.
DART personnel will also have to create new system maps, new passenger timetables and work to update Google Maps and other trip planning software, Smith explained.
"We [will] spend [those] four or five months getting all of those things ready so that we can make that one big changeover in January," he said.
Erick Pirayesh contributed to this report.